Chandon
by
Terry Sullivan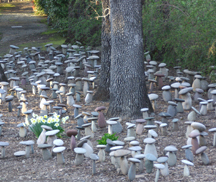 We decided to visit Chandon because they offer tours throughout the day. We were interested in the Epicurean Experience Tour which begins at 5:15. This experience offers a tour of the winery enhanced with Chef selected food and wine pairings followed by dinner in the étoile Restaurant. From Route 29 the drive to their parking area is beautiful. Even more delightful is the walk from the parking area to the visitor center entrance. Beautifully landscaped grounds surround the walkway. Art is prevalent with an intriguing mushroom display. The shape of the visitor center's roof looks as though it was made from a very large cut wine barrel.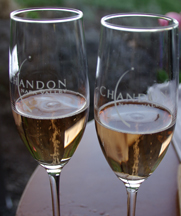 Chandon comprises 1,000 acres in Carneros, Mt. Veeder and Yountville. In 1973, Chandon achieved their first release and in 1976 produced their first vintage. By 1977, the Chandon visitor center and restaurant opened.
Upon entering we were greeted and directed to the tasting bar where we were served sparkling wine. We met our tour guide who ushered us to a small theater to view a short eight minute film.
Our guide met us at the door of the theater after the film. We went into the winery and observed the many stainless steel tanks on their sides. It was great that one was clean and open so I was able to photograph the inside of it.

The next stop of the tour took us to a display about the assemblage and aging of sparkling wines. This display is helpful in explaining the traditional method of making sparkling wine. We stopped to taste our second sparkling wine. Chandon uses a different bottling cap for some of their sparkling wines and our guide demonstrated the bottle cap remover used to remove it. Here we talked about the plug that is put into a bottle and the capping of a bottle to start the secondary fermentation process.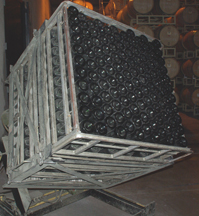 Next we went into the barrel aging room where hundreds of barrels rested quietly, aging wines. At the end of the room we saw an operable gyropalette. This is a motorized large metal crate that holds bottles. This machine is a mechanized form of riddling. Our guide turned the machine on to demonstrate its movement. Ten thousand bottles can be riddled in one hour. Nearby there was a backlit display showing three bottles at various stages of riddling. One can see, through the bottle, the yeast cells. On the final vertical bottle the yeast cells were in the neck of the bottle.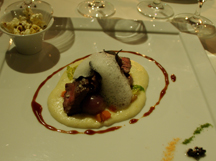 Our tour ended in the restaurant. We had a delightful dinner and tasted many more of Chandon's sparkling wines. Elegant would be a good word to describe Chandon. Everything from the architecture of the building, wine and food are elegant.
Chandon
One California Drive
Yountville, CA 94599
Visitor Center (707) 944-2280
étoile Restaurant Toll Free (800) 736-2892
---
Visit these California organizations and wineries that partner with Wine Trail Traveler.