Hill Family Estate
by
Kathy Sullivan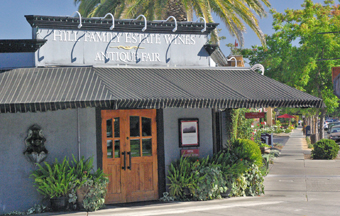 Summary: Hill Family Estate is a family owned winery and vineyard with the tasting room located in Yountville, California. In addition to the Hill Family Estate wines, the tasting room offers an eclectic array of antique and vintage items to browse.
Stepping inside the quaint building in the equally quaint town of Yountville, visitors will immediately feel a sense of nostalgia. The Hill Family Estate tasting room opened in 2006. The ambiance is laidback with numerous antique and vintage items to enjoy browsing in addition to tasting wines. Wine lovers can choose between tasting wines at the tasting counter or at a table. The focus of the wines is the Bordeaux varietals, most of which are Cabernets.
Doug Hill is the proprietor and vineyard manager. The winery has 12 different vineyards with a total of 120 acres. Doug also manages 600 acres of vineyards. Many of the grapes from these vineyards are sold to well-known wineries. Ryan Hill is in charge of marketing. The winemaker is Alison Doran. Alison studied under Andre Tchelistcheff.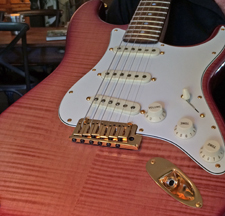 Creative Marketing with Fender
At one point in their history the winery formed a bond with Fender. At the winery special wood was stained with grape pomace and sent to Fender. Months later Fender made 100 guitars from the wine stained wood. The Fender guitars sold out within minutes. Those who purchased this unique guitar also received a six-pack wood box of estate wine.

In addition to the Fender guitar, the tasting room also has professional baseball bats that have been stained with grape pomace.
Hill Family Estate Wines
Sauvignon Blanc 2012 Napa Valley Tiara was named for Doug's wife Darci Hill. Darci does not care for Cabernet Sauvignon and she is like a queen therefore the tiara name. The yellow wine was produced with Sauvignon Blanc and a splash of Semillon. The wine had an oily mouthfeel with tropical notes and hints of lemon grass. The medium-bodied wine was crisp. Retail price is $35. Chardonnay 2012 Napa Valley was a dark yellow with 14.5% alcohol. The wine offered notes of apple, pear, caramel and a hint of citrus. The wine was full-bodied and food friendly. The retail price was $65.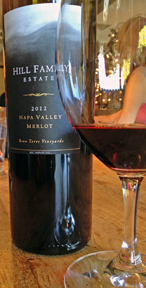 Merlot 2012 Napa Valley Beau Terre Vineyard had 14.8% alcohol. The wine was a translucent ruby color with notes of dark fruit and mocha. The wine had bold tannins and was full-bodied. This wine was food friendly. The retail price is $40.
Origin 2011 Napa Valley was a blend of Cabernet Sauvignon, Merlot, Petit Verdot, Syrah, Petite Sirah and Zinfandel. This opaque, ruby color wine offered black fruit notes and bold tannins. The wine was full-bodied with medium acidity. The wine retails for $45. Cabernet Sauvignon 2011 Napa Valley was a blend of seven vineyards across Napa. The wine was a blend of Cabernet Sauvignon, Merlot and Petit Verdot. The opaque, ruby wine was 14.8% alcohol. The wine had notes of blackberries, black raspberries and spice. This full-bodied wine had bold tannins. This was a food friendly wine that retails for $55.
Wine Club
Hill Family Estate offers a Crossroads Wine Club. Members receive wine shipments four times a year. Benefits include discounts on wine purchases and other merchandise in the tasting room, special dinner invitations, complimentary wine tastings and more.
The Hill Family Estate family winery wants to be known as a small family winery with many years of experience in vineyard management and winemaking. While visiting the tasting room in Yountville, take time to wander through the shop to browse the selection of antiques and vintage items.
Hill Family Estate
6512 Washington Street
Yountville, California 94599
Article written September 2014
---
Visit these California organizations and wineries that partner with Wine Trail Traveler.