Round Pond Estate
by
Kathy Sullivan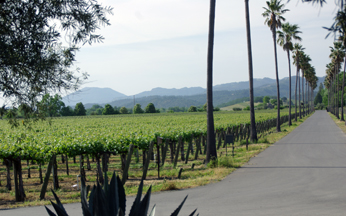 Summary: Visitors to Round Pond Estate will discover a small, intimate experience. Round Pond Estate produces wines, olive oils, citrus syrups and red wine vinegars. Wine enthusiasts can expect a sophisticated tasting room experience.
Round Pond Estate is located in Napa Valley's Rutherford sub-AVA. The name Round Pond is from a place the owner vacationed at in New York State near West Point. Thirty years ago Bob MacDonnell made wine as a hobby for neighbors and friends. A few years ago, his son, Miles returned home to help establish Round Pond Estate. Under the leadership of Miles, Round Pond Estate has increased acres of grapevines.
After turning off Route 29, that runs through Napa Valley past acres and acres of vineyards, drive on Rutherford Road. Crossing a bridge over Napa River, travelers will soon arrive at the entrance to Round Pond Estate. A long, paved driveway with vineyards on each side leads straight to the Round Pond Estate facility.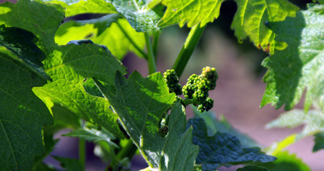 Vineyards
Vineyards surround the Round Pond building. Varieties include Sauvignon Blanc, Cabernet Sauvignon, Petit Verdot, Syrah, Petite Sirah, Merlot, Malbec, Nebbiolo, and Viognier. There are around 365 acres of vineyards. At the time of our visit more vineyards were being added.
Tasting Areas
The tasting facility and barrel aging room were built in 2007. Just inside the facility door, windows offer views of the barrel room and wine library. Stairs lead to a second floor where a large window overlooks the vineyards. On the second floor, a stainless steel tasting counter is along one wall and opposite is a wall of windows facing a large patio. In the center of the room, raised floor windows overlook the barrel room below. Throughout the area, seating areas offer a unique wine experience. An outside patio area has more seating areas for intimate wine tasting experiences.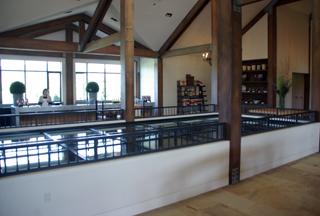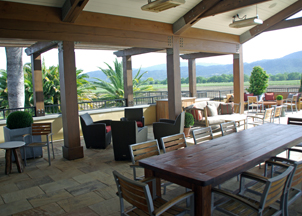 Three styles of tastings are available including the Standard Tasting that includes food and wine, wine tasting only at the tasting counter and a vertical tasting. The standard tastings have an air of intimacy. Helpful staff members serve wine and food pairings and then step away briefly, giving wine tasters the opportunity to talk about and enjoy the wine and pairings.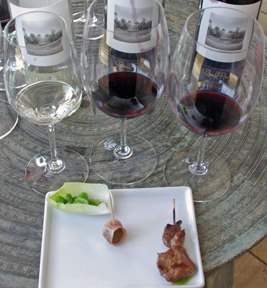 Wines of Round Pond Estate
The Estate Sauvignon Blanc 2010, produced in stainless steel, was a light straw color. Citrus nuances with a touch of tropical notes were on the aroma and taste. The wine had a crisp finish. Reserve Sauvignon Blanc 2010 was aged in water stave barrels. Water stave barrels are produced with water and steam to bend the staves. The Reserve wine offered an aroma of lemon and tropical notes. The finish was crisp with some lemongrass on the aftertaste. The Sauvignon Blanc was paired with peas and fava beans wrapped in lettuce. The food softened the crisp finish.
Estate Cabernet Sauvignon 2008 was a dark ruby with a light ruby rim. The nose had black fruit notes while the taste had blackberries with a hint of blueberries. The finish was fruity with bold tannins. This was paired with a stuffed olive wrapped with prosciutto. Neither the wine nor food overwhelmed the other and match well together. Estate Cabernet Sauvignon 2009 was a dark ruby with a ruby rim. The aroma offered dark fruit with a hint of alcohol. The taste was fruity with dark fruit and the finish was fruity with tannins. This was paired with marinated lamb pieces. The food matched well with the wine.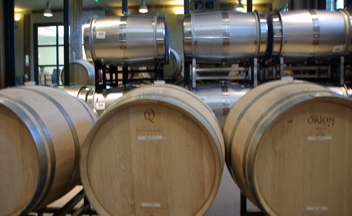 Barrel Aging Room
You can observe the barrel aging room when you first enter the building. On the second level, you can look down into the barrel aging area. In addition to barrels, stainless steel barrels are also used to age wine. Temperature and humidity are controlled in the room.
Round Pond Estate Clubs
Round Pond offers two different club memberships: Wine Lovers and Wine & Food Lovers. As its name implies, shipments to Wine Lovers are wine shipments. Wine & Food Lovers shipments may include wine, olive oils and red wine vinegars. Shipments are sent out in winter, spring and fall. In addition to special benefits included in the membership, special events are planned for wine club members.
Olive Mill
There are many olive trees on the estate. The olives from the property are milled in a nearby mill. In addition to the extra virgin olive oils, Round Pond also produces a Blood Orange Olive oil, Meyar Lemon Olive Oil, Garlic Olive Oil, Rosemary Olive Oil and Basil Olive Oil. Round Pond also cretates citrus syrups and red wine vinegars.
Enjoy a visit to Round Pond Estate in Rutherford where you will experience an intimate wine tasting experience.
Round Pond Estate
875 Rutherford Road
Rutherford, California 94573
---
Visit these California organizations and wineries that partner with Wine Trail Traveler.