St. Supéry Vineyards & Winery
by
Kathy Sullivan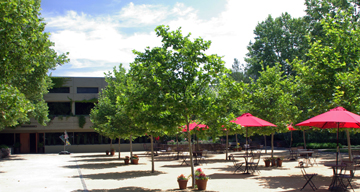 Summary: St. Supéry Vineyards & Winery is located near the center of Napa Valley and offers visitors both wine tastings and an art gallery where visitors can view original art and vineyard and wine displays. St. Supéry is well known for its push forward into social media. They sponsor several community wine tastings on Twitter.
The driveway to St. Supéry Vineyards & Winery is lined with trees and lavender. St. Supéry is located in Napa Valley. At the facility visitors can choose to follow a path to an education garden or to a patio that leads on to the tasting room. The landscaped patio is cheerful with many red umbrellas and tables brightening the area. This is a great place to enjoy a glass of St. Supéry wine. Inside the tasting room building visitors are greeted immediately. The tasting room is to the immediate right and an art gallery is to the left up a stairway.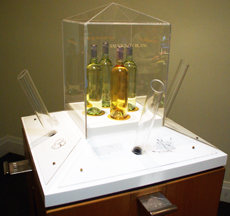 Art Gallery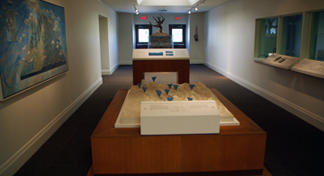 At the top of the carpeted stairway we discovered a large room with several windows that overlooked the tank room. A display in the room shows a topographic map of the Napa Valley Appellation. Another unusual display enclosed in Plexiglas shows a grapevine's root growth into the layers of soil. Moving on to another room we spoke with an artist who was setting up a display of paintings. Artist, Don Scott MacDonald was displaying numerous of his contemporary landscape works on the walls. The next adjacent area offered a small select tasting area and closeby was a wonderful educational experience for learning about wine nuances. Visitors can push a lever and a wine scent will be released in a 12-inch tube. This will reflect one of the aromas of a wine.
A sign in the art gallery reminds visitors, "Remember, even the experts do not agree upon the best qualities for specific wines. If you pay close attention to your own senses- sight, smell, and taste- you will be your own expert. YOU ARE YOUR OWN BEST JUDGE! DECIDE WHICH COMBINATION OF SIGHT, SMELL, AND TASTE SUITS YOU THE BEST AND LOOK FOR THAT COMBINATION IN THE WINE YOU BUY."
Tasting Room
The tasting room is sufficiently large to be able to wander and browse among the many book selections and Riedel glassware available for purchase. Many windows allow in natural light.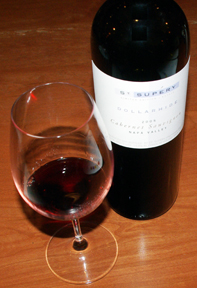 White Wine
Sauvignon Blanc 2009 offered tropical fruits and grapefruit nuances on the aroma. In addition to these nuances the taste also offered pineapple notes. The finish was crisp and fruity with tropical notes yielding to citrus. Virtú 2007 was produced with 55 percent Sauvignon Blanc and 45 percent Semillon. The aroma had notes of grapefruit. The taste had nuances of grapefruit with hints of tropical fruit. The finish was crisp and fruity with the finish yielding to oak.
Red Wine
Cabernet Sauvignon 2005 offered an aroma of blackberry with hints of pepper. The taste had notes of blackberry and cherry. The finish had fruity tannins with spice nuances. ÉLU 2005 was a blend of 75 percent Cabernet Sauvignon 19 percent Merlot, 3 percent Petit Verdot and 3 percent Cabernet Franc. The aroma was of cedar and black fruit. The taste was of blackberries. The finish had mild tannins and was fruity with earthy nuances. Cabernet Sauvignon Dollarhide Ranch 2005 was dark purple. The aroma was of blackberries and cedar. The taste of was blackberries. The fruity finish had tannins.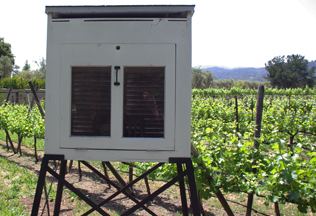 Before leaving the property be sure to visit the educational garden. Visitors will discover several varieties of grapes planted. A large weather station is also located here. The computerized weather station records data such as the ambient air temperature, soil temperature, wind speed, solar calories and precipitation. Data is collected every thirty minutes. Vineyardists can view daily and monthly data for trends and climatic changes that may affect the vineyards.
Technology is used in the vineyard as well as in marketing. Rick Bakas of St. Supéry hosts several community wine tastings on Twitter. A particular varietal grape may be the focus and people from around the world will tweet about wines made from that grape.
St. Supéry Vineyards and Winery
8440 St. Helena Hwy.
Rutherford, California 94573
GPS: N38º 27.282' W122º 24.934'
---
Visit these California organizations and wineries that partner with Wine Trail Traveler.