Clos Du Val
by
Kathy Sullivan

Summary: Clos Du Val is located in Napa Valley. Since 1972 the winery has been making Bordeaux style blends. The winery name is French for "small vineyard estate of a small valley.".
Arriving at Clos Du Val, visitors discover a delightfully landscaped garden with a demonstration vineyard between the garden and the street. The demonstration vineyard is planted with Merlot. Each grapevine is grafted on the same type of rootstock. Each row has a different trellis system. The viticulturist notes the difference in the ripening times and the quality of the grapes from each row.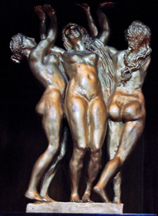 Inside the tasting room we noted the winery logo is the Three Graces. A small sculptured statue of the Three Graces is in the tasting room. According to Greek mythology the Three Graces reigned over banquets and celebrations. The Club Du Val brochure notes, "In Greek mythology, the Three Graces were said to preside over Olympian banquets and celebrations, spreading good cheer and raising a glass to the prosperity, happiness, health and good fortune of all."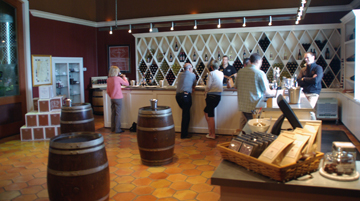 The tasting counter is L-shaped and spread out through the room several oak barrels are available for visitors to stand at while tasting wine. Views of the winery can be seen through glass doors in the tasting room.
Vineyards
Clos Du Val winery is located in the Stags Leap American Viticulture Area, a renowned area of Napa Valley. The vineyards were purchased in 1972 and today have Cabernet Sauvignon, Merlot, Cabernet Franc, Petit Verdot and a bit of Sauvignon Blanc. Other vineyards are located in four different areas with 180 acres in Carneros. Pinot Noir and Chardonnay were planted in early 1980. Vineyards are also planted in Yountville and Oakville. Burgundy varieties are handpicked and the Bordeaux varieties are harvested by machine. Production is between 50,000 and 60,000 cases each year. Almost all of the oak barrels are French oak.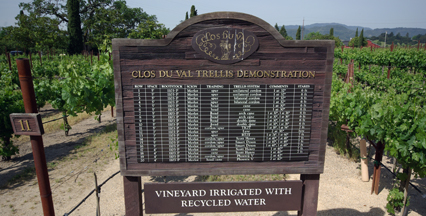 The owner of Clos du Val is John Goelet of Goelet Wine Estates and the first winemaker was Bernard Portet.
White Wines
Ariadne 2010 was a blend of Semillon and Sauvignon Blanc. The wine had some oak aging. The light straw wine offered aromas and tastes of citrus and tropical notes. The finish was very crisp and citrusy. Chardonnay 2009, a wine that is distributed internationally, was made with grapes from Carneros. The wine was aged in oak and underwent partial malolactic fermentation. This straw color wine had pear and apple nuances. The finish was crisp with pear, apple and a touch of caramel. Reserve Chardonnay 2009 was a light yellow with nuances of pears, apples and more caramel.
Red Wines
Pinot Noir 2009 was aged in oak for 12 months. The light ruby wine had an aroma of red berry fruit. The taste offered red raspberry notes, light oak and caramel. The finish had mild tannins. Pinot Noir Reserve 2008 was aged in oak for 14 months. The light ruby wine had an aroma of red fruit. Red raspberry nuances were on the taste and tannins were on the finish. Three Graces Red 2008 was a Winemakers Signature wine. This was a blend of Cabernet Sauvignon, Merlot, Cabernet Franc and Petit Verdot. The ruby wine offered notes of dark fruit and blackberries and blueberries. The finish was bold with tannins and fruity.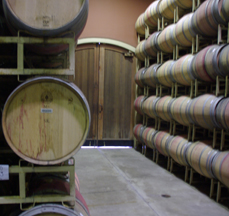 Stags Leap District Cabernet Sauvignon 2007 was a ruby wine with an aroma of dark fruit notes. Black fruit notes were on the taste. The finish was fruity with bold tannins. The Reserve Cabernet Sauvignon 1997 was a blend of Cabernet Sauvignon, Cabernet Franc and Merlot. The aroma had earthiness with dark fruit nuances. The taste was of dark fruit. The finish had very bold tannins and was chewy. Reserve 2000 was a blend of Cabernet Sauvignon, Merlot and Cabernet Franc. This ruby wine offered an aroma that was earthy with black fruit. The taste was velvety with black fruit nuances. The fruity finish had bold, chewy tannins.
Clos Du Val offers three different wine clubs, named for the Three Graces – Joy, Mirth and Splendor. Joy club is for those on a budget. Mirth is a selection of wines including red and white while Splendor club shipments include only red wines. Wine enthusiasts can also be added to a waiting list for shipments of highly limited library wines.
Events
Visitors can enjoy wine tastings, tours or bringing a picnic lunch to enjoy with a bottle of Clos Du Val wine. Events to attend include BBQs, Bastille Day and the fall grape stomp.
When planning a visit to Clos Du Val, plan to spend some time to enjoy the experience.
Clos Du Val Winery
5330 Silverado Trail
Napa, California 94558
GPS: N38º 23.190' W122º 18.739'
---
Visit these California organizations and wineries that partner with Wine Trail Traveler.