Rutherford Hill
by
K.L. Sullivan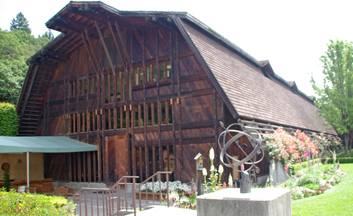 Rutherford Hill Winery is located on Rutherford Hill Road. We drove up the long and winding narrow road and at the end of it we discovered the winery and tasting room. Parking is easy and slightly above the winery.
In May 2012 we were fortunate to be able to make a return trip to Rutherford Hill, a Napa Valley winery. The tasting room has now been remodeled and offers visitors a congenial spot to enjoy tasting the Rutherford Hill wines. We reacquainted ourselves with Kay Malaske, Coordinator of Trade Relations and Hospitality, who continues to be enthusiastic and a persuasive speaker with regard to the Rutherford Hill wines. She noted that visitors can learn about two brands including Rutherford Hill and Terlato wines.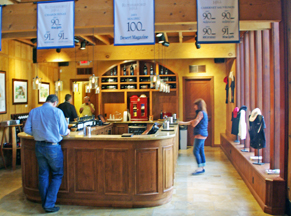 The tasting room offers a rustic-style feeling with its walls of rough wood. Walls are bright with the addition of numerous works of art. The large U-shaped tasting counter is perfect for small or large groups.
Rutherford Hill has almost 200 acres of vines on four Napa Valley ranches. Cabernet Sauvignon is planted on a lovely hillside onsite. Mee Lane vineyard has a majority of Cabernet Sauvignon. Pope Valley property has Sangiovese, Syrah, Merlot and Cabernet Franc. The Yountville Oak Knoll District has Merlot, Cabernet Franc and Sauvignon Blanc.
Five wines are produced at Rutherford Hill under the Terlato family name. The Terlato family has owned Rutherford Hill Winery since 1996. The Terlato Family Vineyards wines include a series of Bordeaux-inspired red wine blends called Angels' Peak, Devils' Peak and Cardinals' Peak. The family super-premium Cabernet based blend, EPISODE, is also available. Both Rutherford Hill and Terlato Family Vineyard wines can be discovered in the Rutherford Hill tasting room.
Daily Tours
Tourists who visit the winery can enjoy a wine tour that is offered three times a day. Along the tour stations are set up for wine tastins. To achieve a good tour, tours are limited to 20 participants. Be sure to register for the tour. Tour times are 11:30, 1:30 and 3:30.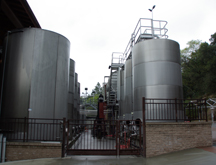 As we toured Rutherford Hill, the closest vineyard to the winery was pointed out to us located on a hillside above the caves. Emphasis was focused on the fact that tours bring visitors close to the work being done at the winery especially during harvest. Rutherford Hill is a working winery and welcomes visitors to sample wines and take tours. Rutherford Hill seeks to inform visitors about the winemaking process and sample the quality of wines produced.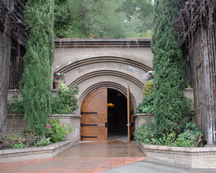 Caves
Our fascination with caves continually increases as we visit more wineries that use caves for aging their wines. At Rutherford Hill, the elegant wood doors entering the caves are beautiful and inviting.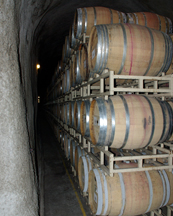 The caves built during the 1980's, are lit with subdued lights. Row upon row of barrels were filled with a variety of wines needing oak aging. Rutherford Hill was the only winery we visited which made a point to show us how data about each oak barrel is collected. A barcode is assigned to each barrel. By using a barcode and entering data, it is possible to analyze the data, for example the affect different brands and toasts of oak barrels have on the wine produced. Access to the data provided by a bar coding system will aid the winemaker in making decisions about what types of oak barrels to purchase. At Rutherford Hill, despite the expense of French oak wine barrels, oak barrels are ordered frequently.
We continued our stroll through the caves. Located within the caves is an event room that may be rented out for perhaps a rehearsal dinner. This would be an unforgettable experience. The room is also used by Rutherford Hill for events.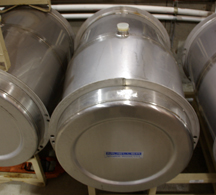 Rutherford Hill is a winery that concentrates on quality. When the Terlato family purchased the winery, they made the decision to eliminate thousands of gallons of what they considered inferior wine. This is a wonderful example of their focus on quality wines. The idea of quality goes beyond just aging wine in oak barrels. Rutherford Hill also ages some wine in stainless steel barrels roughly the same capacity as the oak barrels. Using the stainless steel barrels allows the wine to have more contact with the lees but not have the flavors that oak barrels impart.
Rutherford Hill and Terlato Wines
All grapes used in the wines are hand harvested. Only French oak is used at Rutherford Hill. Rutherford Hill produces 40,000 to 50,000 cases of wine. All wines are made with 100 percent Napa Valley grapes.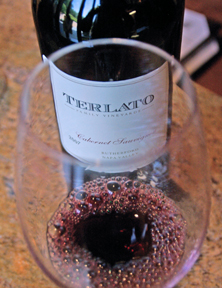 Sauvignon Blanc 2010 was from the Yountville and Mee Lane properties. The straw color wine offered an aroma of tropical fruit. The taste was tropical with a hint of citrus (lime.) The finish was crisp with a fruity aftertaste. Chardonnay 2009 was barrel fermented sur lie and aged. The light yellow wine offered aromas of pear, apple and caramel. The taste was velvety with caramel and apple. The finish was crisp and chewy with apple and pear notes.
Rosé 2010, a light red, was Merlot based. The aroma was of red berry fruit. The taste offered raspberry and strawberry notes. The crisp finish was fruity and chewy.
Malbec 2008 was sourced from Stagecoach Vineyards and blended with Cabernet Sauvignon. The dark ruby wine offered an aroma of dark fruit. The taste was very fruit forward with tannins and a hint of baking spices. Rutherford Hill 2007 Cabernet Sauvignon was ruby with an aroma of ripe fruit, dark fruit and violets. The taste reminded one of dark fruit. The finish with mild tannins was fruity with a perceived sweetness. Terlato Family Vineyards Cabernet Sauvignon 2007 Rutherford was a ruby wine with dark fruit aromas. The taste was smooth with dark fruit and a hint of licorice. The finish had bold tannins. The wine was very fruity with a perceived sweetness from the fruit.
We are sure you will enjoy your visit to Rutherford Hill Winery.
Rutherford Hill
200 Rutherford Hill Road
Rutherford, CA 94573
(707) 963-1871
GPS: N38º 29.629' W122º 24.287'
---
Visit these California organizations and wineries that partner with Wine Trail Traveler.