Sequoia Grove
by
Kathy Sullivan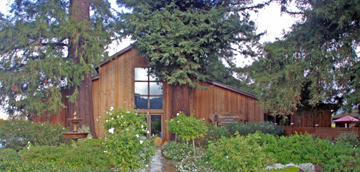 Summary: Sequoia Grove Winery has one of the first modern underground cellars in Napa Valley. Several of the wines produced by Sequoia Grove Winery can only be purchased at the winery, so a visit is definitely in order.
Sequoia Grove Winery offers a delightful visit for wine enthusiasts. On their arrival visitors will be greeted by exquisite landscaping. Wine travelers will also experience a friendly greeting in the tasting room.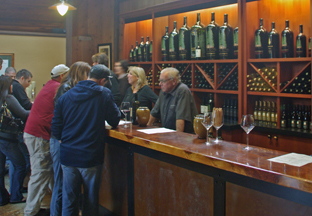 Tasting Room
The tasting room is located in a 150-year-old barn. Wood walls and wood tasting counter all add to the welcoming feel of the tasting room. Behind the tasting counter, Sequoia Grove wines are artfully displayed including various bottle sizes. Elegant stemware is used at the tasting counter. Two large oak casks are in the corners. An assortment of wine-related items are displayed throughout the tasting room.
Winery
Sequoia Grove Winery has one of the first modern underground cellars in Napa Valley. Both oak barrels and stainless steel barrels are stacked in the winery with stainless steel tanks in the background. Red wine oak barrels are stacked four high in the barrel room. A small room in the cellar offers ambiance for barrel tastings and small events. The room offers an old-world feel.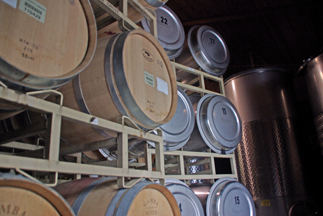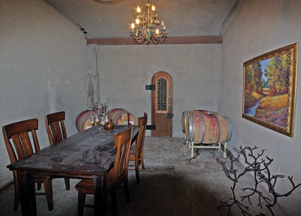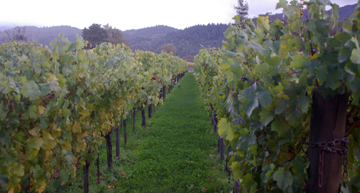 Sequoia Grove Vineyards
In addition to the onsite vineyards Sequoia Grove owns Tonella Estate Vineyard. The 22 acres of onsite vineyards include Cabernet Sauvignon, Cabernet Franc, Petit Verdot, Merlot and Malbec. Besides using their own vineyard grapes in the winery Sequoia Grove also sources grapes from other Napa Valley winegrowers. During a mid-November visit, the vineyards were just beginning to show signs of changing foliage colors.
Winery Timeline for Sequoia Grove Winery
In 1980 Jim Allen traveled in Europe and then traveled to California where he eventually established a winery. In 2002 Jim sold Sequoia Grove Winery to a partner. Molly Hill became the assistant winemaker in 2003. In 2003 the winery began ordering the best ultra premium grapes. Molly is now the winemaker while Michael Trujillo is the President of Sequoia Grove Winery. Molly led the wine tasting of several Sequoia Grove wines.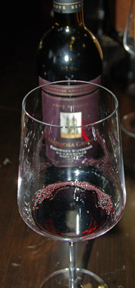 Red Wines
Napa Valley Cabernet Sauvignon 2008 aged in American Oak was a dark ruby to dark purple with a ruby rim. The nose and taste offered nuances of blackberries. The finish was fruity with bold tannins. Cabernet Sauvignon Rutherford 2007, produced with onsite fruit had blackberry notes with some raspberry nuances on the nose. The taste had blackberry notes. The fruity finish was chewy with tannins. Besides the Cabernet Sauvignon the wine had a bit of four other varieties. Cambium 2007's name refers to the life layer around a tree or grape vine. The wine was dark purple, almost black with a ruby rim. Blackberry and raspberry nuances were on the nose. The taste offered notes of blackberries and raspberries with a hint of cocoa. The fruity finish had bold tannins and was chewy.
Several wines can only be purchased at the winery. Some of these special wines include Sauvignon Blanc 2010, Glorious Gewürz 2010, Rebellious Red 2009 and Stagecoach Vineyard Syrah 2008.
White Wines
Chardonnay Carneros 2009 was in stainless steel and then fermented in oak sur lees. The aroma was of pear and apple with a hint of baked bread. The taste offered notes of pear and apple. The chewy finish had very mild tannins. Sauvignon Blanc 2010 was a straw color. Stainless steel and 10 percent neutral French oak were used. The wine offered an aroma of grass with a lemon grass taste. The crisp finish was citrusy with some tropicals yielding to lemon grass on the aftertaste. Glorious Gewurz 2010 was produced with juice on the skins for a day. The light yellow wine had a spice and floral nose. The taste offered floral blossoms. The wine had a very long aftertaste.
Enjoy a visit to Sequoia Grove Winery. Be sure to take time to enjoy the beautiful gardens.
Sequoia Grove
8338 St. Helena Highway
Napa, California 94558
GPS: N38º 26.968' W122º 24.736'
---
Visit these California organizations and wineries that partner with Wine Trail Traveler.