Napa Valley Vintners
by
Terry Sullivan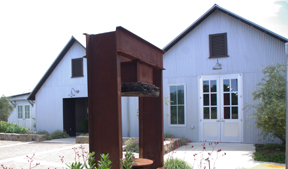 Summary: It seems fitting that a non-profit trade association would help preserve Napa Valley's past. The association moved into the historic Jackse Winery, giving new life to a piece of Napa history.
The Jackse Winery was built in stages from 1905 through 1913. The winery was located at a prime spot, next to the Saint Helena's railroad station. Stephen Jackse immigrated from Austria and built the winery. Seven years after its completion, it was shut down because of Prohibition. However fancy cars from San Francisco may have pointed authorities toward Jackse, as he was one of a handful of Napa Valley vintners arrested for bootlegging. After Prohibition, Jackse helped create the Wine Producers Association. The winery produced wine under the direction of Stephen Jackse Jr. until 1951 when it closed its doors.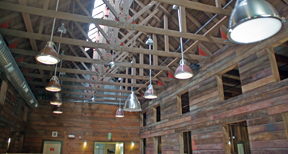 For several decades the building was used as a foundry, a basket company and more recently, for storage. The Napa Valley Vintners Association bought the property in 2008 and began a renovation project the following year. The original barn structure was preserved and reinforced. There were some new techniques added to achieve LEED certification. Solar panels and geothermal heating and cooling is used as well as sustainable building materials and practices. Roof windows provide plenty of daylight and low energy light bulbs are used where needed. Fittingly, the building has a cork floor.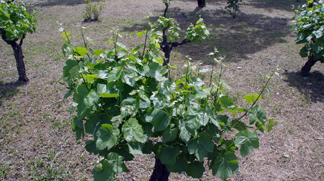 Although an organization that helps promote the wine industry, the staff is not far from wine themselves. Forty vines, of various grape varieties are planted adjacent to the building. The vines are head pruned and taken care of by hand. All the grapes are harvested and made into a blend. Last year's harvest produced a little over a half barrel of wine.
The Napa Valley Vintners, NVV, began with seven members in 1944. Today the organization represents more than 400 Napa Valley wineries. Napa Valley Vintners holds vintners' meetings, winemaker forums and provides space for Sonoma State University classes. The organization has several initiatives such as the Napa Green Farm Certification Program.
The NVV not only promotes the wineries of Napa Valley, they also help educate the wine industry and provide programs that move the industry forward.
---
Visit these California organizations and wineries that partner with Wine Trail Traveler.