Pine Ridge Winery
by
Terry Sullivan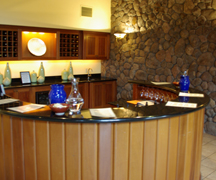 Since one of our missions was to visit wineries that use a cave system for aging wines, we visited Pine Ridge Winery along the Silverado Trail. We were instantly greeted upon entering the visitor's center as were other visitors. Our tour was at ten and tastings begin at 10:30 so most of the visitors were taking the tour. There were six people on this tour including a doctoral student in viticulture and enology at UC Davis. Joe, our tour guide, poured Chardonnay for those on the tour and we proceeded outdoors to the demonstration vineyard area.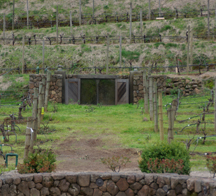 Joe discussed the different areas where Pine Ridge has their estate vineyards. Pine Ridge grows appellation specific grapes. As with many of the wineries in this area of California, Pine Ridge owns several vineyards in different regions and grows the grapes that do best in that region. The Chardonnay that the group tasted was grown in the Carneros region because the region makes the best Chardonnay grapes. There are grapevines surrounding the winery with mostly Cabernet Sauvignon and Merlot. Of the 300 acres owned by Pine Ridge, grapes are grown on 240 of them. In the demonstration garden we saw examples of different pruning and trellising systems used for different grapes. Above the demonstration garden, a vineyard has been planted on a steep hillside. Grapevines appear to be spaced farther apart than on a traditional flat area.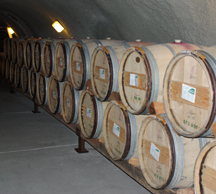 Our tour then proceeded into a large area of the winery where there were stainless steel tanks and oak barrels. From this area we walked into the caves that were dug into the hillside some 300 feet. Oak barrels line the walls of the caves. One tunnel opens into a large room where events and tastings can be held. In this room we tasted a young Cabernet Sauvignon from the barrel. It was a bit harsh on the tannins and needs to continue aging; however, this is a great opportunity to taste a wine at a different time during its aging. We learned that Pine Ridge racks their wines several times to avoid the need to filter them.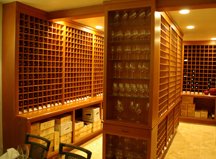 After stopping for group photos we proceeded through a tunnel almost to the end where there was a tasting room. The room was set for eight people, the number of people per tour. We sat at a square table and tasted a 2004 Cabernet Sauvignon and a 2004 Merlot. Along with the wine there was an assortment of cheese.
Pine Ridge offers a very good tour experience. You learn something about the vineyard, walk in the tunnels and have a friendly, relaxing tasting experience. Our guide took his time, allowed the group ample time to take photos and answered everyone's questions. This tour was a relaxing, informative and delightful experience.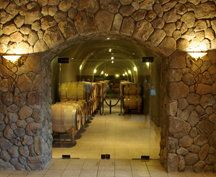 Pine Ridge is open for tastings from 10:30 – 4:30 daily. There is a $15 current release tasting fee. They also offer a Cabernet tasting for $25. Three different tours are offered at various times throughout the day. We took the Vineyard, Winery and Cave Tour $25 per person. There is also a Reserve Barrel-to-Bottle Tasting tour for $35 and a Sunday only tour Creative Culinary Combinations tour for $45. Call ahead to make reservations.
Pine Ridge
5901 Silverado Trail, Napa, CA 94558
800-575-9777

---
Visit these California organizations and wineries that partner with Wine Trail Traveler.