Adernats Vinícola de Nulles
by
Terry Sullivan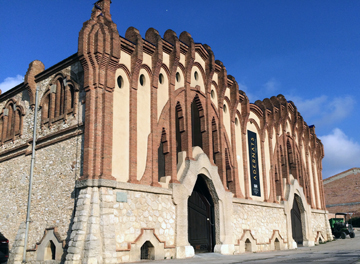 Summary: Adernats Vinícola de Nulles is a breathtaking winery that resembles a medieval cathedral. Visitors will learn of the cooperative that formed and had the wine cathedral built. Wine enthusiasts will notice several cavas and still wines.
Early in the 20th century there was no winery in the town Nulles. Most of the inhabitants grew grapes and made their own wine. When the phylloxera came and destroyed their vineyards, the people came together and decided to form Nulles Agricultural Cooperative. They thought that as a larger group, they could better manage new vineyards and winemaking. The decision to build a winery was made in 1917. The desire to construct a cathedral of wine led to the hiring of César Martinell, a modernista architect known for designing wineries that were cathedral-like.
Prior to building the wine cathedral, César Martinell, interviewed home winemakers to determine their challenges of making wine in their homes. At the time many made wine in a cellar that had no windows. This created a problem with carbon dioxide buildup during fermentation. With this knowledge, César Martinell, designed the vats and tanks so that they would have an airlock on the top. The cathedral would have high windows to not only let the light in, but also let the carbon dioxide out.
The winery construction began in 1919 and follows the "form follows function" principle. There is a reason to design things in a certain way, such as high windows that can open to let out carbon dioxide and let cool air in.The first crush was in 1920.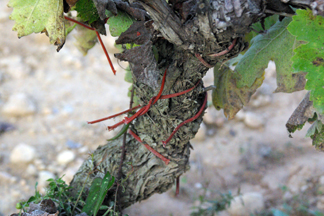 Vineyards
There are over 400 hectares (almost 1,000 acres) of vineyards in Nulles that are used to craft the wines and cavas. The vineyards are owned by 130 partners. The winery staff works with the partners to supervise and control what is applied to the vineyards. The least invasive measures are used to control insects and deceases. While we were in one of the vineyards, we noticed an orange wire attached to some of the trunks and cordons. The wire controls a worm from damaging the grapevine. Since the wire smells like a female butterfly, worms gravitate towards the wire and do not hinder the vine.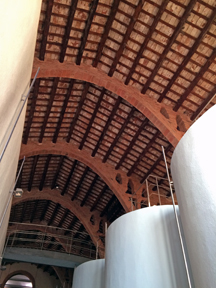 Winery
The winery produces 200,000 bottles of cava and 100,000 bottles of still wine. It exports worldwide under the brand name Adernats. Large vats were along the outer walls and large tanks were in the middle. Vats and tanks are made of clay and lime. The insides are lined with ceramic tiles. At the tops, there is an airlock to allow the escape of gases. The tanks and vats sit on gently curving brickwork. To recreate the cathedral atmosphere, candles in cava bottles are placed between tanks. The architecture of the brickwork and vaulted ceiling is a marvel and there is a feeling that you are in a cathedral.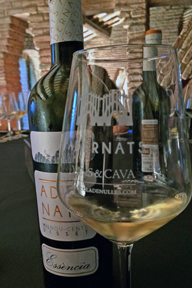 Wines
We tasted several cavas in the tasting room and later at dinner where we enjoyed still wines and cavas. We began our tasting with a Reserva Brut Nature Cava DO, a blend of Macabeo, Xarel-lo and Parellada. The light yellow color cava with 11.5% alcohol had mineral, apple and some lemon notes with a very crisp finish. The cava retails for 5.50€. The Reserva Brut Cava DO was a blend of Macabeo, Xarel-lo and Parellada. The light yellow color cava had 11.5% alcohol. It offered mineral, apple and pear notes and a very crisp finish. It retails for 5.50€. The Gran Reserva Brut Nature Cava DO was also made with Macabeo, Xarel-lo and Parellada grapes and was a yellow color with 12% alcohol. The bottle fermentation lasted 40 months resulting in aromas and tastes of freshly baked bread and apple hints with a crisp finish. The cava retails for 13.25€.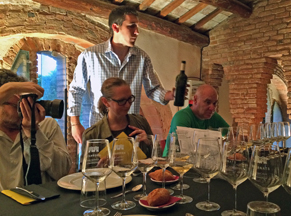 We tasted one of the 50 Great Cavas. The XC Gran Reserva Cava DO was crafted from Xarel-lo grapes. It was barrel fermented for five months and followed with 45 months of secondary fermentation in the bottle. The dark yellow color cava had 11.5% alcohol. It reminded me of mineral, freshly baked bread and a hint of yellow stone fruit. The sparkling wine retails for 24€. During dinner we had the Reserva Roast made from Trepat, but we did not know it. We were asked to put on blindfolds and taste a wine and eat the food on our plates. The wine was a cava but we did not know which one. The food consisted of a skewer of cherry tomato, watermelon, pineapple and another cherry tomato. After taking off the blindfolds, we were able to see that the wine was a red, orange color. It had some earthiness and cherry notes.
Adernats also produces still wines. The Essencia was made with Xarel-lo. The light gold color wine was barrel aged and had 12% alcohol. It offered mineral and floral notes and a bit of yellow stone fruit. The wine had a hint of leather and was smooth. We had this wine with dinner and it paired nicely with a tomato, watermelon, olive oil and anchovy gazpacho. The 2013 AdN was made from Macabeo. The yellow color wine was 11.5% alcohol and had mineral and yellow stone fruit characteristics.
Adernats makes both cavas and still wines. Wine enthusiasts will enjoy tasting different cavas and noting the differences.
Adernats Vinícola de Nulles
Estacio S/N 43887 Nulles
Terragonia, Spain
977 602 622
Article written October 2014
---
Please support the following.