Clos Figueres
by
Kathy and Terry Sullivan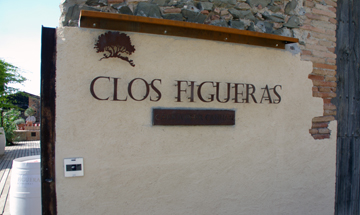 Summary: We enjoyed a wine tasting on Clos Figueras' sundrenched, red patio enhanced even more with a bright green yard with picnic tables in a shaded area for wine tastings.
Clos Figueras winery is owned by Christopher Cannan and his wife Charlotte. They came to the area in the 1980s and fell in love with the area. In 1997 Christopher established Clos Figueras.
Vineyards and Winery
The estate, just north of the village Gratallops, has 18 hectares including vineyards planted with: Garnacha (Grenache), Cariñena (Carignan), Cabernet Sauvignon, Mourvedre, Syrah, and Viognier. Christopher focuses on harvesting grapes only when the grapes are ready. The soil is poor but great for grapes. It consists of schist that gives the grapes a mineral taste. The vineyards are just 25 kilometers from the Mediterranean Sea and the growing days are usually warm and dry.
We toured the winery in the village of Gratallops with a staff member who guided us past stainless steel tanks, fiberglass tanks and oak barrels. At the time of our visit, wine was fermenting in bins. Current production is 25,000 to 30,000 bottles. During the winemaking process Christopher uses commercial yeast. Occasionally he adds some stems during fermentation.
A circular stairway leads to the 300 year-old underground winery cellar, an old cistern. The wines are aged in 500-liter French oak barrels. Maximum aging time is 14 months. The barrels are used for five years.
In addition to winemaking, Christopher also produces olive oil from the Arbequina variety of olives.
Wines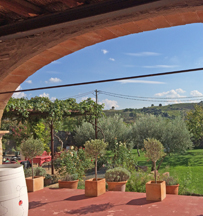 Our tasting at Clos Figueras was outdoors in a shaded picnic area. Red tablecloths with white dots covered the tables. Wines were served in Riedel stemware. Along with us on the tour and tasting was a couple that are partners in a winery in the Yakima Valley of Washington.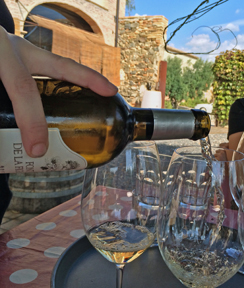 The white Font de la Figuera 2013 Priorat DOQ was a blend of Garnacha Blanc and Viognier. The yellow wine had 15% alcohol. The wine offered notes of floral, tropical fruit, melon and peach with a hint of honeysuckle. It was full-bodied and crisp. The wine retails for 18€ and $37.
Serras Del Priorat Negre 2013 Priorat DOQ was a blend of Garnacha, Cariñena, Syrah and Cabernet Sauvignon. The wine was a ruby opaque color with 15% alcohol. The wine offered berry fruit notes and tannins. The wine was medium-bodied with tannins and crispness. The wine label is simplistic and emphasizes the simplistic nature of this wine. It wine sells for 13€ and $25. The red Font De la Fiuera 2010 Priorat DOQ was a blend of Garnacha, Cariñena, Syrah and Cabernet Sauvignon. The wine was an opaque ruby color with 14.5% alcohol. The wine had notes of berry fruit including black berry and blueberry. It was crisp and full-bodied with tannins. The retail price is 18€ and $37. Clos Figueras 2009 was aged in French oak for 14 months. This wine was made with Garnacha, Cariñena, Syrah, Monastrell (Mourvedre) with a touch of Cabernet Sauvignon. It should be noted that the Cariñena grapes were from 60-year-old grapevines. The wine was an opaque ruby color with 14.5% alcohol. The wine offered dark fruit notes including blackberries, blueberries, cassis and some hints of leather. The crisp wine had bold tannins and was full-bodied. This vintage retails for 50€ about $70. Other retail prices depend on the vintage and ranged from 40 to 70€.
Events
Private events can be scheduled at Clos Figueras. Looking for a special place to hold a business event, wedding or party, Clos Figueras may be the place to have it. Connected with the winery facility is the restaurant Les Figueres.
When visiting Barcelona, consider a side trip to the village of Gratallops. Wine lovers can choose a wine and pairing tour or wine and lunch. Reservations can be made online.
Clos Figueras
Carrer de la Font, 38
43737 Gratallops (Priorat)
Tarragona, Spain
For more information about Clos Figueras
Article written October 2014
---
Please support the following.