Mas de L'Abundància
by
Kathy and Terry Sullivan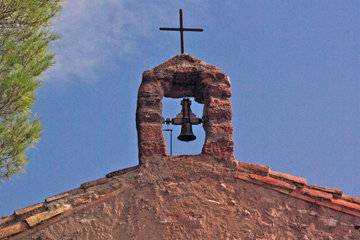 Summary: The winery owner and winemaker, Jesús del Rio Mateu is proud of his small vineyard and winery but he is not pretencious. During our visit he said, "You can be humble but excellent." He wants to be known for producing "authentic" wines.
Mas de L'Abundancia is in the Priorat region of Spain. The winery is in the D.O. Montsant. The Rio Mateu family started the winery in 2002. The name of the winery comes from the 15th century, a testament to the abundance and quality of products produced here. For centuries, vineyards have been planted here.
We met Jesús del Rio Mateu a little way before going on to his vineyard as he wanted to show us the area's aged church. Olga Pena Guiu who works for Jesús helped us as an interpreter.
Jesús is passionate about Catalonia's history and wine. He showed us around the grounds of a Roman-style church with a statue of Mary. He noted that before people were converted to Christianity, there were goddesses in the temple that is now the church. Today for Jesús this is a special place that offers peace. It is a quiet place, quiet enough to hear the wind. The grounds around the church are serene, peaceful and to some a place of spirituality.
In 1640 the Kingdom of Spain was in a war with Holland. The village was destroyed. But the Roman built temple survived.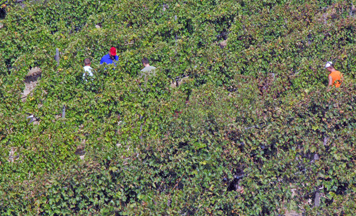 Vineyards and Winery
A short drive below the church, we visited Mas de L'Abundància winery and vineyards. The vineyard has been in Jesús' family since 1892. The vineyard has four hectares planted with Cariñena (Carignane), Garnacha (Grenache) and Cabernet Sauvignon. From the site of the church, Jesús pointed to a patch of vineyards on the slope of a nearby hill. This is his vineyard of Garnacha Blanca (Grenache Blanc). While walking through some of the closer vineyards, we noticed fennel growing wild in the area especially along the sides of a vineyard. The soil in the vineyard consists of slate and alluvium.
At the time of our early October visit, workers were in the vineyard harvesting red grapes. At the winery, a destemmer/crusher was destemming grapes that were placed into a milk-like crate by the harvesters. We tasted some juice that was just put into a tank. It was very sweet. We also tasted a juice that had been fermenting for a day. It too was very sweet with a bit of effervescence. Wines are distributed to England, Russia, and France.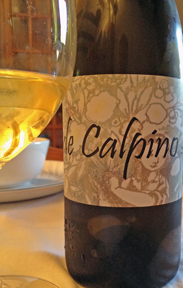 Wines
Jesús prepared a lunch for us representative of Catalan foods. The foods were paired with his wines. The de Calpino 2012 Montsant DO was produced with Garnacha Blanca. The light yellow wine was 14.5% alcohol. The medium-bodied wine was crisp with notes of citrus, tropical fruit and a hint of peach. Jesús is a talented winemaker and also shows his talent in the kitchen. An appetizer of green olives was served first, followed by a thick, warm butternut squash soup. The food paired well with the Calpino.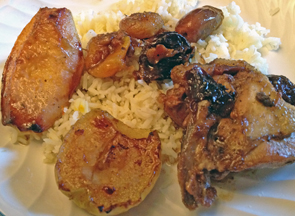 Flumenis 2012 was a proprietary blend that was produced without oak. The ruby color wine with 14.5% alcohol offered notes of cherry. The wine was full-bodied and very crisp with tannins. Mas de l'Abundancia 2007 Montsant DO was a ruby color with notes of cherry and licorice. The wine was in French oak for 12 months. The full-bodied wine had 14.5% alcohol and bold tannins. These wines paired with a Catalonian dish featuring chicken cooked with fruit including pears and dates. This dish was served on rice. The fruit blended well with both the chicken and the wine. It was a delicious match.
Dessert was simply a delicious selection of almonds covered with olive oil and honey from Romania.
We enjoyed a visit with Jesús where we were warmly welcomed with spirit, food and wine. Call to make an appointment if you wish to visit. Allow enough time to enjoy the peaceful setting of the old church overlooking the vineyards.
Mas de l'Abundància
Camí Gratallops s/n
43736 El Masroig (Tarragona)
---
Please support the following.