Museu del Ferrocarril de Catalunya, Train Museum
and
Dominio de La Vega Wine Tasting
by
Kathy Sullivan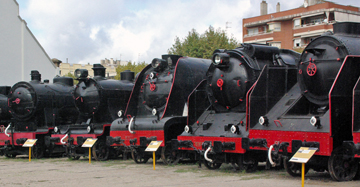 Summary: The Museu del Ferrocarril de Catalunya celebrates the history of trains since the first railway was started. Adults and children will enjoy the view of the development of trains over many years. We visited Museu del Ferrocarril de Catalunya as part of the 50 Best Cavas Tour. We enjoyed a special tasting of cavas and still wines from Dominio de La Vega.
The train museum is government owned and was established with the help of funding from railroad companies. Upon entering the museum we were directed to watch a video showing the history of the Spanish railway system.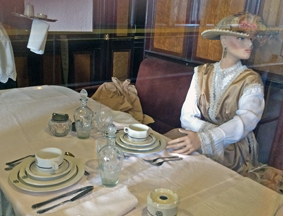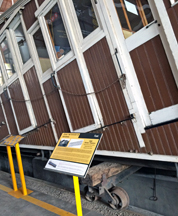 After the video we went outside to a large open area where we meandered around numerous vintages of train cars. A water tank used for powering the steam engines was also on display. Our guide took us through several train interiors. We were able to compare train comfort for the middle class compared to upper class accommodations for the wealthy.
We also viewed several interesting train engines and cars. One train car we viewed was built for use on an incline plane. We saw the tender with shovels ready for stoking the engine. Several dioramas showing family members traveling were delightful to view.
Designers and other creative people may enjoy the cement wall with impressions of large precise circles reminding one of train wheels.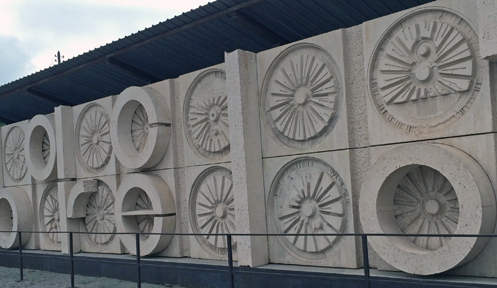 Dominio de La Vega Wines and Cavas
Near the end of our tour we tasted two cavas and two still wines from Dominio de la Vega. The winery located outside of Valencia focuses on the grape varieties: Chardonnay, Macabeo, Sauvignon Blanc, Pinot Noir, Bobal and Garnacha. The cavas are DO Cava and the still wines are DOP Utiel-Requena. Grapes are harvested at night. The cavas were the first cavas that we tasted that were produced outside the Penedés region. There are several wine regions in Spain that can produce Cava DO sparkling wines; however, the vast majority of cava production is in the Penedés.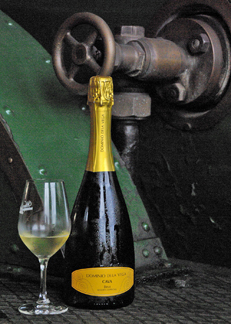 Dominio de la Vega Cava Artemayor V Brut Nature was a yellow color with 12% alcohol. This cava was produced with Macabeo and Chardonnay.The base wine was aged in French oak. The cava offered notes of apple, freshly baked bread and vanilla.
Dominio de la Vega Brut Reserva Especial 2011 showed a yellow color and was a blend of Macabeo and Chardonnay. The 12% alcohol cava offered notes of apple, yellow stone fruit and lemon.
Bobal Dominio de la Vega DV Bobal was produced with 100 percent Bobal and aged in French oak for four months. The 13.5% alcohol wine was an opaque ruby color. The smooth mouthfeel had dark fruit notes including plum and black berries. The wine was full-bodied with medium tannins.
Vino Artemayor V was produced with grapes harvested from 95-year-old vines. The 100 percent Bobal wine was aged for 14 months in new French oak. The dark ruby wine had 14% alcohol. The mouthfeel was smooth. The taste was of plum and blackberry. The full-bodied wine had bold tannins.
Soon it was time to leave the Museu del Ferrocarril de Catalunya and travel on to our next destination.
Museu del Ferrocarril de Catalunya
Plaça Eduard Maristany, s/n, 08800
Vilanova i la Geltrú
Barcelona, Spain
Dominio de La Vega
Carretera Madrid-Valencia, km 270,650
46390 San Antonio (Valencia) Spain
Article written October 2014
---
Please support the following.