Bodegas Raíces Ibéricas
(An Online Virtual Visit)
by
Kathy Sullivan
Photos provided by Bodegas Raíces Ibéricas.
This article describing Raices is based on the online interview, online data and photos supplied by Raices. The article was written during the time of the world-wide 2020-2021 pandemic. Sébastien Richard answered our questions.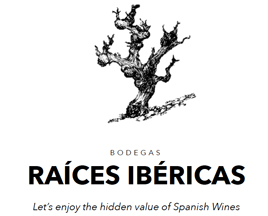 Summary: Bodegas RAICES IBÉRICAS is owned by Mark Schiettekat; he began Master Winemakers in 2000. While not owning vineyards, the winery controls 120 hectares (297 acres) in Calatayud. In addition to Raices winery, the facility known as Master Winemakers produces wines for other grape growers. The Spanish words for a winery that produces wines for growers is "Curiosidad".
Mark Schiettekat, owner of Bodegas RAICES IBÉRICAS, is a big proponent of Spanish wines. In the year 2000, Mark began Master Winemakers, with the intention of producing wines for grape growers as a "curiosiadad."
Twenty years later, In 2020, Mark Schiettekat purchased a former conglomerate building and renovated it, creating Bodegas RAICES IBÉRICAS. This facility allows wines to be produced in concrete tanks, stainless steel tanks and oak barrels. The capacity is 5.6 million liters. The tagline for the winery is "Let's enjoy the hidden value of Spanish Wines." In addition Bodegas RAICES IBÉRICAS has the motto, "Giving value to Spanish wines. Bodegas RAÍCES IBÉRICAS is on a mission to offer distinctive wines to consumers at an outstanding quality-price ratio and to develop long-term winning partnerships with clients."
Mark discovered the lure of wine in 1983. According to our online interview, Mark became interested in wine in the early 1980s after accidentally discovering a wonderful bottle of Spanish wine. Mark began as a small wine merchant working out of a garage. Mark's business continued to grow. He is fascinated by grape varieties, wine regions, grapevine roots and barrel toasting. All of this led to Mark establishing Bodegas RAICES IBÉRICAS.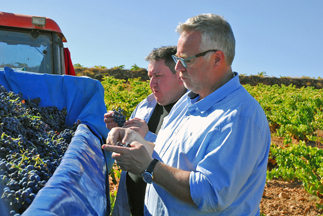 Bodegas RAICES IBÉRICAS does not own vineyards but has control of 120 hectares (297 acres) of vineyards in Calatayud. According to our contact at Raices, Sébastien Richard: "We are controlling over 120Ha of vineyards in Calatayud but still continue to work closely with many other winemakers in various Spanish regions: our project is to show the best 'Iberian' portrait possible."
The winemaker, a long time friend of Mark's, is Carlos Ruben Magallanes; however, everyone refer to him as Ruben (pictured left is Ruben in the background along with Mark in the foreground). Ruben has vast experience in producing wine. Ruben was born in Ponferrade located in the Leon province. Ruben began producing wines with Mencia (Jaen) grapes. In 1997 Ruben began working at Bodegas San Alejandro where he met Mark. Ruben was winemaker at Bodegas San Alejandro until 2015. He also experienced winemaking in Argentina and Chile. Ruben produces Carlos Ruben wines and their production is 50,000 cases.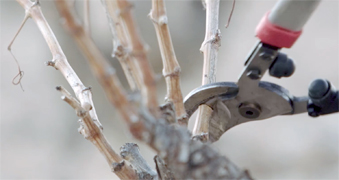 Mark calls Ruben 'La Voz de la Garnacha,' 'The Voice of Garnacha.' Mark challenged Ruben to make wine along the Garnacha route.
Bodegas RAICES IBÉRICAS Wines
Sébastien: "The Raíces wines aim to be more 'gastronomical and educational' wines instead of trendy wines. We think this is time for Spain to show all its complexity and not only as trend follower."
Ruben works with 19 grape varieties including: Verdejo, Albarin, Xarello, Garnacha Blanca, Moscatell, Bobal, Tempranillo, Garnacha, Mencia, Albariño, Malvar, Godello, Rufete, Mazuela, Graciano, Tintorera and Monsatrell. Raices produces 30,000 cases.
Bodegas RAICES IBÉRICAS offers four product lines: Cadadia, Varietal, Premium and Icon. The Varietal line are wines produced with a single varietal grape. The Cadadia line wines are blends produced with two grape varieties. Premium wines are described as being more complex with more mineral grape varieties. The Icon wines feature wines produced with the best, most complementary grapes sourced.
In 2020, Bodegas RAICES IBÉRICAS is exporting the majority of their wine production. They foresee a future
of selling more of their wines in Spain with Sébastien writing: "We export almost 80% of our total production but we think that the Spanish market will be more interesting in the future if we manage to educate more the Spanish clients with indigenous Spanish grape varieties."
Tourism
The winery is based in the village of Maluenda in the Calatayud DO in the Aragon wine region. Travelers to the region will discover other renowned places to visit including the Spanish city of Zaragoza. The region is also known for nature tourism and a natural spa. Fifteen km (9 miles) from Maluenda, travelers can visit the "Monasteriod de Piedra."
Article written December 2020.
---
Please support the following.