Canals Canals
by
Kathy and Terry Sullivan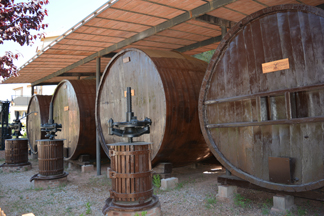 Summary: Canals Canals is a special winery in the village of Castellví de Rosanes. Across the narrow street from the entrance there are vintage wooden tanks and presses. In addition to creating quality cavas, they have a room specifically set aside for ornate glassware including stemware. Two other rooms are filled to the brim with vineyard and winery artifacts. In addition, they have an authentic mummy.
Located in the village of Castellví de Rosanes, Canals Canals is a third generation winery producing cavas and wines. We quickly discovered the family also places an emphasis on old winery tools with a private museum collection incorporated into the winery. The facility was built in 1903 for still wine production.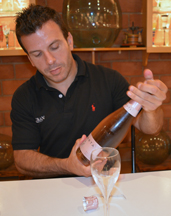 Ramon and his sister Marta are the third generation. Their grandfather Miquel Canals Ollé produced still wines in 1975. Miquel Canals Ollé their father began cava production.
After we met Ramon, he told us that the vineyards for cava production have been in the family for multiple generations. Canals Canals produces three brands. Millennials are attracted to the Marta brand and its more modern taste and look. Duran is considered more traditional cava. The third brand is Canals Canals.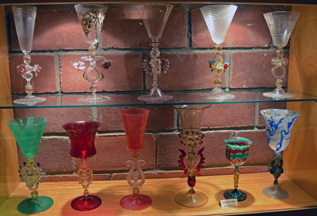 Museum
Canals Canals is known for its extensive museum collection that totals 3,500 artifacts. The museum is 800 square meters and takes up three rooms. The first room contains many exquisite wine glasses including Catalan and Venetian stemware displayed in cabinets behind glass. Goblets include Murano glass and Catalan glass porrons. Two books are available to help identify stemware. Tables are set up in the glass room for wine tastings. On the far wall a painting depicts an artist's view of winemaking from the vineyard to the wine.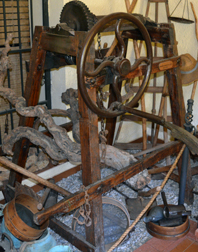 After we viewed the unique glass selection, we were guided to a second room with an enormous amount of vintage vineyard equipment including wood rakes, scythes, and many spraying systems. There was a copper sulfite sprayer from 1832. Most unique was the vine machine that was carried into a vineyard to rip a vine out of the soil (pictured left). It took four workers to carry this heavy machine, that was used when phylloxera was in the region.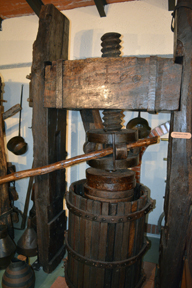 The third museum room, the largest, is home to hundreds of artifacts for winemaking and cava making including large casks, wood presses and old machines that secured a string as a cage to the bottle top. While viewing the presses from between the 1400s and the 1800s, they first appear to be the same basic technology, all wood. A closer looks shows that the 1800 presses began to use a thick metal screw rather than wood. The oldest press was dated 1490 (pictured right).
An especially unusual item in the museum is an authentic mummy from Egypt, an important wine growing region from antiquity. Ramon noted that his father has an authenticity note for it. Also in the museum is an entire 1872 cava bottling line set up to view.
According to Ramon, his father has spent a great deal of time taking apart many of the winemaking and cava making tools, cleaning and repairing them to preserver them. Today they are an excellent resource for those interested or studying about the history of wine and cava making.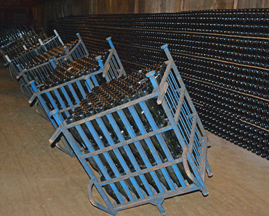 Winery
At Canals Canals both riddling racks and gyropalettes are used in the production of fine cavas. Hand riddling racks are needed for some of the cava bottles that have unusual shapes and sizes. The winery produces 225,000 bottles of cava.
The Canals Canals vineyards have been in the family for multiple generations. Currently, Canals Canals has 25 hectares (62 acres) of grapes growing Xarel.lo and Macabeo. The winery also sources grapes from other growers.
Tastings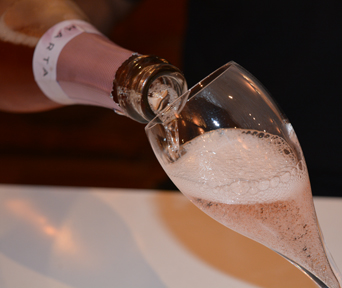 While visiting Canals Canals we tasted several cavas. The Marta Passiô Brut Reserva was 100% Garnacha. The very light red/orange color had a steady stream of bubbles quickly rising to the surface forming a mousse. The cava was disgorged in March 2015. It offered strawberries and raspberries on the aroma and taste. This is an easy to drink anytime cava.
The Duran Grand Reserva Brut 2010 was a bend of Xarel.lo, Parellada, Macabeo and Chardonnay. The dosage was six grams per liter residual sugar. Disgorgement was in May 2015. The cava had lively beads of bubbles forming a mousse. The cava offered notes of floral, pear and green apple. There was a hit of freshly baked bread on the finish.
The Duran Gran Reserva Brut 2009 was a blend of five varieties including Xarel.lo, Macabeo, Parellada, Chardonnay and Pinot Noir. The residual sugar was five grams per liter. This cava was disgorged in February 2015. Tiny bubbles rapidly formed a mousse on the surface. The cava offered notes of pear, apple, some citrus,and freshly baked bread with the faintest hint of caramel. The cava had a lively mouthfeel.
The 2007 Ramon Brut Gran Reserva was yellow with tiny bubbles rising to form a mousse. The cava was a blend of 50% Xarel.lo, 25% Macabeo and 25% Parellada grapes from 40-year-old vines. The aroma was of apple and citrus. The taste had notes of apple and pear with a nice mouthfeel. The finish was fruity with minerals.
Wine Tourism
The reception area of the winery is open daily to visitors. Guided tours of the museum are available. Check the Canals Canals website for details.
Canals Canals
Av. Mare de Déu de Montserrat, 9
08769 Castellví de Rosanes
(Barcelona), Spain
Article written June 2015

---
Please support the following.