Bodegas Trenza
(An Online Virtual Visit)
by
Kathy and Terry Sullivan
Photos provided by Bodegas Trenza.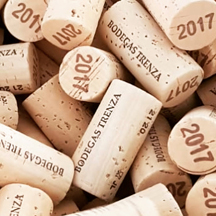 This article describing Bodegas Trenza is based on an online interview, online data and photos supplied by Bodegas Trenza. The article was written during the time of the world-wide 2020 pandemic. The owners, also brothers, answered our questions.
Summary: Bodegas Trenza, located in Spain, is owned by two brothers who are originally from Denmark. Eventually the two brothers arrived in Spain and years later established their own winery, Bodegas Trenza. The two brothers, David and Jonas Tofterup, delightfully provided extensive answers to our questions.
After traveling around the world, in the early 2000s, David Tofterup established Bodegas Trenza with his brother, Jonas. The winery has "braided together life experiences, quality enriched fruits and love into every bottle." For English speakers, the name of the winery Trenza translates to braid.
David is also the winemaker and crafts wines with a variety of grapes including Monastrell (Mourvèdre), Cabernet Sauvignon, Syrah, Tempranillo and Garnacha Tintorera (Alicante Bouchet). He also works with Sauvignon Blanc, Verdejos and Viura.

Bodegas Trenza produces wines sourced from established vineyards with whom they have developed strong relationships. In their production of several styles of wines, for the Yecla, they use Monastrell grapes from old dry farmed bush vines that are located more than 2500 feet above sea level. The soil was described by Bodegas Trenza: The terroir/soils where the vines are planted is poor, free draining soils made up of limestone, sand, pebbles and broken up rocks. The soils are low in nutrients and organic matters and combined with the natural low precipitation plantation density is low and the vines themselves are low yielding often lower than half a tonnes per acre resulting in grapes of high concentration.
The Intriguing Story Behind Bodegas Trenza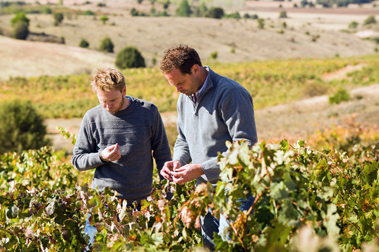 David and Jonas were born in Denmark (pictured left in a Sapnish vineyard). Eventually, their families moved to Spain for several years. It was then that David, several years older than Jonas, became interested in wine. David wrote: I was born in a country, Denmark, known more for wine consumption than wine production; however, my parents, were of the small few, who tried to make homemade "wine" in our basement. Their wine was not much of wine in the end, but as a child I got to see how much fun they had while making it. To this day, my family still laughs at the idea of them trying to make wine in a Danish basement, but what they did back then was to plant an important seed within me. Moving to Spain, when I was 15 years old, really exposed me to wine culture. Spain, the wine, the food, the language, the people, the sunshine and the smiles. Our holidays were always spent in one Spanish wine region or another. This is when I knew what I wanted to do for living, it just took longer to get my father to agree. In the late 1990´s I started traveling around the world gaining knowledge and experience making wines working the different harvests in France, Chile and California and in 2001 I finally made my way back to settle in Spain.
Jonas also responded: The dream for me started back in the late 90s. David, who is 10 year older than myself, started working in the wine industry. In 1997, when I was just 11 years old, I was asked to write an essay about what I would be doing when I would turn 25. I proudly wrote that I would be making wine with my brother naming it "The Brothers Wine".  The dream slowly started taking form in 2004 when David started making Trenza Family Collection. He generously offered me to become a part of it (I was studying at the "Gymnasium" at the time).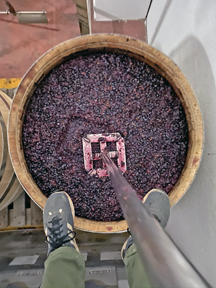 Jonas gives David a lot of credit by continuing with: David has been like a role model to me, always encouraging me in my wine adventures and after having achieved the WSET Diploma, a M.Sc. in Viticulture and Enology and having worked for a few years in the different wineries, I knew my path would be different to that of my brother and my passion for knowledge pushed me to getting my Master of Wine title.
Today Bodegas Trenza is owned by David and Jonas. David deals with all aspects and decision making in the winemaking and developing the wine portfolio. David also works with Jonas in the sale of the wines. Jonas is the commercial director and deals with sales training, wine education and the press.
Wine Trail Traveler asked, "What are David's most enjoyable aspects of winemaking?" David's response:  What´s not to love!? I love everything about making wine. For me, like most winemakers, it is not a job, it is a passion and a hobby.
I love seeing the very first sign of life in the vineyards. The little green buds, springing to life on the vines, immediately brighten up the brown scenery. Seeing this gets me really excited thinking of the new harvest. I really enjoy walking amongst the vines as I sample and make my selection. I also, really find it exciting to have all my wine batches out in front of me; tasting and blending them, crafting what would be the best wine I can offer others to enjoy. It is a mental and sensorial experiment that is really satisfying when you have the ah-ha moment.
The winemaking protocols David uses include: gently handling the grapes from the vineyards to the cellar and throughout the winemaking. The grapes are hand harvested and delivered to the cellar in small crates of 15kg. The grapes are chilled for 24 to 48 hours to 5 degrees C. The clusters are hand selected before de-stemming. Vinification is whole berry or whole cluster in small tanks or large oak barrels. French oak barrels are used for malolactic fermentation. Wines are aged in new French oak barrels.
Why Bodegas Trenza is Unique
Few Danish winemakers are producing Spanish wine. Jonas was the first Dane to be awarded the Master of Wine title. David has received the UEC-BACO 2015 and was the 2017 Winemaker of the Year.
In addition, the brothers are highly selective of the grapes they are using in the winery. They want grapes from old historical vineyards located at a high altitude. They wrote: These vineyards are typically dry-farmed, locally known as "secano" and many of which are un-grafted and are yielding a very small crop.
Pairing Bodegas Trenza Wines with Local Foods
Wine Trail Traveler was curious as to what foods David and Jonas would pair their wines. David wrote: I am a Spanish paella master and love making paella out in the garden with my children every Sunday. Paella goes lovely with all of my wines. It can be chicken and vegetable, duck and garbanzo, pork and chicken, rabbit and artichokes. The combination is limitless. I also make a very nice Ossobuco stew with mashed potatoes that pairs really good with my wines. And another favourite in our household is a lasagne with bechamel sauces.
Jonas: Jonas is the grill master with a beautiful summer kitchen with a built-in barbeque that he uses regularly. Secreto- a special cut of the Iberian pork along the ribs / Lagarto- this is a cut of meat from Iberian pork that is between the spine and the loin that is normally a very long and narrow piece with just the right amount of fat to keep it tender / Good old Steak: juicy ribeye or aged entrecote, Longaniza (Spanish sausage), chorizo, hamburgers, and even eggs pan fried over a wood fire.
The Future
Currently Bodegas Trenza wines are produced in a rented cellar. Within five years, David and Jonas hope to establish their own boutique brick and mortar winery as well as to have their own vineyards.
Finding Bodegas Trenza Wines
Bodegas Trenza wines are available in several US states including: Georgia, Alabama, Virginia, Maryland, DC, Pennsylvania, Minnesota, South Dakota, North Dakota and Colorado. The wines will soon be available in other states as distribution expands.
Felix Mendelsshon, 8
03730 Jávea · Alicante
SPAIN
Article written November 2020.
---
Please support the following.