Juvé & Camps
by
Kathy and Terry Sullivan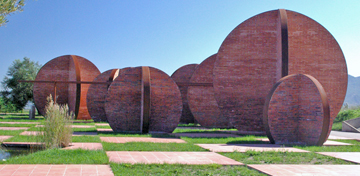 Summary: Juvé & Camps is a large production winery in the Penedès region. The winery combines modern aspects with centuries old caves. The winery production facility is located in the midst of vineyards.
Our first stop at Juvé & Camps was at their newest location that is a combination of a large winery and a remarkable architectural style. At the entrance a unique combination of circular red bricks announces that we have arrived at a special place, inviting us to see what lays beyond. Later, on our tour we learned that the brickwork from the air looks a cluster of grapes.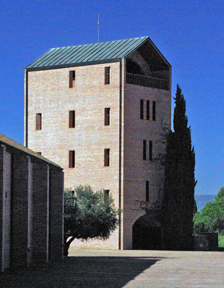 The tallest building on the winery campus reminds one of a tower. The outside of the tower is a tall cube shape. However to view the surrounding campus and vineyards from the top floor, visitors climb a circular stairway. The tower also provides views of a series of brick walls that spread out like a fan. Seen from above the design of the red brick walls is fascinating. We learned that their purpose was decorative.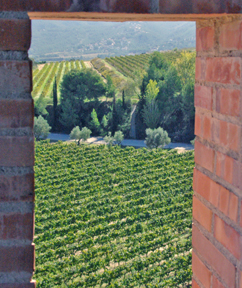 From the top level of the tower, visitors can see hectares of vineyards surrounding the winery. Beyond the vineyards the Montserrat Mountains are in the distance. Across the pavilion is the red brick winery. Our tour guide Oriol Gual, export manager, noted that the winery is in the center of the vineyards and the furthest vineyard is only 30 minutes from the winery.
Vineyards
Juvé & Camps has 500 hectares (1,236 acres) of property with 350 hectares (865 acres) planted with grapes. The grape varieties include Macabeo, Xarel-lo, Parellada and Pinot Noir. All of the grapes are harvested by hand.
When the harvested grapes arrive at the winery, the grapes are weighed and tested. It is possible that a load of grapes is rejected although rejection does not occur frequently. First run press is used for Juvé & Camps cavas and still wines. The second press juice is sold.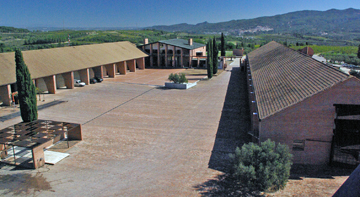 Winery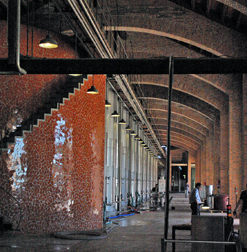 We toured different sections of the winery. In one section stainless steel tanks were in a row. The room had an elegant feel with red brick walls and supports for red brick arches. We also observed a unique use of mosaics throughout the winery. One area at the end of a line of gleaming stainless steel tanks was covered with ceramic tiles in a pattern.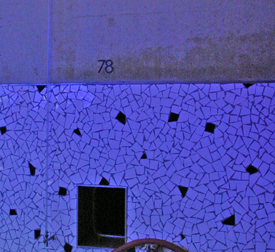 Another area held cement vats. To break the monotony of the gray colored cement, blue and black ceramic tiles extended several feet from the floor in a mosaic pattern, once again adding elegance to the winery facility. In the winery, 120 vats surround an area that one day will become an auditorium. The inside of the concrete vats are coated with epoxy.
Another room was used for barrel storage with barrels stacked three high along the long walls. Juvé & Camps has a large, spacious science lab for testing and wine analysis. Our group's cava tasting took place in a modern equipped room. Each individual spot had a backlight so that cavas could be accurately seen and described. A small, round sink was available to use as a dump bucket. Mr. Juvé greeted us while we were tasting wines.
After our tour and wine tasting at the Juvé & Camps winery, we went to the nearby town where Juvé & Camps has other buildings. One of the buildings extends six stories below ground. These underground floors are used for aging cavas. After touring one of the underground floors with stacked bottles, we went to another building for a catered lunch paired with Juvé & Camps wines.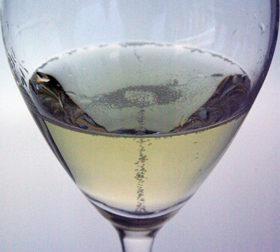 Wines
Our first wine tasting was in an ultra-modern wine tasting room at the winery production facility. Juvé & Camps is a large production winery. Currently they produce 3,000,000 bottles of cava and 1,000,000 bottles of still wine.
Brut Nature Gran Reserva 2010 Reserva de le Familia was a blend of Macabeo, Xarel-lo, Parellada, and Chardonnay. This was one of the selected 50 Great Cavas. The cava was in bottle for 30 months for aging. The light yellow cava with 12% alcohol was crisp with mineral and apple notes. The retail price is 14€. Brut Reserva Blanc de Noir 2011 was produced with Pinot Noir. This yellow wine offered mineral and floral notes. This 12% wine was crisp with a citrusy finish. The wine retails for 25€. Essential Reserva 2012 was a darker yellow with apple notes. The cava was creamy with a nice aftertaste. This 12% alcohol cava sells for 12€.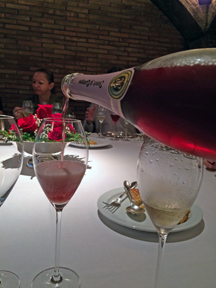 Brut Rosé produced with Pinot Noir was 12% alcohol. The creamy taste was very fruity with strawberry and cranberry notes. The cava was crisp. Gran Cuvé y Camps Brut was a light yellow cava with 12% alcohol. The cava offered mineral and citrus notes. The wine retails for 30 to 35€.
Muscat, Gewürztraminer, Malvasia de Sitges was a light yellow. It was very aromatic with floral notes including honeysuckle and roses. It also had spice notes.
Catered Lunch
During our catered lunch in one of the Juvé & Camps' locations in town, we enjoyed Catalan cuisine from tapas to dessert. Each dish was paired with a cava.
We enjoyed our visit to Juvé & Camps from the beginning at the modern winery site to the underground aging rooms in town to the delicious Catalonian cuisine. We will search for these cavas in the United States.
For more information
Juve & Camps
Carrer Sant Venat, 1
08770 – Sant Sadurní d'Anoia
(Barcelona)
Article written October 2014

---
Please support the following.