Papat del Mas
by
Kathy and Terry Sullivan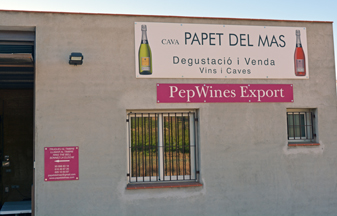 Summary: We met the owner of Papat del Mas in Guardiola de Font-Rubí, a small town in Catalonia. Josep Suriol was at his storage, shipping and office building. He is friendly and congenial. His focus is on producing maximum quality wines and cavas that are a good value and exporting.
Papat del Mas produces value cavas and wines primarily for exporting. Josep Suriol is the energetic owner of Papat del Mas. The cava and wine company was named for his grandfather Papat del Mas. Josep told us that Papat is a form of Josep and Mas is a form of masia or house. Josep also owns the export company PepWines Export.
Josep Suriol's main goal is producing the maximum quality of cavas and wines as possible, and to sell them at competitive prices. He also is intent upon crafting cavas and wines that are a good value for the consumer. He has a good sense of what his customers like.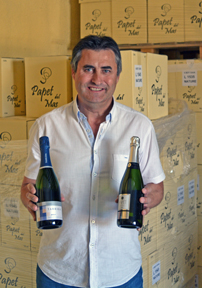 Josep employs a winemaker and buys grapes and base wines. He mentioned that he and the winemaker are always looking for the best grapes and base wines. Josep rents space at a winery where his winemaker produces cavas and still wines. Together Josep and his winemaker work on a blend for the coupage for each cava. Josep explains to his winemaker what his clients are interested in, and they work on creating those particular styles of cavas and wines. They primarily like to use the local grape varieties including Macabeo, Xarel.lo and Parellada. Cava production includes a brut, brut nature, brut reserva and a rosé. Production is currently 150,000 bottles of which 80 percent are cavas.
Cava
The Brut Nature was a blend of 25% Macabeo, 50% Xarel.lo and 25% Parellada. The light yellow colored cava had a bead of bubbles forming a mousse on the surface. Green apple was apparent on the aroma and taste. A lively mouthfeel was accompanied by a crisp finish.
The 2013 Brut was blended with Macabeo, Xarel.lo and Parellada. The cava was aged for 12 months. The cava had notes of green apple and citrus on the aroma and taste. The finish was crisp with a short aftertaste.
Currently cavas are exported to 25 countries including the United States, Finland, Japan and other European countries. In addition to exporting cavas and wines throughout the world. Papa del Mas has a small location for distributing products. At the front of the building a small office also sells cavas and wines to local customers.
Papat del Mas
Les Casetes d'en Raspall, 20
08736 Guardiola de Font-Rubí
(Barcelona), Spain
+34 93 898 83 18
Article written June 2015

---
Please support the following.