Mas Codina
by
Terry Sullivan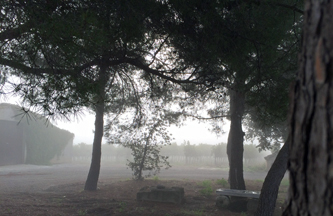 Summary: A fog covered vineyard, cloudy cuvées and crystal sparkling cavas awaited us when we visited Mas Codina Winery. This family run vineyard and winery is dedicated to providing wine enthusiasts a wonderful experience and noteworthy cavas.
On the day of our October visit, an early morning fog covered the vineyards kissing the vines with cooling moisture. Within hours the fog was lifted and the sun's heat dried the water clinging to the leaves. We met owners, Antoni and Imma Garriga who greeted us on our arrival. Antoni spoke Catalan and Imma translated into English.
Vineyards
We toured the property starting in the vineyards. One could see and feel the light touch of the fog. As we strolled through the vines we learned that the family has 40 hectares under vine. The estate dates back to 1681. The oldest vines are 40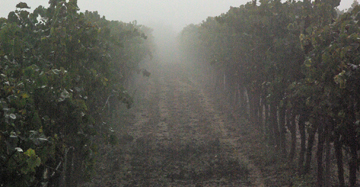 to 50 years old and are used to make cavas. Cava varieties include Macabeu, Xarel-lo, Pinot Noir and Chardonnay. In addition to the cava varietal grapes, there are also plantings of Syrah, Merlot, Cabernet Sauvignon and Muscat.
Much attention is given to the vineyards that are grown in clay and limestone. Many of the vines are tended to by hand and hand harvesting takes place in 90 percent of the vineyards. Harvest lasts from August to mid-September. The vineyards do have challenges though with insects and diseases. Workers will apply a spray of copper sulfate if needed.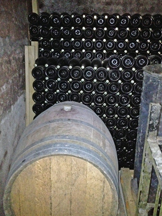 Winery
Our tour continued into the winery where we observed stainless steel tanks, oak barrels and cava producing equipment. In the bottling room, a small alcove has a statue of Jesus Christ. Above the alcove is the date 1618. The Mas Codina family has been grape growing and winemaking for centuries.
There are several winemaking practices including fermenting each variety separately. Selected vineyard blocks are used to make the cavas; they tend to be the older vineyards. The winery produces about 80,000 to 90,000 bottles of cava. Including still wines, the winery produces about 120,000 bottles annually.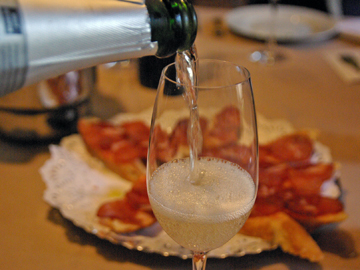 Wine Tasting
Our group was led to a house for the wine tasting in the dining room. In addition to wine, tapas were served. We first tasted the still wines that will eventually be used for cava production. The still wines recently completed fermentation. In two to three months, Antoni will decided on the blends for this year's vintage. In part, his decision is based on the blend that best offers ageability in the bottle.
The three recently fermented wines were still cloudy. They have not had time to clarify. The Macabeu was fermented three weeks prior to our tasting. It offered hints of apple and citrus. The wine was crisp. The Xarel-lo based wine completed its fermentation just three days prior to tasting. It had hints of mineral and citrus and was very crisp. We then tasted a Chardonnay/Pinot Noir blend. It reminded one of grapefruit and was very crisp. These wines will settle for awhile before blending to produce the cavas. The cavas will undergo a secondary fermentation in the bottle for many months depending on the type of cava.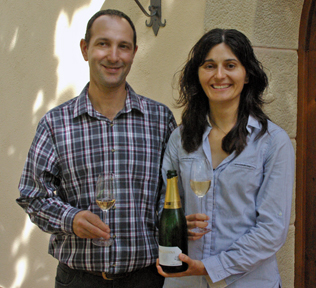 All the cavas tasted were in a select group of 50 Greatest Cavas for 2014. The Brut Reserva Cava DO was a blend of Xarel-lo, Macabeu, Chardonnay and Pinot Noir. The yellow color cava offered freshly baked bread, pear and melon. There was a slow steady stream of tiny bubbles. There was a hint of sweetness in this cava that had 10 grams of sugar per liter. The wine retails for 8€. Also for 8€ is the Brut Nature Reserva Cava DO. This cava is a blend of Xarel-lo, Macabeu, Pinot Noir and Chardonnay. The light gold color wine offered freshly baked bread, pear and citrus. The Brut Nature Gran Reserva spent over 40 months in bottle after secondary fermentation started. This dark gold color cava was a blend of Xarel-lo, Macabeu, Pinot Noir and Chardonnay. Freshly baked bread aromas and tastes was accompanied by apple and citrus on this crisp cava.
The tapas paired well with the cavas. We tasted pa amb tomàquet i llom embotit (bread with tomato and pork sausage.) There was a plate of pa amb tomàquet i pernil ibèric (bread with tomatoe and Iberian ham.) The third plate had slices of a local cheese.
Antoni and Imma make a wonderful couple that have a long tradition in the Penedés wine region. Wine enthusiasts should make an appointment. The family is welcoming and their cavas offer a great value.
Mas Codina
El Gorner
08797 Puigdàlber, Spain
Article written October 2014
---
Please support the following.