Celler Devinssi
by
Kathy Sullivan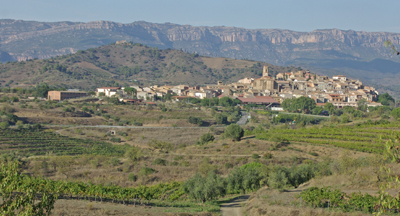 Summary: Celler Devinssi wines are DOQ Priorat certified. We enjoyed a very enthusiastic tour of the Celler Devinssi vineyards including a wine tasting in the hillside vineyards. Celler Devinssi also has tastings and tours at their winery located in the village of Gratallops (pictured). When visiting be sure to ask about the Adopt a Vine program. Tours are available in several languages.
In the village of Gratallops in the Priorat region of Catalonia, we were met by, Jordi Ustrell, an enthusiastic staff member of Celler Devinssi. His excitement for the wine industry and conducting our tour was inspiring. Before arriving in Gratallops, Jordi originally from Russia, had worked as a wine distributor. Years later he has worked all of the numerous tasks necessary at wineries and in vineyards. When asked what work he disliked most he charmingly replied, "Spraying copper sulfate in the vineyards."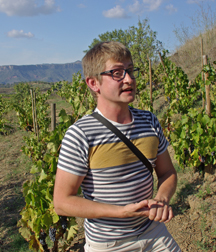 For our tour, Jordi had us jump into his jeep and away we went on a rough, uphill trail leading to a hilltop site where our wine tasting took place. We were joined by several hikers taking the trail through the vineyards.
First we stopped for a close look at the Devinssi vineyards not far from the village. The view from the vineyards overlooks the village of Gratallops. In the distance one could see the Montsant mountain range. The mountains' name reflects, "a place the wolves like." Jordi related the story of the winery owners who started to make wine in 2003 from vineyards planted in 2000. This vineyard had old vines already planted in it dating back more than 80 years. On this steep terrain the old vine vineyards were plowed with a mule.
Near the top of the vineyard a small, white building was once used by vineyard workers for lunch. Today the building is a storage area. Just outside a table was set up for our wine tasting. The weather was warm for an autumn day and the sunlight highlighted the village of Gratallops and the mountains in the distance.
Josep Roca Benito founded the winery in 2000. He has a Master of Oenology and Viticulture. The winery is located in the village of Gratallops. Devinssi produces around 12,000 bottles per year.

Devinssi Wines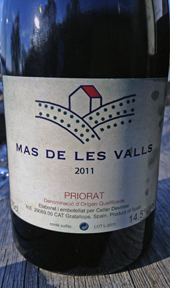 Mas de Les Valls 2011 Priorat DOQ Vi de Vella Gratallops (Village Wine) was a yellow color with 13.5% alcohol. This wine was a blend of Garnacha Blanca and Pedro Ximénez. The wine offered floral, mineral and yellow stone fruit notes. The wine was full-bodied and very crisp. The retail price is 12.5€.
Cupatge 2013 Priorat DOQ was a blend of Garnacha, Cariñena, Cabernet Sauvignon, Merlot and Syrah. The wine was fermented and aged in stainless steel. This wine was a translucent, dark red color and offered notes of dark berry fruit including blueberry, cassis and blackberries. It was full-bodied with bold tannins. The wine retails for 12.5€.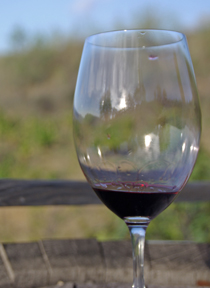 Mas de les Valls 2011 Priorat DOQ was a blend of Garnacha, Cariñena and Cabernet Sauvignon. The wine was aged in American oak for four months followed by seven months in French oak barrel. The wine was a translucent ruby color with 14.5% alcohol. Aromas and flavors included dark fruits especially blackberry, mineral, leather, cassis, and spices reminding one of cinnamon and cloves. This wine was full-bodied and crisp with bold tannins. The wine retails for 12.5€.
Our tour and wine tasting in the vineyard will always be an experience to remember. Unfortunately our schedule did not allow us to visit the winery. Tours are available in several languages including: Catalan, Spanish, English, French and Russian. When planning a visit to Celler Devinssi, contact the winery in advance.
Celler Devinssi
Carrer Masets 1
Gratallops (Priorat), Spain
Article written October 2014
---
Please support the following.