Centre d'Interpretació del Cava
Center for the Interpretation of Cava (CIC)
and
Celler Vell Cava Tasting
by
Kathy Sullivan

Centro de Interpretación de Cava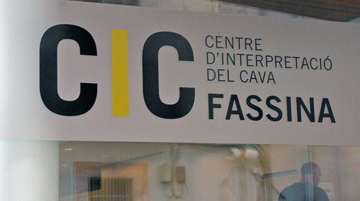 Summary: A visit to the Center for the Interpretation of Cava is where we encountered a celebration of the dreaded vineyard pest phylloxera. In this town it is commonly believed that phylloxera was the reason for the development of cava.The CIC offers modern interactive displays, videos and displays of the phylloxera festival costumes. While at the museum, we had a special cava tasting from Celler Vell.
The Center for the Interpretation of Cava (CIC) is located in what was once a winery and distillery until 1965. The distillery was named La Fassina de Can Gruineu. At the time they produced wine and distilled it. In 2004 the building was renovated into a welcome center.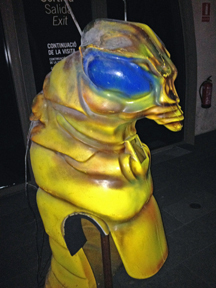 A highlight of the CIC is the video of a phylloxera festival. During the festival people wear phylloxera costumes and set off sparklers. It is a commonly believed that if phylloxera had not occurred, there would be no cava. The same room where the festival video is projected also displays the large masks that are worn during the festival. Sure to surprise visitors, they can view and touch a gigantic model of a phylloxera insect in the center of the room surrounded by large masks.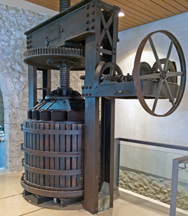 Several colorful interactive table displays are excellent for explaining and teaching the history of cavas. There are numerous artifacts throughout the museum rooms including a wood wine press.
CIC includes a large old cellar used for events including weddings. A video is displayed on three walls and shows the vineyard including pruning, an aerial view, water, rain, wind (you feel it), and vines springing forth. The video transitions to cellar and to wine. Finally cava bubbles reminding one of rain and a bubbling brook.
Celler Vell Cava Tasting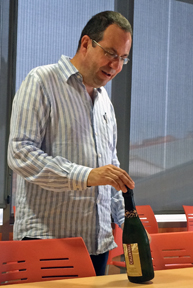 Celler Vell, a small artisan winery, is a second generation winery located in the Penedés region. Today Josep Ma. Estruch is the owner and winemaker. It was his father Pere Estruch Casanovas who started the winery in 1954. Josep likes to hold wine tastings at the CIC Museum. Wine enthusiasts can visit his winery on weekends. He has some vineyards but also sources grapes from other growers. Currently he produces about 70,000 bottles.
Josep is focused on continuing his parents' work. When his father was ill, he would substitute for his father. We tasted several cavas in a museum conference room.
Brut Nature Reserva 2011 Cava DO was produced with Xarel-lo, Parellada and Macabeo. The cava was aged for more than 24 months. The light yellow cava was crisp and fresh with notes of citrus and green apple.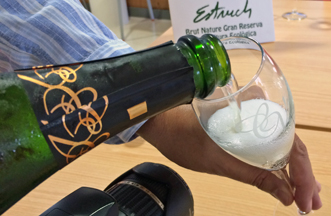 Extra Brut Gran Reserva 2010 Cava DO was a blend of Parellada, Macabeo, Xarel-lo and Chardonnay. This 11.5% alcohol wine was aged for 36 months. The wine offered notes of freshly baked bread and apple.
Estruch Brut Nature Gran Reserva 2009 Cava DO was aged for more than 50 months. The cava was produced with Chardonnay and Pinot Noir. The sparkling wine offered freshly baked bread, lemon and green apple notes. The crisp cava had a single stream of bubbles.
The museum offers an excellent background of the Penedés region and cava production. Wine enthusiasts should include the museum on their winery itinerary.

Centre d'Interpretació del Cava
c. de l'Hospital, 23
08770 Sant Sadurní d'Anoia
Barcelona, Spain
Celler Vell S. A.
Partida Mas Solanes, s/n
Ap. Correus 32
08770 Sant Sadurní d'Anoia
Barcelona, Spain
Article written November 2014
---
Please support the following.