Canals & Munné
by
Kathy and Terry Sullivan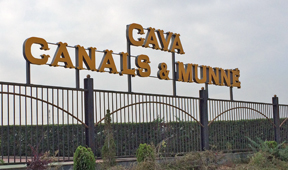 Summary: Canals & Munné, is located outside the town of San Sadurní. A short drive away and in the town, the winery has a restaurant. Visitors can taste wines and cavas at both locations.
Visitors to the Canals & Munné facility will see a large sign on a fence - CAVA CANALS & MUNNÉ. Inside the facility, wine enthusiasts will discover a large room with a tasting counter, tables and display cases filled with wine-related items. Items of interest were the metal doll house chairs created with cava cages.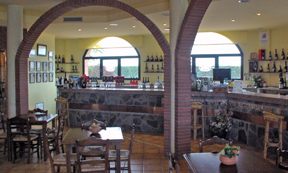 The long tasting counter is to the side of the large room. We noticed that the side of the tasting counter has decorative tiles with images of vineyards, vineyard work, grape harvest, wine production and cava production. The ceramic tiles depict many of the vineyard and cava making tasks and are quite detailed. On display on the tasting counter was a beautiful crafted wine box with an image of vineyard workers harvesting grapes.
Canals & Munné was founded in 1915. Today the winery concentrates on producing reserva and gran reserva cavas. Currently the winery produces 250,000 bottles of cava with a few still wines.
Our guide Natalia de la Calle Zancajo noted that more yeast is used for producing gran reserva. Canals & Munné cultivates their own yeast for winemaking. The winery focuses on maintaining the freshness of their products.
Winery Tour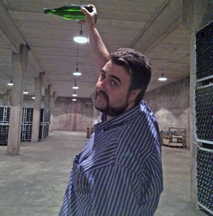 Natalia led our group into the cava production area. A large space is devoted to aging bottles of cava. The area has cement floors, walls and ceiling. The gray cement color contrasts with the green cava bottles laying on their sides. The most striking color contrast were the bottles of the red rosé cava.
The barrel room had a warm glow from the oak barrels and the brick walls and brick arched ceiling. Some barrels were stacked three high while other were in rows but not stacked.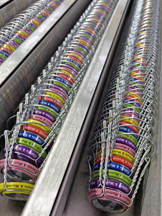 In another room we saw the bottling area. Here we had a close look at the machine used for capping bottles of cava. We learned that some people collect cava tops while others collect the tops and the wire cages. These are used for an assortment of crafts. Canals & Munné has a colorful assortment of cava tops that would attract collectors.
Wine Tasting
After the tour we returned to the wine tasting area. The cavas were served at the tasting counter. Some in our group stood while others took advantage of the several tables and chairs to sit while enjoying the cavas.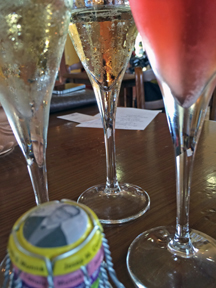 Canals & Munné Gran Reserva Brut Nature Cava DO was a blend of Chardonnay, Macabeo and Xarel-lo, This crisp 12% alcohol wine offered notes of apple and citrus. It had a constant steady column of tiny bubbles. The cava retails for 11,50€. Insuperable Brut Cava DO was a blend of Macabeo, Xarel-lo and Parellada. This wine underwent 25 months aging. The light yellow wine was smooth with notes of baked bread. The wine had 12% alcohol and also had a steady stream of tiny bubbles. It retails for 8,51€.
Rosé Pinot Noir Cava DO was 100 percent Pinot Noir. The light red color cava had 12% alcohol and offered notes of raspberries. It was crisp and bubbly. The cava retails for 10,90€.
The 1915 Series by C & M Gran Reserve Cava DO was a blend of Pinot Noir and Xarel-lo. The light yellow cava had 12.0% alcohol. It was creamy and offered apple notes. It retails for 22,51€. Triple Brut Nature Gran Reserve 2010 Cava DO was a blend of Macabeo, Xarel-lo, Parellada and Chardonnay. This yellow wine was 12% alcohol and offered notes of apples and some freshly baked bread hints.
Gran Duc XXI 2008 Gran Reserva Brut Nature Cava DO was a blend of Chardonnay, Xarel-lo, Macabeo and Parellada. Only 5,000 bottles of this wine was produced in a beautiful bottle. The wine was aged five years. The 12.5% alcohol wine offered slightly fresh baked bread notes. The finish had apple with citrus notes. It retails for 26,60€.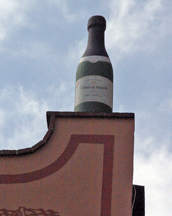 Restaurant
After our tasting of Canals & Munné products, we were whisked off to the winery's restaurant in town, Degustacio i Venda de Vins i Caves. The restaurant is easy to spot. There are large cava bottles on the top of the restaurant. At the entrance to the restaurant there is a barrel with cava bottles artfully displayed. Just inside the restaurant, an L-shaped tasting counter has several bar stools for seating. A little farther on a climbing gym with a slide is available for children and adults that are "young of heart". To the left is the restaurant area with rooms filled with tables and chairs. Based on the number of tables, this is a popular restaurant.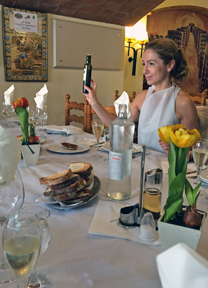 Our table was to the back of the restaurant, near the windows overlooking the town. Hanging on a wall near our table was a framed collection of six large ceramic tiles depicting scenes from the vineyard and winemaking. This particular lunch turned into a Catalan feast. We enjoyed trout salad with black pudding and beans, a variety of sliced cheeses, sautéed beans, Iberian ham croquettes, grilled green onions, Salad Canals & Munné with 4 cheeses: Goat, Gruyère, Emmental and Parmesan (pictured) and sausages.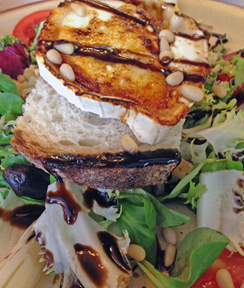 The most unique item were the grilled onions. The onions were grilled with the green tops on. Natalia demonstrated how to strip the green top off the bulb, dip the bulb into a sauce and eat the tender bulb. Another demonstration was to take a toasted slice of bread, rub it with the unpeeled garlic, followed by rubbing a fresh tomato over the bread, and drizzle with olive oil (pictured). We discovered this to be a simple and delicious tapa. The tapas and main dishes were paired with cavas. We will treasure our memories of that delightful lunch.
When traveling to Barcelona, take time to visit Canals & Munné. The restaurant is open on weekends from 13h30 to 16h30 (1:30 to 4:30).
Canals & Munné
Plaça Pau Casals 6
08770 San Sadurní
Barcelona, Spain
Article written October 2014

---
Please support the following.