Castilla-La Mancha 2014 US Tour
by
Terry Sullivan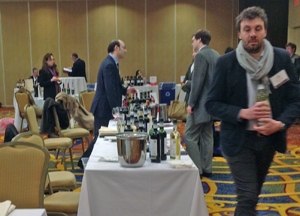 The wines from the Spanish wine region Castilla La Mancha were on tour in Chicago, Washington D.C. and San Francisco during February 2014. We attended the seminar and walk-around wine tasting at the Washington D.C. Marriott at Metro Center. Twenty-five producers had tables of some of the wines in their portfolio to pour for media and industry attendees.
The tables were spaced along the room's perimeter as well as a center rectangular island. All producers were numbered, corresponding to a book, Experience the Great Vineyard of the World. All attendees received the book that had information on each of the producers offering their wines. A light lunch buffet was set up in the room and a table of cheeses was available throughout the wine tasting.
The producers had a variety of wines available for tasting. Most producers had a Tempranillo also called Cencibel in some areas of La Mancha. Tempranillo is the most widely planted red variety in the wine region with 29,054 hectares (almost 72,000 acres) planted. The most common white variety is Airén with 107,563 hectares (almost 266,000 acres) planted. We were certain to try these varieties several times as straight varieties and in blends.
We were amazed at the prices for some of these wines. Many we tasted were in the one to four Euro range, wholesale (about $1.40 to $5.50). The quality of the wines and the price point make the wines of Castilla-La Mancha a great bargain. Consumers should search for them and give them a try.
White Wines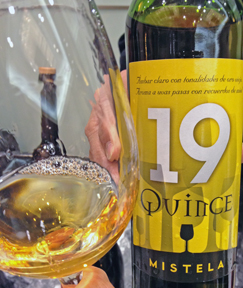 Since Airén has the largest vineyard plantings in the region, we wanted to try this grape made into a straight varietal wine. Bodegas Crito de la Vega was founded in 1955 in the town Souéllamos, Ciudad Real. The Marqués de Castilla Blanco Airén was a straw color and had a grapefruit aroma. The taste also offered grapefruit with some tropical fruits. The finish was crisp and fruity with a touch of minerality. This refreshing wine would make a good choice for an aperitif or paired with seafood and white fish.
Often we tasted Airén in a blend. Finca la Blanca is a family owned winery in La Puebla de Almoradiel, Toledo. The Marinda Blanco was a blend of Airén and Muscato. The straw colored wine had an intense floral aroma especially orange blossoms. There were floral and tropical fruit notes on the taste and the finish was crisp and fruity. This wine would also make a good aperitif.
Bogarve 1915 is a winery that has been in production for nearly a century. This family winery is located in Madredejos, Toledo. Their 19 Quince Mistela was made from 100% Airén and was a dark yellow color. A mistela is a fortified wine. Fermentation was stopped with the addition of alcohol. The floral aroma and taste also had hints of honey. The wine was very smooth and sweet. We also tasted the Mistela Collection a blend of Airén and Muscat. This wine had a dark yellow color. The aroma and taste reminded one of a bouquet of flowers especially orange blossoms. There was also a touch of honey on the sweet wine. One could serve both of these wines for dessert.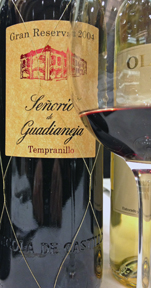 Red Wines
I personally prefer a wine with very bold tannins. Since Tempranillo is the predominant red grape in the Castilla-La Mancha region, I tasted several wines made from this grape looking for the one that had the tannin structure I like. I was delighted to discover Vinicola de Castilla a winery that was established in 1976 in Manzanares, Ciudad Real. The 2004 Señorio Guadianeja Gran Reserva was made of 100% Tempranillo. The sienna color wine was aged in American oak for three years. The aroma and taste offered dried fruits and leather hints. The wine had what I refer to as kissing tannins. The tannins cause your mouth to pucker as though you are going to kiss someone. The aftertaste had a nice balance of fruit and oak. This was also the oldest wine tasted at the event. There was also a 2004 Señorio Guadianeja Gran Reserva made of 100% Cabernet Sauvignon. This wine had the same tannin structure as the Tempranillo.
Some of the wineries in Castilla-La Mancha use the word Cencibel instead of Tempranillo. Encomienda de Cervera is a winery in Almagro, Ciudad Real that dates from the 19th century. Its 2010 Maar de Cervera Cencibel was a dark ruby to dark purple color. The wine had black fruits on the aroma and taste. It had tannins with a fruity finish.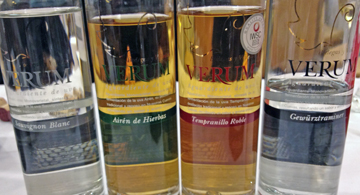 Aguardiente
Needing a break from wine, I discovered Bodegas Y Viñedos Verum, a family-run winery and distillery from Tomelloso, Ciudad Real. They had four Aguardientes to sample. The "fire water" reminded me of Italian grapas and Georgian Chachas, however, not as alcoholic. The Gewürztraminer Monovarietal was made entirely of Gewürztraminer and was aged for three months in oak vats. The alcohol was 37.5%. The spirit was colorless. There were some floral notes on the aroma and the taste lingered. The Monovarietal Sauvignon Blanc was made with 100% Sauvignon Blanc. It too was colorless and had 37.5% alcohol. The Sauvignon Blanc character of freshly cut grass came out in the aroma and taste. The Monovarietal Tempranillo Roble was made with 100% Tempranillo and had a golden color with 35% alcohol. The spirit was aged in wood vats for five months. The spirit had hints of licorice. The Airén de hierbas Monovarietal was made with 100% Airén and was a light gold color and 30% alcohol. The spirit tasted like the fields of La Mancha. It had 30 different herbs added to it.
Wine enthusiasts and wine travelers should consider visiting Spain and experience their rich wine tradition. While there spend some days visiting wineries in the Castilla-La Mancha region.
---
Please support the following.