Terra Personas
by
Kathy Sullivan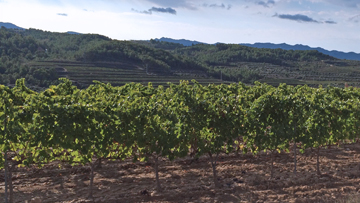 Summary: A visit with Ruud Personas at Terra Personas vineyards is a delightful experience. The vineyards overlook vast landscapes filled with views of olive groves, vineyards and countryside. Schedule an appointment when planning a visit to the Terra Personas vineyards.
We met Ruud Personas, owner and grape grower in the DO Montsant region. Ruud invited us to join him on a walk through his vineyard. Later we tasted several of Terra Personas' wines at his off-the-grid house located close to the vineyard.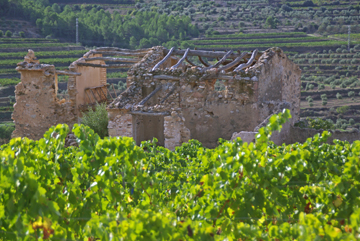 We enjoyed a delightful tour of the Terra Personas vineyard that took us around the ruins of an old structure that was once used as a hospital during war. Ruud is friendly and enthusiastic about grape growing. The winery and vineyard are known as Terra Personas. Terra Personas wines are produced in the nearby village.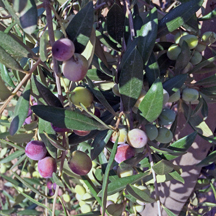 With a total property of 10 hectares Ruud has four hectares of grapevines and four hectares of arbequina olive trees (photo right). The vineyard soil is rocky with 35% chalk and clay. The vines are old rootstocks that do well in dry conditions and in chalky and clay soils. Grape varieties include Garnacha (Grenache), Cariñena (Carignan), Syrah and Cabernet Sauvignon. The Cariñena vines date back to 1971. Ruud sources some grapes from other vineyards and trades some of his grapes for other varieties.
While we learned about Terra Personas, Ruud noted that he likes to taste wines from different regions of the world. Ruud said, "It is fascinating."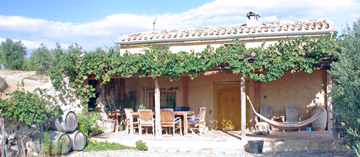 Ruud immigrated to Spain from Holland in 2005. Shortly thereafter he purchased property with the 100-year-old home. In 2006, Ruud and his wife Jacqueline founded Terra Personas. In addition to the house there is a ruin of an old structure. At one point during the Spanish Civil War, the building was used as a hospital. Now vineyards surround the ruins. Ruud commented that he believes this region should be on UNESCO's World Heritage site.
Currently Terra Personas is producing 25,000 bottles. The winemaker is Master of Wine Norrel Robertson, who is also known as the flying Scotsman. The winery has international distribution including Switzerland, Belgium Denmark, Holland, Germany, Japan, Italy and United States.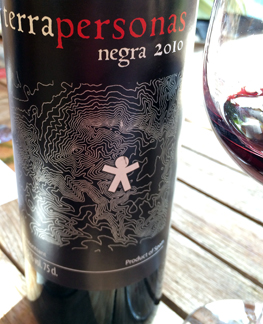 Terra Personas Wines
While tasting wines at the front of Ruud's off-the-grid home, Ruud commented that terra vermella means red earth. The first wine we tasted, Vermella 2013, was a blend of Cariñena, Garnacha and Syrah. The dark translucent red wine did not see any oak during production. The wine was floral and offered notes of cherry, minerality and a hint of pepper. The wine with 14% alcohol was medium-bodied with medium tannins.
Vermella 2012 with 14% alcohol was produced with Cariñena, Syrah, Cabernet Sauvignon and Garnacha. The wine was a translucent, dark red color. The wine offered notes of cherry and mineral with a touch of spice. This crisp medium-bodied wine had mild tannins. The retail price is 10 €.
The label on the Negra shows a topographical map with a person marking the location of Terra Personas. Negra 2010 was a blend of Cariñena, Garnacha, Cabernet Sauvignon and Syrah. It was aged for eight months in French oak .The wine was a translucent ruby color with 14.5% alcohol. The taste was smooth with cherry, mineral, earthy and blackberry notes. The crisp full-bodied wine had bold tannins. The wine retails for 15 €.
When visiting Catalonia's DO Montsant wine region, look for Terra Personas produced wines and olive oils. Terra Personas wines are also available in several other countries.
Terra Personas SL
Apartado 96
43730 Falset
Taragona, Spain
Article written October 2014
---
Please support the following.