Afton Mountain Vineyards
by
K. L. Sullivan
Summary: Afton Mountain Vineyards has established itself as a winery that concentrates its efforts on producing quality wines from quality fruit in the vineyard. The tasting room is comfortable with several tables by windows with views of vineyards and distant mountains. Afton Mountain Vineyards sells wines from their tasting room and at wine festivals.

Afton Mountain Vineyards has a long history behind its success today. In the late 1980's, Shinko and Tom Corpora began searching for their dream, a farm of their own. They wanted an existing farm. One of their caveats was that the farm was not to be an animal farm. Any other type of farm was under consideration. Eventually Tom discovered the current property for sale. The property had 7 acres of vineyards and an empty building. The vineyards were in poor condition. The Corporas contacted renowned viticulturist Gabriele Rausse for advice. Ultimately, Shinko and Tom purchased the property and began learning about good vineyard practices and winemaking.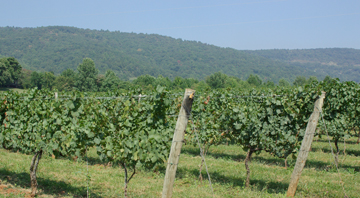 Tom manages and cares for the vineyards. Over the years, Tom nursed the vineyards back to health. In some cases, Tom pulled grapevines out and replanted with better varieties for the area. He does not use herbicides. Insecticides are applied only when necessary. When grapevines need fertilizing, Tom uses organic fertilizers. Currently, there are 12 acres of grapevines and Tom will add more in the future. The grapes include Pinot Noir, Cabernet Sauvignon, Gewürztraminer, Chardonnay, Sangiovese, Muscat Ottonel, Petit Verdot and Cabernet Franc.
In 1989, the Corporas sold grapes, keeping a few for experimenting with making wine. In 1990, they produced four wines.
Occasionally Afton Mountain Vineyards sources grapes from local vineyards. However, they prefer growing their own grapes. In the spring of 2007, they lost 60 percent of their grapes due to a hard frost and thus had to source some grapes. Shinko commented that Virginia has plenty of grapes. No winery should need to go outside of Virginia to purchase grapes.
As winemaker, Shinko had to learn the entire process of winemaking. With Gabriele Rausse consulting for both the vineyard and winemaking, the Corporas quickly made progress. Today the winery produces 2500 cases and this year may reach 3,500 cases. Over the years, the winery has continued to grow including the addition of an underground barrel storage cave.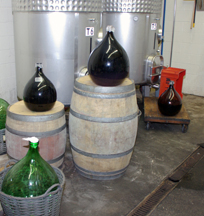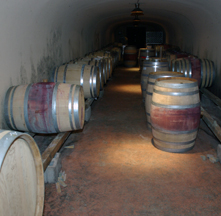 Shinko prefers European style wines and seeks to produce the best wines possible. She has European students work in the winery as intern winemakers. Shinko prefers the European winemakers because they have more experience in both vineyards and wineries.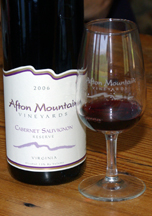 We tasted several wines beginning with the Tête de Cuvée Brut Sparkling Wine '05. The sparkling wine offered an apple aroma with a lively mouth feel and citrus and apple taste. The finish was crisp and cleansing. The Estate Chardonnay 2006 had an oak aroma and the taste was silky with apple, vanilla and oak. The finish was crisp with fruit to vanilla to oak. Sangiovese had a red cherry aroma with a bit of cedar. The cherry taste was smooth. The crisp finish was fruity moving to spice. Cabernet Franc 2007 offered a pepper and spice aroma with a smooth taste of cherries and blackberries. The spicy and fruity finish had mild tannins. The Cabernet Sauvignon 2006 had a smooth blackberry taste and a finish of fruit with tannins. The Cabernet Sauvignon Reserve 2006 had a blackberry nose and a smooth fruity taste. The finish was crisp and fruity with mild tannins. The aroma of the Riesling 2007 was peaches and tropical fruit. The taste was fruity and smooth. The wine with a residual sugar of 2.6 offered a balanced finish. Mountain White was a blend of Chardonnay, Riesling and Vidal Blanc. It was smooth with a fruit salad taste. The finish was balanced between the sugar and acid. Mountain Rose had a pink-red color. It was produced from Cabernet Sauvignon. The taste was fruity and the finish was crisp and fruity ending with strawberries.
Whether you enjoy dry style or sweet style wines, we believe you will discover a wine you enjoy at Afton Mountain Vineyards.

Afton Mountain Vineyards
234 Vineyard Lane

Afton, Virginia 22920
GPS: N 38° 01.010' W078° 85.496'
---
Visit these Virginia wineries and wine tour groups that partner with Wine Trail Traveler.