King Family Vineyards
by
Kathy Sullivan

Summary: Enjoy visiting King Family Vineyards adjacent to the Roseland Polo fields. Matthieu Finot, winemaker from France, produces the wines. The vineyards were established in 1998 and the winery is currently producing 5,000 cases.
David and Ellen King established King Family Vineyards in Crozet, Virginia in 1998. The Kings moved from Texas to Virginia, pursued their interest in polo, and soon decided to start a vineyard. David and Ellen are both Polo enthusiasts and wanted an area where they could add a polo field. The farm they purchased was perfect. They were able to put in a polo field. By researching farm crops they discovered that by adding vineyards they could sustain the farm.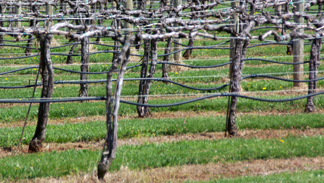 The first vineyards included 15 acres of Petit Verdot, Cabernet Franc, Merlot, Chardonnay and Viognier. Another five acres will be planted that will include more Viognier, Petit Verdot, Cabernet Franc, and Chardonnay. At the time of an April visit, the buds were just beginning to swell.
While the majority of wines are estate wines, they also source Cabernet Franc, Malbec, Petit Verdot and Petit Manseng. The first few vintages were produced at Afton Mountain. Beginning with the 2002 vintage, wines were produced at the King Family Vineyards' winery facility. Current production at the winery is 5,000 cases. Most of the wines are sold out and there is contemplation that the winery will continue to expand.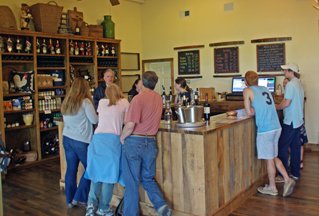 Winemaker, Matthieu Finot, originally from Crozes Hermitage in France's Rhone Valley is enthusiastic about winemaking in Virginia. Matthieu noted that if you want to make great wine you need to have great grapes. He knows the vineyards and the grapes and knows how to produce wines from them. The winery is one of the few Virginia wineries that has two sorting tables for removing materials other than grapes from the berries that will go into the fermentation vessels.
The L-shaped tasting counter accomodates several visitors. Throughout the tasting room there tables, chairs and wine accessories. Visitors who enjoy Greek olive oil can fill a bottle of Ariston Select olive oil.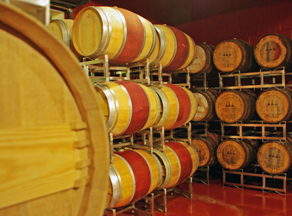 White Wines
Viognier 2009 was a light yellow. The wine offered tropical aromas and taste while there were also hints of peach and banana on the taste. The finish was crisp with tropical fruit salad notes. This yielded to honeysuckle. Chardonnay 2009 was produced with French oak. The wine was a light yellow. The aroma and taste were of pear and apple. The finish was crisp with a hint of butter on the finish that yielded to caramel.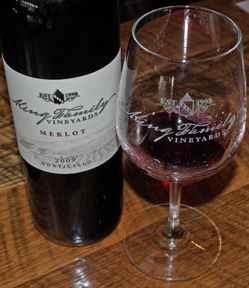 Red Wines
Crosé was Merlot with pink/orange/red colors. There were strawberry and grapefruit notes on the aroma and taste. The taste was smooth and the finish was crisp. Merlot 2009 was a translucent ruby with dark fruit including black cherry and blackberry notes. The finish was crisp and fruity with mild tannins. Meritage 2009 was a blend of Merlot, Cabernet Franc, Petit Verdot and Malbec, The ruby wine offered dark berry fruit throughout the tasting. The finish was fruity with tannins.
Dessert Wine
Red Dessert Wine had 17.5 percent alcohol and residual sugar of 2.5. The wine produced from 100 percent Merlot was a dark red. It had aged for two years in bourbon barrels. The aroma and taste were of dark fruit. The finish was crisp and fruity. This dessert wine is food friendly.
Water Fowl Habitat
The King property has a waterfowl habitat which will continue undisturbed. This is located near the entrance to the King Estate Vineyards.
Roseland Polo Field
The Roseland Polo field is located on the farm property purchased by Ellen and David King. They are polo aficionados and established the polo field before the vineyards and winery. The Roseland Polo field is open with Sunday matches from Memorial Day through September.
Enjoy a visit to King Estate Vineyards. Stay awhile and enjoy the outdoor seating and a glass of wine. For those who enjoy polo, watch for games on Sundays during the season and be sure to stop by the winery for a glass or bottle of wine.
King Family
6550 Roseland Farm
Crozet Virginia 22932
GPS: N38º 03.727' W78º 43.678'
---
Visit these Virginia wineries and wine tour groups that partner with Wine Trail Traveler.