Michael Shaps Wineworks
by
Kathy and Terry Sullivan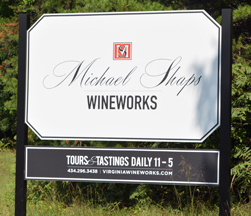 Summary: The Michael Shaps name is recognized by many in the Virginia wine industry. In addition to producing his own wines, Michael also does custom crush for many other wineries and vineyards. Indeed, Michael Shaps is a very busy winemaker.
We stopped at Michael Shaps Winery, the original winery site, located on the Monticello Wine Trail. Adjacent to the tasting room is a large covered area for wine production. As we were entering the tasting room, a load of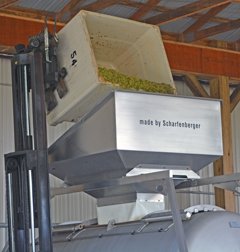 Traminette grapes was being dumped into the press. In addition to producing his own wines, Michael Shaps also does custom crushes for 15 to 20 wineries and is a consultant for numerous wineries. Michael owns a winery and chateau in France. The grapes for his French winery are from French vineyards which he oversees.
Michael began producing his own wines in Virginia in 2007. Michael focuses on small batch wine production. He is also a consultant for numerous wineries. Prior to opening his own winery, Michael worked at Jefferson Vineyards and King Family Vineyards in Virginia. Roger, a longtime staff member at the tasting room, noted that Michael loves his own wines and Burgundy wines.
In 2016 Michael opened an additional tasting room in Charlottesville, Wineworks Extended. Wine is bottled and stored at this building. The second location features boxed wines and wines on tap for everyday enjoyment.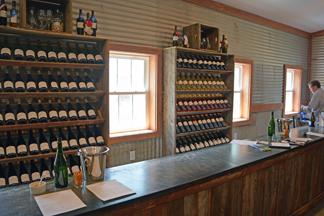 At the original Harris Creek location, we discovered a long, rectangular building of corrugated steel. The tasting counter runs the length of the room. The tasting countertop was constructed with the soapstone from old lab tables from the University of Virginia. An old wood burning stove with a long black stovepipe sits in the corner adding a touch of ambiance to the tasting room. We soon learned that on cold winter days, a stew bubbles on the stove. Two long tables opposite the tasting counter provide room for small groups to enjoy a bottle of wine and conversation.
Currently Michael Shaps leases 78 acres of vineyards. He also sources grapes for his wine production. His wines from France are available at Michael Shaps tasting room. In France, Michael and his wife own the winery and Gîte Charmelieu, a large house. The home is in Meursault, France and is available for rental.
Michael Shaps Wines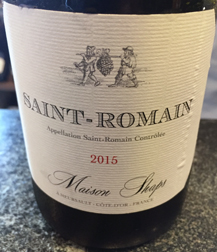 We tasted two Chardonnays, one from the winery in France and one from Virginia. The 2015 Saint-Romain from Michael Shaps' Burgundy winery in France was from the Appellation Saint-Romain. Saint-Romain is a small village northwest of Meursault in the Burgundy region of France. The grapes were grown in the Sous le Chateau vineyard block, and the wine was crafted at Michael Shaps's winery, Maison Shaps in Meursault. The wine was a yellow color. This 100% Chardonnay had an aroma of apple and mineral. The mouthfeel was smooth with apple. The crisp finish offered fruit and mineral notes. Chardonnay 2015 was made with Virginia Chardonnay. The yellow colored wine had an intense aroma of apple. The smooth mouthfeel offered apple and citrus notes with some mineral. The finish was crisp with fruit yielding to some mineral.
Other Virginia white wines tasted included a Viognier and Petit Manseng. The Viognier 2016 was a yellow color and offered an aroma of citrus and tropical fruit. The taste included notes of yellow stone fruit and grapefruit. The finish was crisp and fruity with some mineral on the aftertaste. The 2015 Petit Manseng Monticello was a dark yellow color. The aroma offered floral and spice notes. The taste was of flowers and spice. The finish was crisp with some yellow stone fruit on the aftertaste.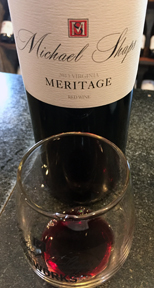 Two of Michael's red wines from Virginia were also tasted. The 2013 Meritage was a blend of Cabernet Sauvignon, Cabernet Franc, Petit Verdot, Merlot and Malbec. This wine was a dark ruby color with an aroma of dark fruits. The taste included notes of black cherries and blackberries with leather. The wine was full-bodied with medium to bold tannins. The finish was of fruit yielding to sous bois (earthy, forest floor). The 2014 Petit Verdot Monticello AVA was a ruby color with a purple hue. The aroma included notes of dark fruit, spice and flowers. The taste offered notes of blackberries, plums and violets. The wine was full-bodied with bold tannins. Fruit and leather notes were on the finish.
When visiting wineries in the Charlottesville area, be sure to add a stop by the original Michael Shaps tasting room to experience the Michael Shaps' wines. Depending on the time of year, you may catch a glimpse of the winemaking process.
Michael Shaps Wineworks
1781 Harris Creek Way
Charlottesville, VA 22902
GPS: N37º 53.8745' W78º 33.4698'
Additional tasting room
Wineworks Extended             
1585 Avon Street Extended
Charlottesville, Virginia, 22902
Article written Otober 2016

---
Visit these Virginia wineries and wine tour groups that partner with Wine Trail Traveler.