Oakencroft Vineyard and Winery
by
K.L. Sullivan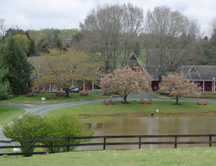 When we visited Oakencroft Vineyard and Winery, on one of the rainiest weekends in April, we learned from one of the tasting room wine consultants that this area of Virginia has been very dry and needed this rain. Despite the rain, Oakencroft is a ray of sunshine in the beautiful countryside of Charlottesville, Virginia. We chose to visit Oakencroft in April since one of their wines, Seyval Blanc, was chosen to go to London for a tasting at Vinopolis on May 2, 2007. Vinopolis is a wine center devoted to the world of wine. As we turned onto the driveway, we saw a sign "Drive Slowly, Geese Crossing." On this day, we did not see any geese, but perhaps the heavy rains had driven them to seek shelter.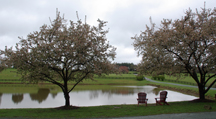 Traveling along the driveway to the Oakencroft Winery, we approached a sizeable red building, with a large pond across the driveway. The beautiful décor of the building was a welcome invitation to enter the tasting room. Scattered underneath large trees, ready to leaf out, are well cared for redwood picnic tables. Several Adirondack chairs are near the pond. Picnic tables or lawn chairs would both be a perfect place to enjoy a glass of wine.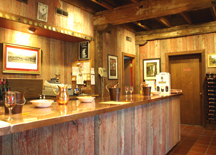 Two friendly tasting room wine consultants greeted us immediately when we entered. Both wine consultants were knowledgeable about the wine and history of Oakencroft and Virginia wine. Oakencroft wine is the focus of the tasting room where several racks of wine are displayed. With ceramic floors and copper-topped tasting counters, the country charm and rustic effect was very appealing. The tasting room can accommodate several tasters and there is plenty of room to roam.
Felicia Warburg Rogan, owner and entrepreneur, started growing grapes in 1978 after attending a garden club meeting. Learning she could grow grapes on her property, she began with half an acre of Seyval Blanc and Chardonnay. Felicia Warburg Rogan has been a leading force in promoting the development of the wine industry in Virginia. Oakencroft Winery was formerly part of a cattle farm and a section of the wine facility was originally a farm equipment building.
In 1982, Oakencroft completed its first commercial planting of grapevines. Today, with 13 plus acres of their own vineyards, Oakencroft produces approximately 4,000 cases. Sixty-five percent of the grapes used in their wines grow on the property and thirty-five percent are from nearby vineyards.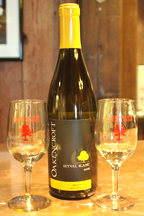 Oakencroft tastings consist of a number of fine wines. The Seyval Blanc 2006 has good fruit flavor and acid. It is made of 100% Seyval Blanc grape and is the only Seyval Blanc to go to England for the Vinopolis tasting. There are two Chardonnays. The 2006 Chardonnay is aged in stainless steel and has a clean crisp fruity flavor. The 2005 Chardonnay Reserve is aged in oak and has a buttery taste. The NV Sweet Virginia has 7.5 % residual sugar. It is a dessert wine and was simply delicious. Other wines available for tasting include a 2005 Cabernet Sauvignon, 2005 Cabernet Franc, 2005 Estate Chambourcin, NV Countryside Red, a blend of the Chambourcin, Cabernet Franc and Cabernet Sauvignon, and 2005 Encore, another dessert wine. If you like sweet wines, the dessert wines will certainly bring a smile to your face. We like the wine tasting notes sheet. In the wine notes there is a suggested time for how long to store a particular wine. If you are looking for a wine to share in a few years, ask someone at the winery you are visiting how long the wine will last. To store wine for any length of time, proper storage of wine is necessary.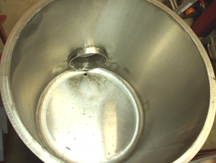 After tasting several wines, we toured the winery with another couple. The winery was clean and spacious. A large German grape press was open and we were able to see inside and noticed the balloon mechanism that presses the grapes between small slits. We walked to a large room that housed several stainless steel tanks of various sizes. One tank had the top removed and you could look inside.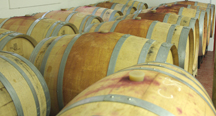 Another room housed 40 oak barrels. While we were in the barrel room, Felicia Rogan came and greeted us by name. An elegant woman, she was very friendly and we appreciated she took time from her busy schedule to meet us. From the back of the winery building, one can look up the hill and see the well-manicured look of the vineyard. Before we left the winery, we drove up the driveway leading to the gated vineyard. From that vantage point, we were able to look down upon the red-sided winery building.
Oakencroft has one-day festivals with music inside and a tent outside. They expect about 200 plus people to attend. Occasionally, Oakencroft will host a barrel tasting. A wine consultant mentioned that previously Oakencroft had a Christmas barrel tasting. Check their website for future festivals and barrel tastings.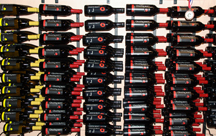 Oakencroft Winery will make a delightful visit, especially on a warm day, with picnic tables available for sharing a bottle of Oakencroft's wine. Oakencroft is a well cared for winery and a delight to visit.
Oakencroft Vineyard and Winery
Charlottesville, Virginia


GPS: N38° 05.062' W078° 33.088'
---
Visit these Virginia wineries and wine tour groups that partner with Wine Trail Traveler.