Wisdom Oak Winery
by
Kathy Sullivan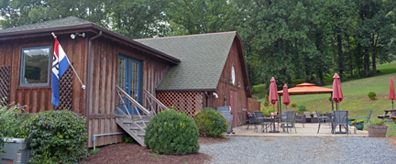 Summary: Wisdom Oak Winery, in the Monticello AVA, is now under new ownership by Laura and Jason Lavallee. Currently the winery has four acres of vineyards and is producing the Wisdom Oak wines onsite. Visitors will discover a friendly welcome and a couple who are passionate about wine. The winery is located only 15 minutes from the center of Charlottesville. In addition to music events for the public, Wisdom Oak Winery is also available for private events including weddings.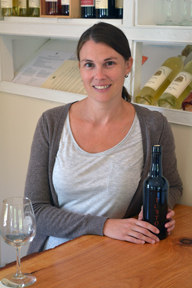 Laura (pictured) and Jason Lavallee, owners, grape growers and winemakers, laugh about their decision to purchase Wisdom Oak Winery. Laura said, "We like to joke that we had too much to drink." In actuality Laura and Jason enjoyed wine and had visited numerous wine regions. As a couple, they had the idea that they wanted to work togethe. They decided to purchase Wisdom Oak Winery. They thought purchasing a vineyard and winery was a good idea. Today Jason is the winemaker and Laura does "everything else" including the tasting room management. Jason learned his winemaking skills by attending wine classes and garnering advice from other winemakers.
Wisdom Oak Tasting Room
The tasting room is painted a bright white, and large windows offer views of vineyards and the countryside. The tasting counter sides are made of the bark from Portuguese cork trees. At the front of the facility, a patio has several tables and chairs for enjoying wine. Visitors are permitted to bring their own picnic baskets or purchase cheese and crackers in the tasting room to enjoy with Wisdom Oak wines. Farther from the patio on a grassy area several conversation seating areas are available.
Inside and adjacent to the tasting room a door opens onto a balcony overlooking the winemaking production area. Two bar stools are available, so if a winemaking process is happening take a seat and enjoy watching a portion of the winemaking production.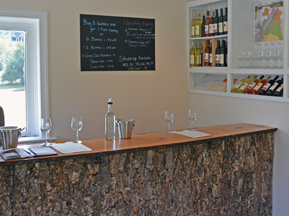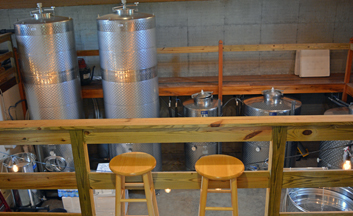 Vineyards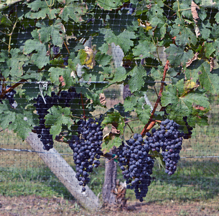 The onsite vineyards consist of four acres and are planted with Chardonnay, Cabernet Franc, Cabernet Sauvignon, Chambourcin and Viognier.
Wisdom Oak Wines
The 2014 Vidal Blanc had a residual sugar of 20 g/L. The wine was a light yellow color with a floral aroma. The taste included notes of peach, pineapple, melon and honeysuckle. The finish was crisp and fruity. The Chardonnay 2015 was produced with 100% estate grown grapes. The wine was aged in 50% oak. The wine was a very pale yellow color. The aroma was of apple with a hint of pear. The taste was crisp with notes of apple. The finish was crisp. The aging in 50% oak created a pleasant touch of oak to the wine.
Rosé 2016 was produced with 100% estate grown Cabernet Franc. The color was a light pink. The aroma offered hints of red fruit. The taste was dry and tart with notes of summer red berry fruits. The wine had a dry finish.
Merlot 2014 was a translucent ruby color. The wine offered an aroma of perfume and dark fruit. The taste included notes of plum and blueberry. The wine was medium/full-bodied with medium to bold tannins. The finish was fruity and spicy. Meritage 2015 was a blend of Cabernet Franc, Cabernet Sauvignon and Merlot. The wine was aged in 60% oak. The wine was a translucent dark red color. The aroma was of red raspberries, blueberries and hints of cherries. The taste was light and fruity. The wine was dry.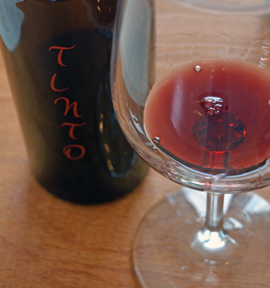 Tinto 2015 was a blend of Cabernet Sauvignon, Cabernet Franc, Merlot and Chambourcin. The wine was fortified with brandy. The Cabernet Sauvignon and Cabernet Franc were from Wisdom Oak's estate vineyard. This wine was aged in Kentucky bourbon barrels. The wine was a translucent ruby color. The aroma was of dried red fruits especially raisins. The smooth taste offered dried fruit notes and was sweet. This 18% alcohol wine offered no alcohol burn on the taste. The wine was fruity with some chocolate on the aftertaste.
Events
Events such as weddings take place on the property in one of their wonderful settings. A popular place is under the Wisdom Oak tree that is in the vineyard.
While planning to visit wines in the Monticello AVA, be sure to add Wisdom Oak Winery to your itinerary and add some extra time so you can enjoy a glass of wine outside. On busy days you may want to bring a lawn blanket and spend a pleasant afternoon at Wisdom Oak Winery.
Wisdom Oak Winery
3613 Walnut Branch Lane
North Garden, Virginia 22959
GPS: N37º 56.2542' W78º 36.8319'
Article written September 2017.
---
Visit these Virginia wineries and wine tour groups that partner with Wine Trail Traveler.