Gabriele Rausse Winery
by
Kathy and Terry Sullivan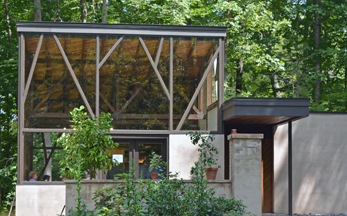 Summary: The Gabriele Rausse name is well known to many of Virginia's wine enthusiasts. The Gabriele Rausse Winery tasting room offers a delightful ambiance amid a tree covered area. The tasting room staff is delightfully friendly and welcoming.
Note: In April 2011 we met Tim Rausse, one of Gabriele's sons, who was displaying Gabriele's wines at the 6th Annual Discover Virginia Food and Wine Festival. Writing about the event, we wrote that Gabriele Rausse, while producing 1,500 to 2,000 cases at the time, had no tasting room. We remember this particular festival because while tasting Gabriele Rausse wines, we were helping to keep the wine bottles from blowing over in the strong wind sweeping through the tents. Today the Gabriele Rausse Winery has an appealing, boutique winery tasting room in the Charlottesville countryside.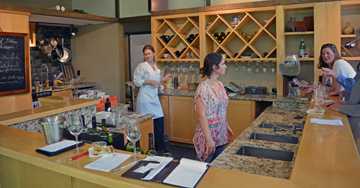 The boutique modern-style tasting room is delightful to visit. Light pours through the large windows with trees offering dappled sunlight. Wine tastings take place at a U-shaped tasting counter of honey-toned wood. A tiny gourmet open-kitchen is set in a corner where small appetizers are prepared on Fridays. On the day of our visit several food pairings were offered including:
- House sourdough bread & organic Sicilian olive oil,
- Crispy polenta cake topped with a fried quail egg, avocado and cheese,
- Pork bell confit on a buttermilk biscuit with confit vegetables and lavender and fennel pollen chevre
- Vanilla and Meyer lemon cheesecake with peach apricot coulis and a roasted almond coconut crumble.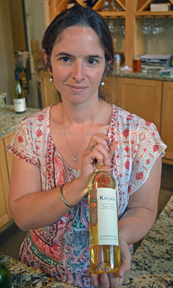 We met Gabriele Rausse's daughter-in-law, Katell Griaud, in the tasting room. She talked about Gabriele's interest in wine going back to when he learned his winemaking skills in his native Italy. Later he started the Barboursville vineyards in Virginia. Through the years, Gabriele Rausse helped many Virginia wineries get started. He started his own winery in 1997. Today Gabriele has two acres of Merlot and is also leasing some land with Grüner Veltliner, Marsanne, Chasselas Doré and Merlot. He has plans to increase the size of his vineyards.
We also asked about Katell's interest in wine. Her parents purchased a winery and vineyard in Monbazillac, France a little over an hour and a half drive east of Bordeaux. Katell studied winemaking and has a Master's degree in Oenology. She experienced two harvests in France and came to Virginia in 2009 and began working at Kluge Estate (now Trump Winery) as a winemaker. Katell has close ties to her parents' winery Chateau Kalian. Wine enthusiasts can taste one of their wines in the Gabriele Rausse tasting room.
We quickly learned that the tasting room is filled on Fridays. Wine enthusiasts can choose between three wine tasting options: Tasting, Half Tasting or Food & Wine Tasting.
The Wines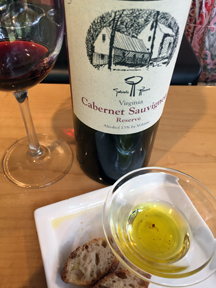 Our tasting was accompanied with fresh baked sourdough bread and Galardo Organic EVOO from Sicily. The Vin Gris de Pinot Noir was a peach color. The aroma reminded one of raspberries and strawberries. The taste included notes of mineral and raspberries with a citrus hint. The finish was crisp and fruity with the fruit yielding to some mineral.
Pinot Grigio 2016 was a light yellow color. The wine had a citrus aroma and the taste had mineral and citrus notes with a hint of tropical fruit. The finish was crisp and fruity. Chardonnay Reserve 2016 spent six months in new and neutral barrels. This yellow colored wine offered an aroma of apple and pear. The smooth taste included notes of apple, pear and mineral with some citrus. The finish was crisp and fruity.
Rosso was a blend of Cabernet Franc, Cabernet Sauvignon and Petit Verdot. The wine was a translucent red color with a pink hue. The aroma was of dark berry fruits.The taste had raspberry notes. This was a medium to full-bodied wine with mild tannins. The finish was fruity. This was a nice red blend for wine drinkers and those who like lighter wines. The 2014 Merlot was aged for six months in neutral oak. The wine was a translucent ruby color. The wine offered aroma notes of sous bois (earthy, forest floor). The taste had notes of earthiness and black fruits. The wine was medium to full-bodied with bold tannins. The finish was complex with fruit and earthiness. Cabernet Sauvignon Reserve 2014 was aged for 12 months in new and old French oak. The wine was a ruby color with a dark pink hue. The wine offered an aroma of cassis and blackberries. The taste also had notes of cassis and blackberries with black raspberry notes. The wine was full-bodied with medium to bold tannins. The finish was fruity.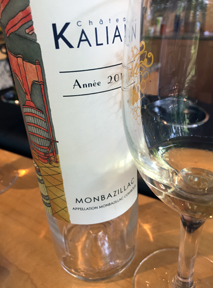 Katell's family in France owns a winery Château Kalian. One of their wines was available for tasting. The Kalian Monbazillac 2014 Monbazillac appellation was a blend of Semillon and Sauvignon Blanc. The wine was aged for 12 months in French oak. The wine had a dark yellow color and a floral aroma. The mouthfeel was velvety. The taste was of tropical fruits and jammy fruit. The sweet wine had 115g/L of residual sugar.
While visiting Charlottesville, Virginia be sure to include a stop at the Gabriele Rausse Winery boutique tasting room.

Gabriele Rausse Winery
3247 Carter's Mountain Road
Charlottesville, Virginia 22902

GPS: N37º 56.7494' W78º 29.0342'
Article written September 2017.
---
Visit these Virginia wineries and wine tour groups that partner with Wine Trail Traveler.