James River Cellars Winery
by
Kathy Sullivan
Summary: James River Cellars Winery is located a short distance off Interstate 95 near Richmond, Virginia. The winery is open daily and offers a variety of wines to taste including sweet or dry white and red wines. The winery ships wines to a number of states.
A long driveway leads past a one and a half acre vineyard to a two-story chateau-style building. Landscaping with deciduous and evergreen trees and shrubs enhance the view of the building. To the right of the building, a patio area with outdoor tables and chairs is available for events. Visitors are encouraged to bring snacks to enjoy on the grounds. Consider stopping by with crackers and cheese, purchase a bottle of wine and relax.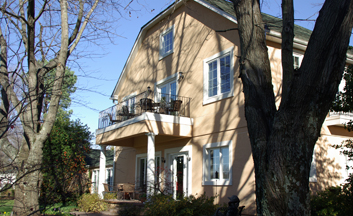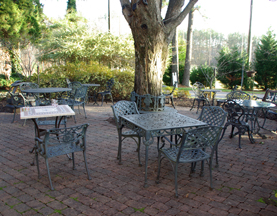 The James River Cellars Winery tasting room opened in 2001 and is located in a renovated ranch home with an added second floor. The owners decided to renovate the rancher into a chateau-style tasting room. The tasting room is on the first floor while a tastefully decorated event room is located on the second floor. Upon entering the tasting room, the tasting area is on the left and a gift room is on the right. Be sure to stop and browse the gift items. Take note of the handcrafted items in particular the exquisite handmade quilts.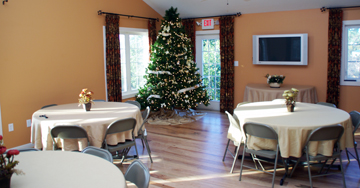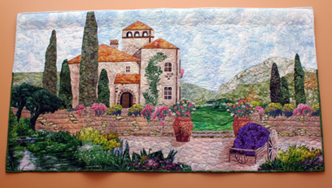 The vineyards planted in 1998 consist of 1½ acres of Cabernet Sauvignon and Cabernet Franc outside the tasting room. Another 15 acres are located in Montpelier and include Chardonnay, Gewürztraminer, Chardonel, Vidal Blanc, Merlot, Cabernet Franc, Cabernet Sauvignon, Petite Verdot, Chancellor and Touriga Nacional. The winery produces 5,000 cases. The current wine list has 17 wines listed and includes 2006, 2007 and 2008 vintages.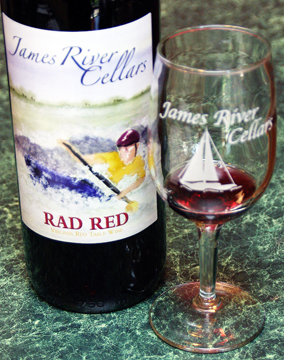 White Wines
The wine tasting began with the 2007 Reserve Chardonnay. This wine was produced in stainless steel and oak. The aroma had nuances of apple and citrus while the taste offered notes of apple, butter and a hint of caramel. There was caramel on the finish. The 2007 Gewürztraminer had a floral aroma and the taste was crisp. The finish was crisp and fruity with spice nuances. Pinot Gris 2008 offered citrus on the aroma and taste with a hint of grapefruit. The finish was crisp. Chardonel 2008 had an aroma and taste of tropical fruit. The finish was crisp with banana nuances.
Red Wines
Rad Red was named for a friend who passed away. In his honor, for every bottle of Rad Red sold a portion of the proceeds goes to support cancer research. Rad Red is a blend of Merlot, Cabernet Franc, Petit Verdot and Montepulciano. The aroma was earthy and the taste was earthy with notes of pepper. The finish had dark fruit and spice notes with mild tannins. Meritage 2006 is a blend of Cabernet Sauvignon, Cabernet Franc, Merlot and Petit Verdot. The aroma was earthy with green pepper nuances. The taste was of dark fruit. The crisp finish had tannins with notes of dark fruit. Petit Verdot 2006 offered an aroma and taste of dark fruit and spice. The finish had tannins with a hint of earthiness. Hanover 2007 was a blend of Petit Verdot, Cabernet Franc and Chancellor. The aroma and taste had dark fruit notes. There was a slight sweetness on the finish. Colonial Red, a blush wine, was a blend of Sangiovese and apples. The aroma and taste were of cherries. Montpelier Blush 2007 was a blend of Sangiovese, Montepulciano and Chambourcin. The aroma was of red fruit while the taste also had cherry notes. The crisp finish had cherry nuances.
Specialty Wine
Divino, an ice-style wine, was a blend of Traminette and Vidal. This wine was harvested and then frozen before extracting the juice. The aroma and taste were floral and sweet. The finish was crisp with a good balance between the sugar and acid.
Events
James River Cellars hosts numerous events and rents space to outside groups.
The winery uses post cards with delightful graphic designs on one side and detailed information about the winery event on the reverse side.
Events include Holiday Open House, Winter Open House, Fridays on the Patio, Vertical Weekend, Winemaker's Valentine Dinner as well as events involving the Heart of Virginia Wine Trail.
James River Cellars Winery is located about 10 miles from Richmond, Virginia and ten miles from Kings Dominion, making it a convenient winery to stop at and enjoy. The winery is within a couple of minutes of Interstate 95 and makes it a delightful place to rest before finishing your journey.
James River Cellars
11008 Washington Hwy
Glen Allen, Virginia 23059
GPS: N37º 42.042' W77º 27.697'
---
Visit these Virginia wineries and wine tour groups that partner with Wine Trail Traveler.