Prince Michel Vineyards & Winery
by
K. L. Sullivan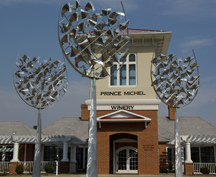 Prince Michel opened in 1983 and is located in an ideal location on busy Route 29 north of Charlottesville. The winery is easily identified by three glistening, modern metal sculptures that appear to be constantly moving. Take a close look at this artist's work of art. What do you see when you look at the outside perimeter of each one? Visitors traveling often stop by to taste wines or purchase a glass of wine to enjoy in their lounge. This is the first winery we are aware of that has wireless Internet access for public use. This is a terrific idea especially for those traveling or perhaps even a small business meeting. Since wireless Internet access is available for public use many people stop by, purchase a glass of wine, bring in their personal computer and work.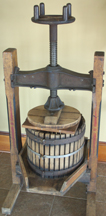 We met Dean Gruenburg while he was outside and then he quickly came inside ready to answer our questions and take us on an extended tour of Prince Michel. We sat in a well-appointed room. This comfortable room is furnished with tables and chairs, tapestry wall hangings, and antique wood crushers. This room offers a nice blending of modern architecture with Virginia's historical winemaking past. Dean discussed the history of Prince Michel, the use of premium grapes in their wines and answered all of our questions. This room is perfect for enjoying a glass of wine.
Dean discussed how Prince Michel focuses on using the grapes from the best terroir. Using the same concept that we observed numerous times in California, they have long-term leases in specific areas in order to obtain the best grape quality of a particular varietal. Currently Prince Michel has several different vineyards including the one on the property next to the winery. Production is high with between 35,000 and 40,000 cases a year.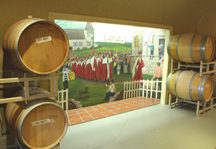 Afterwards Dean showed us the private dining area and then we went downstairs to another unique room used by Wine Club members and for rentals. Just off of this room is the cave where murals are painted in alcoves and give a sense of the history behind wine. This was the first cave we observed on the east coast of the United States. Caves offer an extraordinary environment for aging wine in barels.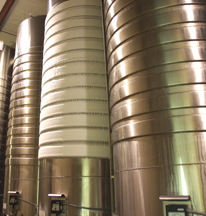 Dean took us through the barrel room and then on into the tank room. The barrels may be either French or American oak with a few Hungarian oak. He pointed out one stainless steel tank with a 30 degree sloped bottom and explained that this type of tank was good for red and white wine. The lees will gather at the lowest end of the tank and are easy to remove. Stainless steel tanks are also available with a 45 degree angle on the bottom.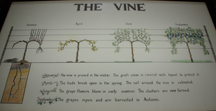 After our tour we took the self-guided tour. A walkway above the barrels and stainless steel tanks allow visitors a bird's eye view of the winery and large easy to read signs explain the entire winemaking process from the vineyard to the bottled wine.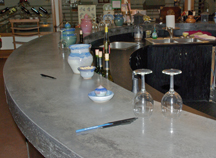 After our self-guided tour, we went to the wine tasting bar. This bar is unusual in that the bar is curved. The tasting room is large and able to accommodate a large number of people. Our wine attendant was able to describe and talk about each wine we tasted. We were able to choose between several white, red and sweet wines. Wines we tasted included Pinot Grigio 2005, Ivy Creek Farm Viognier 2004, Merlot, Dry Riesling and others. The best selling red wine at Prince Michel is Cabernet Sauvignon and the best selling overall wine is a Semi-Dry Riesling. At the end of our tasting, we were given three recipes and told they often hand out recipes. The recipes change, another reason to stop at Prince Michel frequently. They have done a nice job on their wines and there is certainly one that you will enjoy. Prince Michel had very reasonable prices for their wines.
The wine tasting area also encompasses a vast array of select gifts. While many wine related items are available so are numerous unique gifts including vases, jewelry and much more. These items are artistically displayed. If you are looking for a special gift check out the gift shop at Prince Michel.
We enjoyed our time at Prince Michel. We believe they are on the right track with a variety of good wines, offering free wireless internet and recipes and a modern cave.
Prince Michel Vineyards & Winery
Leon, Virginia

GPS: N 38 °26.150' W 078° 09.234'
---
Visit these Virginia wineries and wine tour groups that partner with Wine Trail Traveler.