Kluge Estate Winery and Vineyard
by
K. L. Sullivan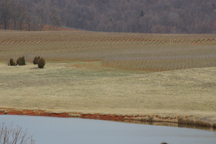 Kluge Estate Winery and Vineyard is family owned and located on a southeast slope of Carter's Mountain. This location provides protection for the vineyards from weather conditions detrimental to grapes. With soil comparable to other wine areas of the world, Kluge vineyards has an ideal location.
While we were not able to visit the winery or the vineyards, we were able to see the vineyards from across the road. We visited the Kluge Estate Winery and Vineyard Farm Shop where we were immersed in the quality of what Kluge Estate Winery and Vineyard is all about. The wine consultant, Casey Dovel, was pleasant and willingly answered our many questions as well as provided our wine tasting.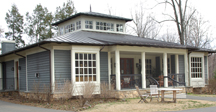 The entrance of the Farm Shop is delightful, with a warm, cozy, welcoming feel to it. On the porch, several chairs are available as well as a small sofa. Looking out beyond the porch is an area filled with large deciduous trees and a number of picnic tables. This ideal setting would be a great place to come for a lunch, which is served to you.
The details in the design of the Farm Shop is testament to Patricia Kluge's enthusiasm and knowledge of what is needed to create a winery which will eventually compete world wide with other wineries. Patricia consulted with people worldwide about the potential and direction Kluge Vineyards should take. Robert Mondavi visited and encouraged Patricia in her dream. Gabriele Rausse, a consultant, said, "The combination of their team, their winemaking methods, their dedication and, above all, their true love of wine, infuses their efforts with vigor, the result of which can be found in the glass."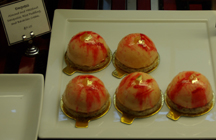 Additionally only the finest items are for sale in the Farm Shop. Patricia's goal is to offer a world-class wine experience. World-class chefs make items to taste with the wine. This is the perfect shop to stop by for lunch if you are looking for artisanal cheeses, gourmet desserts, wine and more. Some people stop by and select a wine to drink and ask for suggestions of food to pair with their wine, while others select the food first and ask for suggestions of a wine to pair with the food. If you need a gift this may be the perfect stop. Available at the shop are gift baskets, wine scented candles, specimen plants, books, jams and more.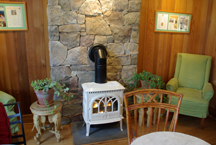 Waiting in a small room where one can drink coffee, tea or wine, we were surrounded by several articles about Kluge Estate Winery and Vineyard. We had time to take in the warmth of a gas burning stove and the window seat. Kluge Vineyards is a relatively new winery on the scene in Virginia, producing their first wine in 2000.
The back of the building is bright with large windows providing light for the many specimen plants, available for sale.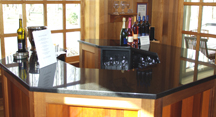 To the right of the front door is a small room with a uniquely shaped tasting bar. The tasting bar provides a touch of elegance especially when Riedel wine glasses are used for a tasting. Three glasses are used for the tastings: a Champagne glass, a large glass for the reds and a smaller glass for the whites. Kluge Estate Winery believes that the experience of tasting world-class wines should be enhanced with the use of Riedel stemware.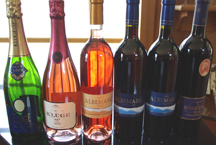 On the day of our visit we tasted the 2003 Kluge SP Blanc de Blanc one of Kluge's flagship wines, a 2004 Kluge Estate SP Rosé another sparkling wine, the 2002 Kluge New World Red, and the 2005 Albemarle Rosé. After tasting the two sparkling wines it is easy to see why many Americans are changing their perception of sparkling wines from a wine used for special occasions to a wine that can be used everyday.
Kluge Estate Winery has 200 acres of grapevines planted, and a vision of increasing this to as many as 500 acres. However, this will not be accomplished with haste as the winery is committed to producing only the finest of wines. Currently 12,000 cases are produced at Kluge's winery.
Patricia Kluge is the owner, founder and president of Kluge Estate Winery. According to our host, Casey Dovel, Patricia's goal is for this winery to be known as a "world class winery that happens to be in Virginia." It appears they are on their way to meeting this goal. Additionally, Kluge Estate Wines are distributed to over thirty states bringing Virginia wines to the attention of many American consumers.
Kluge Estate Winery and Vineyard
100 Grand Cru Drive
Charlottesville, Virginia
434-220-5917
GPS: N 37° 56.343 ' W 078° 29.943 '
---
Visit these Virginia wineries and wine tour groups that partner with Wine Trail Traveler.