Glass House Winery
by
Kathy Sullivan

Summary: Enjoy a visit to the Glass House Winery along the Monticello Wine Trail near Charlottesville, Virginia. The location with beautiful views of Virginia's countryside is delightful. Enjoy wines and chocolates professionally made by the owners. Be sure to take time to enjoy the tropical greenhouse. Browse the eclectic handmade items from Roatan.
Glass House Winery offers a unique winery experience. This may be the only winery that exists with an attached tropical greenhouse. Visitors can purchase a bottle of wine and enjoy it at a small table under the tropical foliage.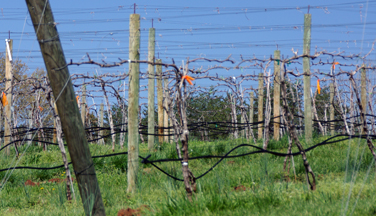 In 2006 Jeff and Michelle Sanders moved to the Virginia area to fulfill a dream they both had. Michelle is a certified chocolatier from Ecole Chocolate and Jeff is a serious tropical plant hobbyist. Indeed Jeff has many talents including planting the vineyards and designing the winery and greenhouse. The vineyards were planted in 2006.
In spring 2011, the Glass House vineyards consist of six acres that include Pinot Grigio, Viognier, Traminette, Barbara, Cabernet Franc, Chambourcin and Norton. Plans include adding eight acres of grapes that will include more of the current grapes and adding Merlot and Chardonnay.
Tasting Room
The curved tasting counter provides ample room for visitors to taste wines. Pale yellow walls and many windows provide a light airy feeling. A hallway entrance to the restrooms reminds one of a large oak barrel. Part of an art design project features a Louis Pasteur quote, "A bottle of wine contains more philosophy than all the books in the world." A large wall of windows opens up to a deck overlooking a pond. Enjoy a glass of wine and relax while viewing Virginia's countryside. Glass House wines and handmade chocolates are available in the tasting room. Wines can also be shipped directly to consumers residing in Virginia. Items available for sale are few but displayed with an eye to sophistication. Be sure to look at the creative and colorful items from Roatan.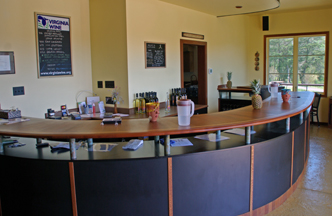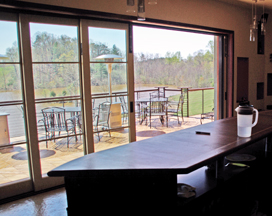 The winery is located below the tasting room. The red and white wine production is separated into two rooms. Jeff uses German made equipment believing that the equipment is very good. Current wine production is about 1,250 cases and they expect to grow to 3,000 cases.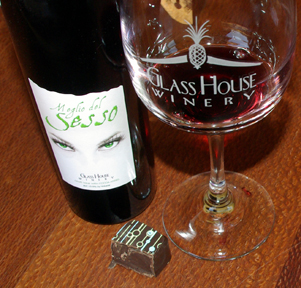 Glass House Wines
The wines are produced from grapes on the property and sourced from the region.

Viognier 2009 was a dark straw color with an aroma of floral and tropical fruit. The taste had notes of pear and banana. The finish was crisp and fruity, reminiscent of a tropical fruit salad. Wine tasters are welcome to purchase a bottle of wine and enjoy it while sitting in this tropical "forest."
Red Wines
C-Villian, a dark purple, was a blend of Chambourcin and Meritage. The aroma offered red raspberries and blackberries. There were blackberry notes on the taste. The finish was crisp and fruity with mild tannins. The 2009 21st Meritage was named after the 21st Amendment. This was a blend of Cabernet Franc, Merlot, and Petit Verdot. This light red wine offered a black fruit aroma. The taste had notes of black fruit including black cherry. The crisp finish was fruity with tannins.
Dessert Wine

Meglio del Sesso was produced with Norton grapes. Chocolate was added and stirred into the dark fruit. The wine was a dark red and sweet with 13 percent residual sugar. Meglio del Sesso was fruity with notes of dark fruit. The wine was well balanced. After tasting a piece of gourmet chocolate this dessert wine was fruitier and dried on the finish.
Tropical Greenhouse
Jeff designed the tropical greenhouse with many details. According to Jeff, the greenhouse with tropical plants made a huge difference during the winter. Visitors sat in the greenhouse and enjoyed the warmth and beauty as winter raged outside the glass. Examples of tropical plants you may see in the greenhouse include pineapples, Kumquats, papayas, coffee beans, ginger, guava fruit, Ti plants and numerous banana plants. Visitors will be provided with a diagram and list of the plants in the greenhouse.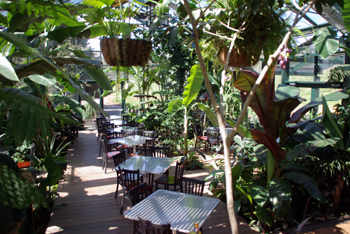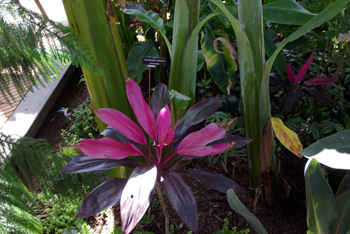 Geothermal Energy
The winery and greenhouse operate with a geothermal unit that extends to the nearby pond. According to Jeff the geothermal drops total electrical needs by 50 to 60 percent.
Glass House Winery offers a delightful one of a kind experience with countryside views, wines, and its own tropical greenhouse. Enjoy your visit.
Glass House Winery
5898 Free Union Road,
Free Union, Virginia 22940
GPS: N38º 11.957' W78º 34.796'
---
Visit these Virginia wineries and wine tour groups that partner with Wine Trail Traveler.