First Colony Winery
by
Terry Sullivan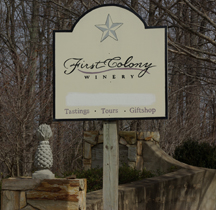 The winding road to First Colony Winery passes by both older and newer vines. In 2000 the former Totier Creek was sold to Randolph McElory, Jr. and became First Colony Winery. Since some vines had been planted earlier the first vintage for First Colony Winery was in 2002. There are 15 acres of vines planted around the winery and First Colony Winery produces between 3500 and 4,000 cases per year. The parking lot separates the vineyard from the tasting room and winery.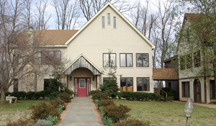 The tasting room and winery are reminiscent of another place and time. The walk to the tasting entrance was lined with flowering daffodils, the first seen during the season. No sooner had we entered the spacious room than Chris Hall, a senior philosophy major and our wine consultant warmly greeted us. Chris spoke with pride of the wines and the vision of First Colony Winery. He answered all questions and joined the dialogue about wines of which he was very knowledgeable.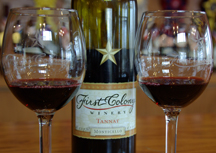 Several wines were available for tasting and we broke with tradition and started with the Tannat. I was curious about this varietal that is mostly grown in the Pyrenees region of France close to the Spanish border. Tannat wines have high levels of tannin. Chris picked up on our interest and began talking about First Colony's Tannat. Tasting the wine added to the discussion. I always appreciate the wine consultants in a tasting room who quickly assess your wine knowledge and then tailor the tasting to your interests. Chris did this well.
Following the Tannat we resumed with tradition and began to taste the white wines. On the day of our visit we tasted a 2003 Chardonnay, 2005 Viognier. We followed with a 2005 Rosé and concluded with the 2005 Sweet Shanando, First Colony's bestseller. On the wine notes page there was a table for the taster to complete if interested. First Colony was the first winery we visited that had a table on the tasting notes sheet. Tasters could write comments about the wines' color, aroma, taste, finish and add additional comments. This table would help new wine tasters as well as wine drinkers focus their thoughts and become wine tasters. Another benefit of writing notes in the table is to demonstrate that people will write different observations. This enhances the belief that how a wine looks, smells, and tastes is personal, and if one doesn't like a wine it may not mean the wine is bad. Someone else may really like the wine.
The reds we tasted included a 2005 Cabernet Sauvignon, 2005 Merlot, 2004 Cabernet Franc, 2004 Meritage, also a good seller and the previous tasted Tannat. Our tasting concluded with two dessert wines, a Claret and the 1607 Red Dessert Wine. It is always a pleasure to see the smiles on people who taste a sweet wine.
Chris spent more time talking about the uses for this wine tasting building. There is a small room off the main tasting room with a fireplace and several tables set up for events. The Randolph room, a very large area with tables and dance floor is on the second floor of the building. This would be a perfect location for a wedding reception or large party.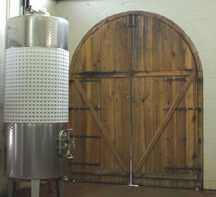 After our time with Chris, we had the pleasure to meet Joseph Paille, First Colony's winemaker. Joseph led us on a tour of the winery. Joseph grew up on a vineyard in France and began his wine education at the age of thirteen. Before coming to First Colony he had the opportunity to make ice-wine in Canada. He recalled moving the snow away from the frozen grapes in order to pick them. He also recalled how cold it was. Joseph had us barrel taste a Chardonnay, Viognier, and iced wine he was working on. The brix level of the iced wine was still quite high bringing smiles to faces again. Joseph spoke of the special challenges vineyards have in Virginia. A potential late frost, large amounts of rain in late summer due to tropical storms, and insects play havoc with the grapes in a vineyard. Joseph plans to return to France and continue his winemaking career.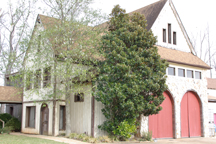 First Colony is located on a beautiful spot, with a large multifunction tasting room and modern winemaking building. We enjoyed our visit with the passionate staff.
First Colony Winery
Charlottesville, VA

GPS: N 37° 53.570' W 078° 33.445'
---
Visit these Virginia wineries and wine tour groups that partner with Wine Trail Traveler.