Knight's Gambit Vineyard
by
Kathy Sullivan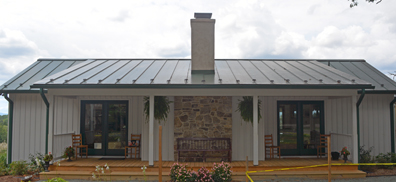 Summary: Knight's Gambit Vineyard is a boutique winery in the Monticello AVA offering a portfolio of select wines in a welcoming countryside atmosphere. Visitors can enjoy views of Virginia's panoramic countryside from a spacious covered porch or enjoy the ambiance of a living room-style tasting room.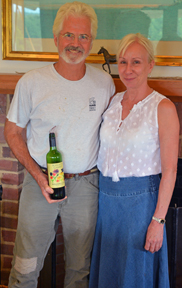 We met Paul Summers and Maggie Duensing at Knight's Gambit Vineyard. Paul is the owner and grape grower of this petite vineyard. He crafts the Knight's Gambit wines at the King family winery. Current wine production is 650 cases. Immediately, we noticed that Paul and Maggie are quick to welcome everyone who walks through the door. Paul seems to know everyone who visits and if not makes an attempt to greet and get to know first-time visitors.
Paul's parents bought the farm property in 1975. Paul's background in wine goes back to the late 1990s. He described how he grew up with wine, "My parents always had quality wine at dinner, so I developed an appreciation of great wines." As an adult, Paul worked at Barboursville Vineyards and the former Kluge Winery.
The name of the vineyard, Knight's Gambit, was chosen because Knight's Gambit was one of his mother's favorite books. While talking with Paul, he mentioned that he believes wine is a refined beverage. The tasting room reflects this refined idea, as in it Paul has created a living room atmosphere with several conversation areas with living room seating. Be sure to notice the hand crafted coffee table near the fireplace. This unique table was crafted with pieces of wine bottles.
Vineyards
Prior to planting wine grapes in 2003, Paul researched which grapes to plant including getting opinions from other growers. He also chose to plant some varieties of grapes based on wines he personally enjoys. He planted grapevines on his parents' farm in 2003. At first grapes were sold to area wineries. Grape varieties in the over five-acre vineyard include: Pinot Grigio, Merlot, Cabernet Franc and Petit Verdot. Paul also manages two acres of nearby vineyards that are planted with Chardonnay and Petit Verdot. He believes that working with small blocks can make better wines. At the time of our late-August visit, Chardonnay grapes (photos below left and center) were ready for harvesting. The Petit Verdot grapes (pictured below right) had just about finished veraison.
As we tasted the Knight's Gambit wines, Paul said, "The beauty of wine is subjective." He wants people to know that this is a small family farm vineyard located in a unique microclimate. Visitors will taste the terroir of the land in the grapes grown on the land. Paul explained that the Petit Verdot grown in both vineyards will produce different wines.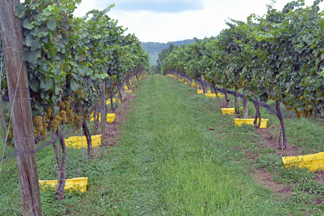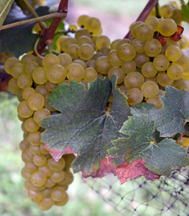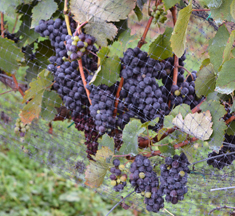 Knight's Gambit Wines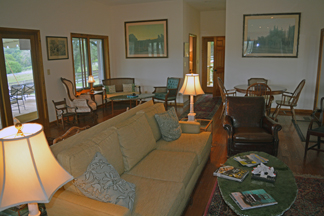 All of the wines are estate wines crafted with grapes grown on the property. There is a small tasting counter at the end of the tasting room. There is comfortable seating inside the tasting room as well as on the covered deck outside.
The 2015 Pinot Grigio Monticello AVA was a light yellow color. The wine offered floral and citrus notes. The taste had notes of citrus and mineral. The finish was crisp with fruit yielding to mineral. Chardonnay 2015 Monticello AVA was aged in one-quarter new French oak and three-quarters neutral oak. The wine was a yellow color. Notes of apple were on the aroma. The taste included apple, mineral and some citrus. The wine was full-bodied. The finish was crisp. This was a very food friendly wine.
Merlot Rosé 2016 Monticello AVA was an orange color. The aroma was of red berry fruit. The taste included notes of red berry fruit and mineral. This is a 3P (porch, patio or pool) wine. The crisp finish was fruity.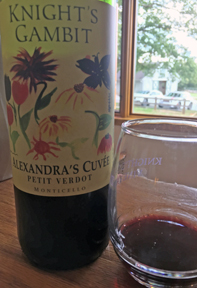 Meritage 2013 Monticello AVA was a blend of Merlot, Cabernet Franc and Petit Verdot. This wine offered an aroma of dark berry fruit and leather. The taste had notes of cherry, blackberry, blueberry and mineral. The wine was full-bodied with medium bold tannins. The finish was crisp and fruity with fruit yielding to leather and mineral. Alexandra's Cuveé was a dark ruby color with a purple hue. The aroma was of dark fruits and violets. The taste offered notes of blackberries and mineral with some plum notes. The wine was full-bodied with medium to bold tannins. The finish was of fruit yielding to mineral.
Knight's Gambit Events
Knight's Gambit has music events on the first and third Saturdays of each month. In addition they are now a venue for weddings and special events.
Knight's Gambit Vineyard offers visitors well-made wines and a delightfully, relaxing experience. Plan to spend extra time when visiting the tasting room to enjoy the experience. Upon leaving Knight's Gambit Vineyard, Terry commented, "This reminds you of Cheers - everyone knows your name."
Knight's Gambit Vineyard
2218 Lake Albemarle Rd
Charlottesville, Virginia
GPS: N38º 05.7201' W78º 37.1476'
Article written September 2017.
---
Visit these Virginia wineries and wine tour groups that partner with Wine Trail Traveler.