DuCard Vineyards
by
Kathy Sullivan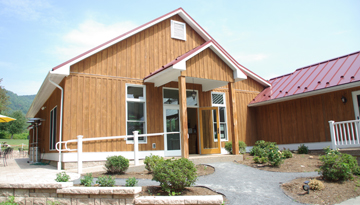 Summary: Enjoy a visit to DuCard Vineyards located within view of Virginia's mountains. Plan to spend time on the patio enjoying the pairing of wines with picturesque views of Virginia's countryside. Save time in the day to visit nearby Old Rag Mountain. DuCard Vineyards provides a perfect getaway spot for travelers. The winery is family and pet friendly.
DuCard Vineyards provides a delightful setting for wine enthusiasts to enjoy tasting DuCard wines. From the parking area, visitors traverse a small bridge over a stream and follow a short pathway to the tasting room entrance. The siding is of redwood and the roof over the winery and tasting room is red metal.
The patio extends around the back of the building. Colorful green and red umbrellas brighten the area and provide shade on those hot, sunny days in Virginia. The vineyards are a short walk from the tasting room.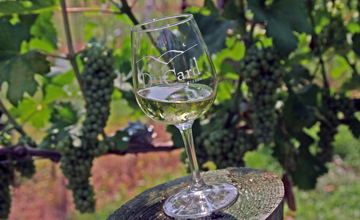 Vineyards
Scott Elliff planted the vineyards 11 years ago when he learned the property had previously been an apple orchard. Today the seven acres of vineyards include Viognier, Cabernet Franc, Petit Verdot and Norton. The vines are planted in old Appalachian soils and rocky clay. Scott used lyre trellising for the vines. Vines are hand pruned. Harvesting usually takes place about the middle of September. Typical tonnage is three tons per acre. Grapes are hand harvested.
On the day of our visit, a group from Piedmont Virginia Community College was heading into the vineyards to work. Piedmont Virginia Community College offers courses in Viticulture and Enology. Many of the courses meet off-campus at wineries and vineyards.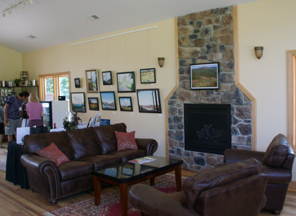 Tasting Room at DuCard
The tasting room, opened in August 2010, is in a modern style facility with windows on all four sides. Windows overlooking the patio capture the views of Virginia mountains. The wood floor was created from wood reclaimed from a barn over 100 years old. Solar panels provide much of the tasting room's power needs.
Light yellow walls, a white apex ceiling and several windows provide a light airy feeling for visitors. Paintings decorating the walls are available for purchase. Visitors will find cheese, sausage and chocolate available. These are perfect for enjoying on the patio.
Wines
All wines are sold at the tasting room. The focus at DuCard Vineyards is on producing high quality, limited production wines.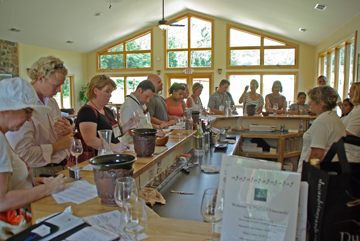 White Wines
Gibson Hollow White 2010 was a blend of Viognier and Vidal Blanc. The wine was a straw color and offered an aroma of floral and tropical fruit notes. The taste had floral notes and the finish was crisp. Signature Viognier 2010 offered a floral aroma with some tropical fruit notes. Peach notes with a hint of rose petals were on the taste. The finish was crisp and fruity.
Red Wines
Cabernet Franc Reserve 2009 was light ruby. The wine was aged in French and Virginia oak. The aroma was of black fruit and pepper notes. Plum yielded to pepper on the taste. The wine had mild tannins and was fruity. Popham Run Red 2009 was a blend of Cabernet Franc, Merlot and Cabernet Sauvignon. This ruby wine offered notes of dark fruit. The finish was crisp and fruity with tannins. Petit Verdot 2009 was a dark ruby. The aroma offered dark fruit with herbal notes. The taste was primarily of dark fruit nuances while the finish was crisp and fruity.
Stewardship at DuCard Vineyards
Scott is concerned about protecting the environment. A statement on the DuCard Vineyards website explains, "Our business is based in nature, so we feel a responsibility to be good stewards of our land and our surrounding environment."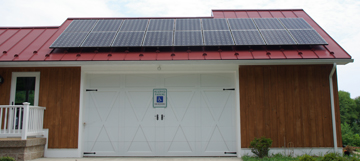 In order to support the environment, DuCard Vineyards tries to help in many ways. These include the following:
• Installation of solar panels
• Encourages beneficial insects by planting flowers
• Composting
• Using local food products in the tasting room
• Using lighter glass wine bottles
Visit DuCard Vineyards located close to Shenandoah National Park in Etlan, Virginia. Plan to stay awhile and enjoy the wines with the picturesque views. Families and pets are welcome. Consider a side trip to nearby Old Rag Mountain.
DuCard Vineyards
40 Gibson Hollow Lane
Etlan, Virginia 22719
---
Visit these Virginia wineries and wine tour groups that partner with Wine Trail Traveler.