Leo Grande Vineyards and Winery
by
Kathy Sullivan
Summary: Leo Grande Vineyards and Winery offers a tasting room housed in a remodeled farmhouse. With 10½ acres of grapevines, the winery produces 90 percent of their wine portfolio with estate grown grapes. A wide range of wines is available at the winery.
Leo Grande Vineyards and Winery is owned by Norman T. Leo Grande. It is a good winery to visit for those who don't know what types of wine they like, as there are many types of wines to try. There is a comfortable, laid-back atmosphere where you can converse with the winemaker and others. Norm would like visitors to taste his wines and commented, "Just taste and tell me what you find in it."
The approach to the winery tasting room takes one past farmland with mountains in the distance. A wide paved-stone walkway leads to the entrance of the tasting room. In the background visitors can view the vineyards. Fourteen years ago Norm began planting the vineyards. Ten and a half acres of the 400-acre farm are planted with Chardonnay, Sangiovese, Barbera, Nebbiolo, Syrah, and Sauvignon Blanc. Leo Grande Vineyards and Winery became a licensed winery in 2005.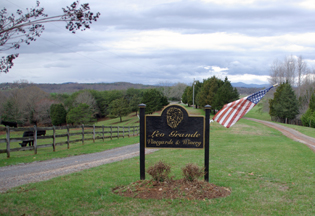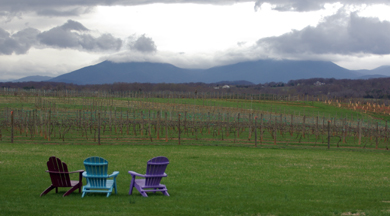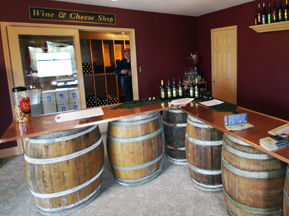 The tasting room and a gift room are located in an old restored farmhouse. The L-shaped tasting counter is a bright shining copper surface set on several aged oak barrels. Paintings decorate the walls that are available for sale. The gift room has a wide selection of wine-related gifts such as clothing, baskets, wine stoppers, wine racks, bowls and many others. An open deck and covered deck off the tasting room overlooks the vineyards.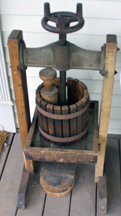 Norm's education in wine extends back to his Grandfather who was from Italy. His Grandfather worked on a vineyard in Italy. When he came to the US, he grew grapes in his backyard. Norm helped his grandfather with the small vineyard and with making wine. One of Norm's Grandfather's winepresses is displayed on the porch.
Today Norm does everything from viticulture to winemaking and staffing the tasting room. He commented that he often asks, "What hat do I have on today?"
On the day of our visit, we tasted several of the wines in the Leo Grande portfolio.
White Wines
Sauvignon Blanc 2007 offered an aroma and taste of lemon. The finish had clean, lemon-citrus nuances. Suggested pairings included chicken picatta, seafood and Asian foods. Chardonnay 2007 was unoaked, produced in stainless steel. The wine was crisp with notes of summer fruit particularly pears and apples. Suggested pairings included fish and chicken.
Rosé Wines
Roaring Rosé was a blend of Barbera, Nebbiolo and Chardonnay. This wine was a translucent, dark pink color. It had a light, red fruit aroma with a slightly sweet taste.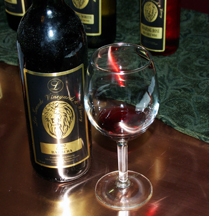 Red Wines
Barbera 2007 had an aroma of blackberry notes. The taste had noticeable hints of blackberry and plum notes. The crisp, fruity finish had mild tannins. Pairings suggested include beef, poultry, and duck. Sangiovese 2007 was a light red-pink. The aroma and taste were of red cherries. The finish was mild. This wine is recommended with hors d'oeuvres, pasta with red sauce as well as grilled white meat. Nebbiolo 2006 offered fruit and earthy nuances. The fruity finish had tannins. This wine was aged in oak for two years. Roaring Red was a translucent dark red. The aroma was of red fruit. The taste was semi-sweet with hints of cherry
Dessert Wine
Autumn Kiss 2007 was produced from Sangiovese and Barbera grapes that were harvested when the temperature was at 17 degrees. There were cherry and floral nuances. Although the wine was sweet, the finish was balanced.
Enjoy visiting Leo Grande Vineyards and Winery on a farm in Goode, Virginia. Taste a variety of wines while spending some time at this beautiful setting.
Leo Grande Vineyards and Winery
1027 Wingfield Drive
Goode, Virginia 24556
GPS: N37º 20.638' W79º 24.669'
---
Visit these Virginia wineries and wine tour groups that partner with Wine Trail Traveler.