Flying Fox Vineyard
by
Kathy Sullivan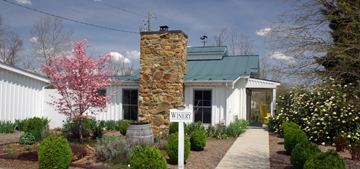 Summary: Enjoy a visit to the Flying Fox Vineyard tasting room in Afton, Virginia. The nearby vineyards were started as a second career for a couple who wanted to spend more time outside. Today the owners, Lynn and Rick Davis, do most of the vineyard work. The tasting room is open Fridays, Saturdays and Sundays.
Flying Fox Vineyard's tasting room located in Afton, Virginia is a friendly spot to stop and enjoy tasting wines. Enjoy a small friendly winery experience where the wines are good and affordable.
Afton Tasting Room
The Flying Fox Vineyard tasting room is located in an easily accessible area and is about five miles from the vineyards. A small porch near the entrance provides two bright yellow rocking chairs where one can enjoy a glass of wine. Inside, the tasting room is small with a lovely ambience provided by a sitting area with a fireplace and white wicker furniture. Art is displayed throughout the tasting room. In April the artwork displayed was from the Shenandoah Valley Art Center.
While enjoying Flying Fox Vineyard wines notice the tasting counter of dark wood. The tasting counter is an antique purchased in a nearby Virginia town. Originally the tasting counter was used for selling yard goods in a general store. An inserted piece of wood in the dark wood counter is 36 inches long. The first 9 inches are individual 9 inch pieces (or one-fourth of a yard). Other measurements indicate a half-yard and three-fourths of a yard. A patio where one can also spend time is adjacent to the back of the tasting room.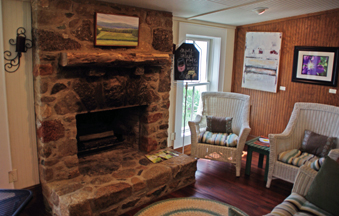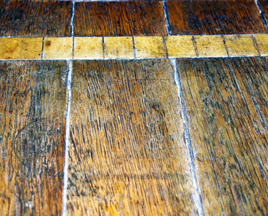 Vineyards
Lynn and Rick Davis established Flying Fox Vineyard. Rick and Lynn were looking for second careers and knew they wanted to be involved with the outdoors. In 1999 they decided to plant a vineyard. Currently they have seven and a half acres of vineyards. Varietals include Petit Verdot, Cabernet Franc, Merlot and Malbec. Lynn and Rick Davis do the majority of the vineyard work themselves. When we spoke with Lynn she had just finished in the vineyard. Nearby a sister grows white varietals for the winery. Originally, Rick and Lynn grew and sold grapes to other wineries. A few years later they decided to begin commercially producing wine. Today the Davis' produce red and white wines at Veritas Vineyard and Winery.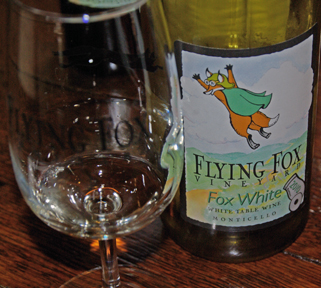 Rosé Wine
Rosé 2010 was a light pink Merlot. The aroma was of light red berries. There were strawberry notes on the taste. The finish was very crisp.
White Wines
Viognier 2010 was produced with grapes from Nelson County. This Viognier offered an aroma with floral and tropical fruit notes with a hint of peach. The peach continued throughout the taste with notes of honeysuckle. The crisp, fruity finish offered peach yielding to floral notes. Fox White 2010 was a Vidal Blanc. The aroma and taste had floral notes. The finish was sweet.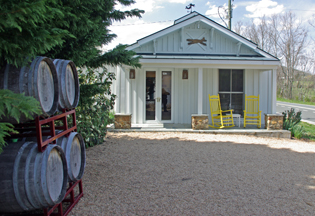 Red Wines
Cabernet Franc 2008 was a light ruby color. The aroma was of dark fruit and spice. The taste was of dark fruit with plum nuances. The finish was fruity with fruit yielding to pepper. Trio 2007 was a blend of Merlot, Cabernet Franc and Petit Verdot. The aroma and taste offered dark fruit nuances. There were hints of floral on the aroma and spice on the taste. The crisp, fruity finish yielded to spice especially pepper. Petit Verdot 2008 was a dark ruby. The aroma and taste had dark fruit notes with nuances of plum and blackberries. The finish was fruity with tannins. Fox Red 2008 was light ruby. The aroma and taste were earthy with notes of black fruit. Mild tannins accompanied the fruity finish.
Take time to enjoy a visit to the Flying Fox Vineyard tasting room where you will discover a friendly tasting room atmosphere with ambience and good, affordable wines.
Flying Fox Vineyard
27 Chapel Hollow Road
Afton, Virginia 22920

GPS: N37º 56.486' W78º 50.382'
---
Visit these Virginia wineries and wine tour groups that partner with Wine Trail Traveler.