Turk Mountain Vineyards
by
Terry and Kathy Sullivan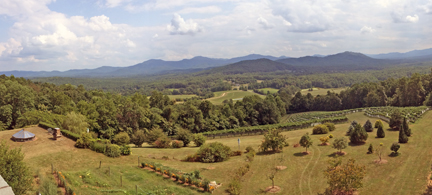 Summary: Atop Turks Mountain at an elevation of 1,100 feet lies the Turk Mountain Vineyards. The views from a stone tower are stunning. I thought that if heaven has vineyards, they must look like the vineyards in this setting. The winery is only open by appointment. Turk Mountain Vineyards is one of the must visit wineries in the country. Turk Mountain Vineyards' wines are available at Stinson Vineyards in Crozet, Virginia.
We turned off a highway onto a long winding driveway. As we were driving we were thinking of shoveling snow off this meandering driveway and decided that it may be better to just wait for spring. After a long drive, we arrived at a building. We first noticed the living roof on the top of the building. We walked up to and on the living roof in search for winery owners Gilbert and Edda Tallard. As we ambled along, we noticed the beautiful landscaping that included flower and vegetable gardens, specimen trees, vineyards, sculptures, bird houses, a stone tower and the beautiful expanse of distant mountains. We found Gilbert tidying up some leaves near the house entrance.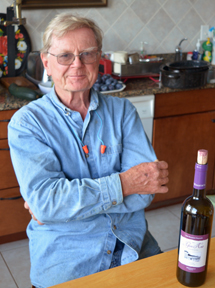 We soon discovered that Gilbert is personal, humorous and creative. We sat on benches on the lawn that covers the roof of the house. Gilbert mentioned that he never tires of the views from this spot. He pointed to the distant mountains and mentioned that on clear nights you can see two sunsets. This is a perfect spot for a glass of wine.
Gilbert spoke about the property that he and Edda purchased in 1997. At that time it was a strip of pasture. Previously the property had orchards on it. Rising, Gilbert took us on a tour of the property including the vineyards.
The pasture property that overlooks panoramic views of Virginia's countryside, has now become an oasis including vegetable gardens, fruit trees (peach, kiwi, apple and plum.) Some might even call it paradise. Gilbert and Edda have the "green thumb" among gardeners. Everything seems to thrive under their care. Squirrels, raccoons, turkeys and bears have discovered this green property. However, the Tallards have found creative solutions to the voracious animals. We asked Gilbert how he was able to keep the smaller animals out of the vegetable gardens, and he explained he uses garden nursery shade netting around the perimeter of the garden.
We also asked Gilbert where he developed an interest in wine. He mentioned that his father would purchase a barrel of wine and Gilbert would help him bottle the wine. For his family, wine was a part of a meal. While studying in Switzerland, Gilbert saw wine as part of the culture. Today he realizes that "Growing grapes is aesthetic." While ambling along the grounds Kathy asked Gilbert, "Where do you get your energy?" Gilbert smiled and said, "Optimism with life." For our entire three-hour visit, Gilbert was enthusiastic about life and wine.
Vineyards
The vineyards include five acres of vines planted in different blocks. Planting began in 2003 and continued into 2005. The varieties that Gilbert and Edda planted include: Petit Verdot (pictured), Malbec, Tannat, Cabernet Franc and Merlot. Adjacent to the vineyards are sculptures. We learned that these sculptures were the remains of a furnace. Edda, the artist in the family, suggested that rather than breaking apart the furnace, repurpose the parts. The large sculptures add an interesting focal point next to the vineyards.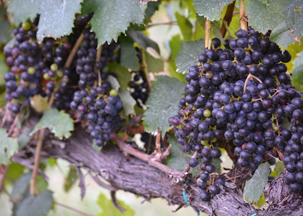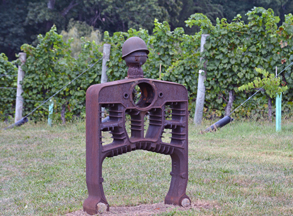 Stone Tower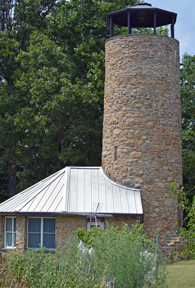 Gilbert is an engineer and his engineering skills were put into practice building the house and tower. The stone tower was built from the piles of field stones on the property. An artist room is attached to the tower. We walked in and observed paintings. The windows and location overlooking mountains would inspire many artists.This is Edda's domaine and reminded me of Renoir's studio behind his house in Essays, France. Kathy immediately said she was envious of such a lovely art studio, wishing she had one at home. We then proceeded to carefully climb the circular stairway to the top of the tower. Gilbert quickly closed the ceiling/floor doorway so no one would accidentally fall. Upon reaching the summit, we noticed a heavenly site. Distant mountains were along the horizon. We could see vineyards and landscaping in different areas. The top of the grass covered roof of the house had a central skylight dome and stone chimney.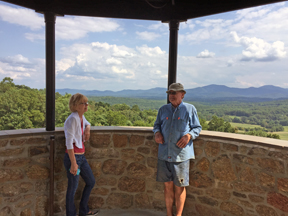 The tower summit has a sizable area. A small, private wedding could take place here. It would be a wonderful space for a romantic dinner. Near the tower there is a row of a black muscat grapes. Gilbert picked a bunch and handed it to us. The grapes were delicious and one could readily pick out the muscat characteristics. We enjoyed the grapes throughout the rest of the day.
Wines
There is no tasting room. Wines are tasted in the kitchen of Gilbert and Edda's home, sitting at the kitchen table. The production of wine is small and made under the supervision of winemaker Matthieu Finot. Gilbert showed us his cellar room. It holds a limited number of barrels and bottles. Gilbert likes to age his wines two years.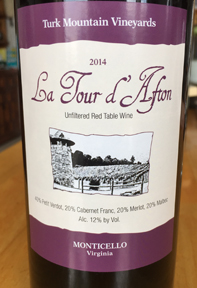 We started off comparing two vintages, 2014 and 2012, of La Tour d'Afton, Monticello AVA. Both vintages were crafted with Petit Verdot, Cabernet Franc, Merlot and Malbec. The 2014 was an opaque dark ruby color with a ruby colored rim. Black fruits and perfume were noticed on the aroma. The taste was reminiscent of blackberries, black cherries, baking spices and violets. The full-bodied wine had medium/bold tannins. The finish was very fruity. Meanwhile the 2012 was a bit darker in color with its opaque dark ruby to black appearance. The aroma offered black fruits. The taste had blackberries, black cherries and baking spices. This was a full-bodied wine with bold tannins. The finish was fruity.
The 2013 Afton Noir Monticello AVA was crafted with 100% Tannat. It had an opaque black color with a ruby rim. The aroma had black fruits. The taste included notes of blackberries, blueberries and leather. The wine was full-bodied with very bold tannins. The finish was fruity and yummy.
Turk Mountain Vineyards offers a personalized tour and tasting. This was one of the most relaxing wineries/vineyards that we have visited. Call to make an appointment. Plan to take your time and not rush your experience.
If you would like to purchase Turk Mountain Vineyard wines, contact their friends at Stinson Vineyards.
Turk Mountain Vineyards
8982 Dick Woods Rd,
Afton, Virginia 22920

GPS: N38º 01.1860' W78º 48.6558'
Article written September 2017.
---
Visit these Virginia wineries and wine tour groups that partner with Wine Trail Traveler.