Cardinal Point Vineyard and Winery
by
K.L. Sullivan
When we arrived at Cardinal Point Winery, we were delighted to speak with someone who was very knowledgeable about wine and Cardinal Point's history. Roberto Priani was able to answer all of our questions and took us on a tour of the winery.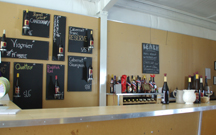 The tasting room is small but comfortable. It easily accommodates tastings and has a small assortment of gifts to purchase. Behind the tasting counter are numerous bottles, which have received awards. Gifts to purchase include wine accessories, summer sausage, bread spread, bread dipping oil and peanuts.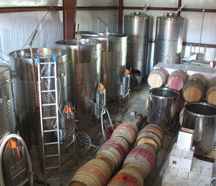 After answering many of our questions, Roberto took us on a tour of Cardinal Point's winery. A short film about winemaking was available to watch either in the tasting room or the winery. In the winery there is a comfortable area to sit and observe the winery. Stainless steel tanks and oak barrels fill the space below the sitting area.
We learned that before Paul Gorman, a four star General retired, he was located in Germany with his wife. Germany is where he learned to experience and enjoy the culture of wine. After General Gorman retired, he purchased 100 acres of land near Charlottesville, Virginia to begin growing grapes. Starting with Riesling on two acres of land, Cardinal Point now has 15 acres of grapes. For a number of years until 2002, Cardinal Point was a vineyard only. For several years, Cardinal Point Vineyards sold their high quality grapes to other wine makers. By 2002, they decided to use their own high quality grapes to produce wine and thus they became a winery. The average yearly production is 3500 cases. Cardinal Point hopes to expand to 5000 cases over the next several years.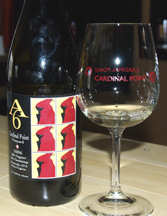 In only a few short years, Cardinal Point Winery has been able to produce quality wine. The quality of the wine at Cardinal Point can be noticed when tasting the wines, especially the two wines tasted at Vinopolis in London on May 2, 2007. A6 (a Viognier/Chardonnay blend) 2002 and Cabernet Franc Reserve 2005 are the two wines from Cardinal Point that were selected in the February judging to go to England. We were curious about the name for A6 and our Roberto said that A6 is the name of a road in France, where the road passes through two small villages. Condrieu grows Chardonnay and Meursault grows Viognier. A6 is Cardinal Point's signature wine and is a combination of 58% Viognier and 42% Chardonnay. We also tasted the dry Riesling and Quattro, a blend of four grapes: Riesling, Gewurtztraminer, Viognier and Traminette. These wines were also very good with a nice balance between fruit and acid.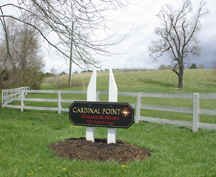 Festivals are a chance to taste wines before buying them. Unlike most wine stores where tastings are infrequent if at all, a festival gives you the chance to try several different wines without buying a bottle of each. Cardinal Point participates in different festivals throughout Virginia. For those who may not be able to visit the winery, a visit to a festival should be considered. Cardinal Point has four summer music concerts from May through August. There is plenty of room in an open fields around the winery. In general, about 300 people attend these concerts. Each year an Oyster Festival occurs. Oysters from the Rappahannock River are used.
Paul Gorman developed a military exercise, Cardinal Point, when he was commander of the 8th Infantry Division. Cardinal Point refers to the Cardinal Points on a compass. Cardinal Point is also a drawing point for visitors to the winery. Baseball and football fans as well as school faculties who have the cardinal as a mascot enjoy visits to Cardinal Point.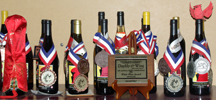 Cardinal Point is a family owned and operated vineyard and winery. The current winemaker and vineyard manager is Tim Gorman, Paul's son, who received his oenology degree from Virginia Tech. Today Tim and his sister, Sarah run Cardinal Point Winery with Tim managing the vineyard and Sarah, Business Director, running the business end of the winery. At the current time, it appears unlikely the winery and vineyard will expand since Tim is both vineyard manager and winemaker. Tim may experiment with an acre or two of different varietals, but increasing the workload is unlikely.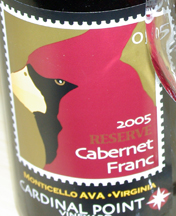 If you are a cardinal fan, whether birds or sports you will enjoy a visit to Cardinal Point Winery. Wine bottle labels are striking with a large, clear cardinal graphic. A bottle of wine from Cardinal Point will make a perfect gift for any wine lover or cardinal lover.
Cardinal Point Vineyard and Winery
Afton, Virginia
GPS: N 37° 59.312' W078° 48.838'
---
Visit these Virginia wineries and wine tour groups that partner with Wine Trail Traveler.