Wintergreen Winery
by
Terry Sullivan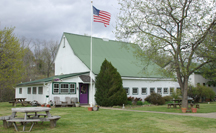 Nestled in the valley between the three mountains Black Rock, Three Ridges and Brent Mountain lays the family owned and run winery Wintergreen. The area was once a horse farm that saw to the training of a Kentucky Derby champion. The land was later converted to a vineyard in 1990. Although there are a few acres of grapes on site, the land is made up mostly of open space. Nineteenth century farm buildings were converted to the present tasting room and winery.
Wintergreen produces between 4,500 and 6,000 cases of wine each year. The owner and winemaker, Jeff Stone wants some of his wines to age eighteen to twenty-four months.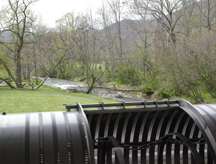 Upon arriving in the tasting room we were warmly greeted. We met Jeff and his wife Tamara who have owned the winery for eight years. Jeff gave us a tour. Just outside of the barrel room is an area for crushing the grapes. An old screw crusher is used to crush grapes. Jeff believes that since the crusher works well there is no reason to sell it and buy a new one. Just beyond this area runs a stream flowing quickly with water from a recent rain. The barrel room has several barrels aging wines. In another room stainless steel tanks are used to make and age wine. Jeff was filtering a wine that will be bottled tomorrow when a bottling truck arrives at the winery.
Even though busy, Jeff and Tamara took time to talk to us about their winery and winemaking. They try to have visitors' experience fun. Part of this experience is educating visitors. Jeff has a very simple philosophy towards wine. "There are three types of wine: the wine you like, the wine you don't like and the wine you haven't tried." Visitors are encouraged to try the wines and see if any fall into the "I like" category.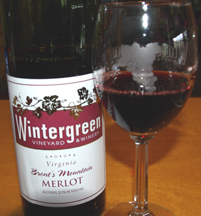 We tasted several wines including the two wines that will go to England for a tasting in April and May. The Black Rock Chardonnay Reserve and Brent's Mountain Merlot are two of sixty-five Virginia wines to go to England. These two wines are excellent representatives of what Virginia has to offer. We also tasted the Three Ridges White, a wine made from the Verdejo grape. This is the first time we encountered a wine made from this grape. It was slightly sweet with a nice fruit bouquet and good balance between fruit and acid. Next we tasted the Cabernet Franc. This wine also had 23 percent Merlot added to it. It produced a very nice blend. The above wines have won various awards. We completed our tasting with the Raspberry, a fruit wine made entirely of raspberries. This wine was excellent. Although the residual sugar was high the acid helped balance the wine so it did not seem overly sweet.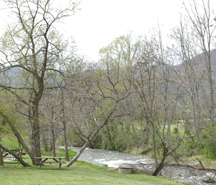 Wintergreen holds outdoor events during the warmer months. Local bands play to 200 to 600 visitors. The music venue includes blues, blue grass, folk and rock. Wintergreen is a spot for proposals. Tamara told us of a couple they watched from the tasting room. The man proposed to the woman and when it appeared that she accepted, everyone in the tasting room ran out and applauded. Tamara also said that they often receive guests who are visiting on an anniversary. They reminisce about the day they were proposed to just feet away by the large willow tree next to the stream.
Although there are occasional weddings, Tamara likes to inform the wedding party that the weather may not cooperate on the day of the wedding. There are future plans to build an outdoor pavilion complete with restroom and kitchen facilities. The pavilion will have a roof and possibly moveable walls. If the weather is nice, the walls will be up so the natural beauty of the area will be seen.
Wintergreen is a visitor friendly winery. One can easily spend the day. An assortment of balls and Frisbees can be used to occupy children and adults. Outside the tasting room there are several picnic tables near the river. If you forget to bring a picnic basket with food, you can purchase food in the tasting room and Wintergreen will loan plates, utensils and a picnic basket.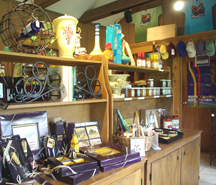 Visitors can spend some time in Wintergreen's gift shop. You will find a wide assortment of wine related gifts such as stoppers, wine racks and even candle holders made from a wine barrel stave. There is also an assortment of olive oils, specialty vinegars, salad dressings, hats, tee shirts, jewelry, jellies and scone mixes, ceramics, candleholders, and local artists CDs. For those who wish to picnic and need supplies there is an assortment of cheeses and drinks.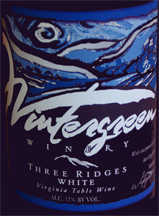 A visit to Wintergreen will be an enjoyable experience. Plan to spend a few hours to a half-day; take a picnic or buy the food for a picnic at Wintergreen and enjoy the beauty of the area. Wintergreen offers several wines. You're sure to find the right one for your picnic or to take home.
Wintergreen Winery
Nellysford, VA

GPS: N37° 52.644' W078° 55.530'
---
Visit these Virginia wineries and wine tour groups that partner with Wine Trail Traveler.