Hickory Hill Vineyards and Winery
by
Kathy Sullivan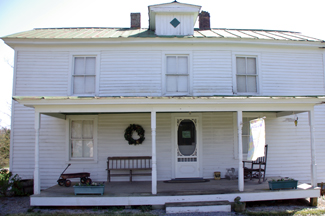 Summary: Hickory Hill Vineyards is a family owned, friendly winery to visit. The winery is located close to Smith Mountain Lake. Bring a picnic lunch and enjoy it on the covered porch and picnic area. Plan enough time to enjoy a tasting, winery and vineyard tour. This is a family friendly winery.
Hickory Hill Vineyards and Winery traces its beginning back to 1984 when Wendy Furrow-Scott's parents, Roger and Judy Furrow, planted an experimental vineyard of 250 grapevines on her Grandmother's property. From that experience they learned that the deer liked vinifera grapes and didn't bother Niagara or Marcel Foch grapes.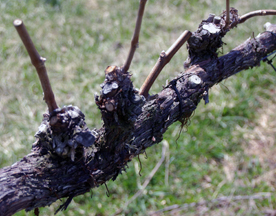 In 1991, the Furrows purchased the current farm and soon they were planting grapevines. Between 1992 and 1996 they planted five acres of Vidal Blanc, Chardonnay and Cabernet Sauvignon. Grapes were sold to other wineries through 2000. Wendy's father made wine and established the Hickory Hill Winery in 2001. At the time of our visit in March, recently pruned vines awaited some warmer weather to begin budding. The winery also sources Merlot and Cabernet Franc from another vineyard in Bedford County.
The tasting room is located in a farmhouse built in 1923. Sveral artifacts from an earlier age point to historical roots of the family. The winery has numerous items to browse and purchase including Virginia peanuts, wine accessories, cheese boards and wine glass holders. There are also t-shirts with fun wine sayings such as "Drinks Well with Others," and "Pick Me Squeeze Me, Make Me Wine."
The tasting counter is made of three moveable sections and can accommodate several people. Visitors will notice two different label designs on the wine bottles. The Smith Mountain Lake design is used on fun wines, while the farmhouse design is used on the serious wines.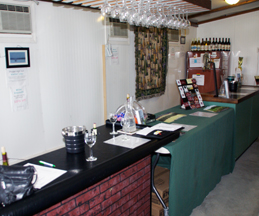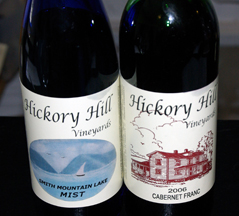 White Wines
Vidal Blanc 2008 was fermented in stainless steel. The wine was dry with citrus hints on the nose and taste. The finish was lemony. Mist was a fun wine made from a blend of Vidal Blanc and Chardonnay. The result was citrus on the nose and taste, especially lemon and grapefrui notes. There was a smooth mouth feel.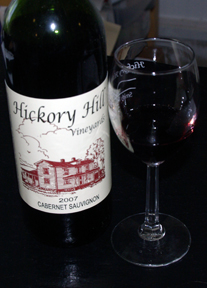 Red Wines
Cabernet Franc 2006 with a ruby color offered pepper and plum nuances on the nose and taste. This light bodied wine had mild tannins. Cabernet Sauvignon 2007 was aged in French oak for 10 months. The color was dark purple to black with a ruby rim. There were blackberry notes and the fruity finish was crisp with tannins. Country Red was fermented in stainless steel. This wine is a blend of Cabernet Sauvignon, Merlot and Cabernet Franc. The wine had one percent residual sugar. This dark purple wine offered an aroma taste of cherry and blackberry notes. There were bold tannins on the fruity finish.
This is a child friendly winery with several toys available and plenty of room outside. A nature trail is also available for walking and exploring. With tastings, enjoying a picnic lunch on the grounds and walking a nature trail, be sure to plan on enough time to do it all.
Enjoy a visit to Hickory Hill Vineyards & Winery in Moneta near Smith Mountain Lake in Virginia.
Hickory Hill Vineyards and Winery
1722 Hickory Cove Lane
Moneta, Virginia 24121

GPS: N37º 07.847' W79º 37.843'
---
Visit these Virginia wineries and wine tour groups that partner with Wine Trail Traveler.