Hill Top Berry Farm and Winery
by
Terry Sullivan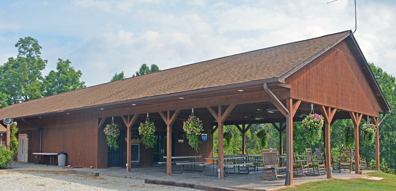 Summary: Visitors can expect a fun experience at Hill Top Berry Farm and Winery. They can sample numerous fruit wines and meads. This family operated winery also has pick-your-own blackberries during July and August.
Hill Top Berry Farm and Winery in Nellysford, Virginia is a family owned business that offers pick-your-own blackberries, fruit wines and meads. Gregory and Kimberly Pugh own the winery. They are the second generation to work the winery that was started by Kimberly's parents in 1998. Before starting the winery, the farm was a pick-your-own blackberry farm. In an email, Kimberly wrote, "We still operate as a berry farm and we have been in business long enough that little berry pickers have grown up into winery customers."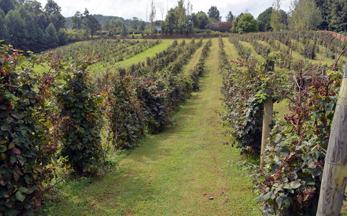 Along the parking area there are rows of blackberry bushes. Although the harvest season is nearing its end in late August, there are still berries that visitors can pick. The property is comprised of wooded land, buildings and fruit. Fruits planted include: blackberries, apples, peaches, pears and a small plot of Concord grapes. Only the blackberries are available for visitor picking.
The winery tasting room is in a long building that has a patio in the front with tables and chairs. Inside, there are two rooms, the front room is the main tasting room and the back room can also serve as a tasting room when needed or for events. Visitors will notice the medieval theme of the rooms. This theme pairs well with the many different meads available for tasting. Regalia range from gargoyle dump buckets, tapestries and suits of armor.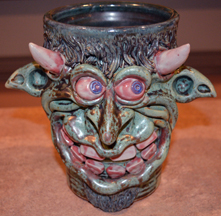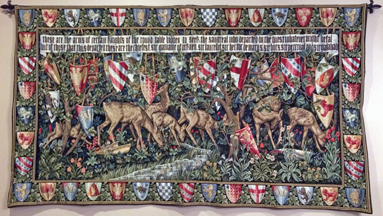 Kimberly wrote about her parents and buying the winery from them. "Mom and Dad have an interesting story. Dad was someone who made homemade wine, could learn how to do anything by reading about it and was a dreamer who did lots of things in his life from youngest man on his Navy ship, law enforcement, charter fishing boat captain etc. He was gone a lot from the farm here when he was running his charter boat in the Chesapeake. Mom told him they needed to either move to the water or find a way to make a living here at home. That's what he did!
"His friends always enjoyed his homemade wine so he decided to make wine like he had always made as a hobby. They decided early on to be different and it has really worked out for two generations. They retired back in 2006 officially when we bought them out so they could retire.
"My husband and I do this full time and have really expanded the types of mead that we make. I love history and look for things to recreate. I really looked up to my dad and actually followed him into two careers, first law enforcement and then wine making. I worked here for a couple years before taking over and my husband came on board in 2008. Originally in 2006, my two sisters and I bought the winery from my parents, but we have since then bought out both sisters. Our children, two daughters worked here through college and have gone on to other things for now. We will see what happens but since this is truly a labor of love, I don't plan on ever retiring."
Fruit Wines
All fruit wines are made from 100% of the fruit. Although much of the fruit is sourced from the farm, additional fruit is purchased locally.
The Virginia Peach wine with 12% alcohol was a light yellow color. The aroma was peach and the creamy taste was very peachy and sweet. The sweetness began to dry on the finish. Sweet Melon was crafted with 100% cantelopes. This light yellow colored wine had 12% alcohol. The aroma was reminiscent of tropical fruits. The creamy mouthfeel had melon and tropical fruit notes. The wine was sweet with a fruity finish. The Blackberry Delight was made with 100% blackberries. The translucent colored wine offered blackberries on the aroma and taste. The mouthfeel was velvety and the wine was sweet. Blackberries lingered on the finish.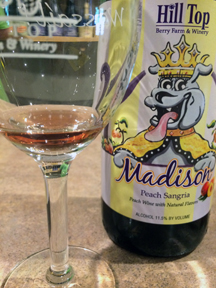 The Madison Peach Sangria was made predominantly with peaches and a splash of cherries, raspberries and strawberries. The name honors Gregory's and Kimberly's daughter who graduated from James Madison University. This is one of several products in which $0.25 per bottle produced is donated to charity. The Madison Peach Sangria's charity is the Blue Ridge Area Food Bank. The 11.5% alcohol wine had an orange/red color. Red berry fruits were noticed on the aroma while peach, raspberry and strawberry came through on the taste. The finish was crisp and fruity.
Meads
We tasted a number of meads. One of the most popular is the Hunter's Moon, a melomel crafted with honey, pumpkin and spices. The 12% alcohol melomel was a yellow color with an orange hue. It offered baking spices, pumpkin and honey on the aroma and taste. It had a very creamy mouthfeel and was reminiscent of pumpkin pie. This is the perfect melomel to pair with a camp fire. The Pollinator was an unusual mead made with honey and bee pollen. For each bottle produced $0.25 is donated to the North American Butterfly Association. This 12% alcohol mead was a light yellow color. Honeysuckle was predominant on the aroma. The taste had honey and earth notes. There was a long honeysuckle aftertaste.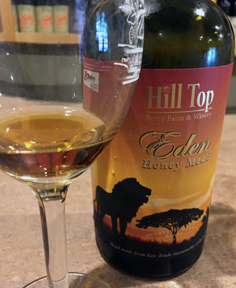 An unusual mead was crafted with Zambian wildflower honey. Eden was 12% alcohol and a dark amber color. For each bottle produced a donation is made to the Zambian Carnivore Programme. This mead had complex aromas and tastes. The floral aroma also had honey and smoke notes. The taste had honey and notes associated with bourbon. The dry mead had a long aftertaste.
This is a fun winery for wine enthusiasts to visit. Sweet wine drinkers will have many options of wines and meads to taste; however, there are also dry fruit wines and meads. The tasting room had many visitors all having an enjoyable time. Two of the visitors ambled through the blackberry bushes and picked a quart of berries.
Hill Top Berry Farm and Winery
2800 Berry Hill Rd
Nellysford, Virginia 22958
GPS: N37º 53.9985' W78º 50.7794'
Article written August 2017.
---
Visit these Virginia wineries and wine tour groups that partner with Wine Trail Traveler.