Keswick Vineyards
by
K. L. Sullivan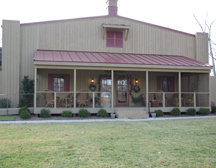 Arriving at Keswick Vineyards early in the morning, we enjoyed the countryside and noted the preservation of trees near the tasting room. A sign reads, "Born from the soil and soul of Virginia." Keswick Vineyards has worked with nature to attract one to the grace and ambience of the building. Birdhouses were spotted around the landscaped area.
A small manicured lawn area in front with an available croquet set was available for anyone to play a game.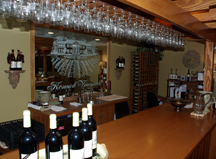 The tasting room is also accessible by a ramp for wheelchairs. When we entered the tasting room we were immediately greeted by Stephen Barnard, winemaker, and Molly Rister, wine educator. The tasting room is warm and inviting. Stephen mentioned the tasting room had been decorated by an interior decorator. Drapes profile a large window that looks into the barrel and tank room. Stephen noted that the window "bridges the gap" between the tasting room and winemaking. We noted the bar stools at the large tasting bar, thinking this is a great idea.
To help give the visitor an overall view of the winemaking process, Keswick has a 20-minute video playing in the tasting room. When you visit take an opportunity to view this video to see what you have in your wineglass. How does a cluster of grapes become that delicious wine in your glass?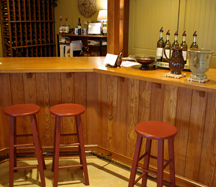 At the tasting bar, we tasted several wines. The most popular white wine is the 2005 Viognier. The 2005 Rosé is a blend of Cabernet Sauvignon, Malbec, Syrah and Merlot. The Les Vents d'Anges Rives Red is a good seller. It has a nice acid/fruit finish and cleanses the palate. The Les Vents d'Anges Rives Red is a tribute to Geneviève de Beaubien, M.D. the sister of Al Schornberg, owner of Keswick Vineyards. The label on this wine is unusual and elegant. The 2004 Nektar, a dessert-style Viognier, has a unique label. A cluster of grapes is formed in the shape of Africa.
Stephen spent a long time in discussion with us. We talked about numerous wine related issues. We learned that Stephen started his wine education at Stellenbosch University in South Africa. He worked at Keswick as the winemaker for a few years before going to Rappahannock Cellars.
The tasting room at Keswick opened in October 2006. In 2006 they produced 3,500 cases from 43 acres of grapevines. Plans are that they will eventually produce 10,000 cases. Keswick's varietals include Viognier, Norton (a native Virginia grape), Chambourcin and Bordeaux.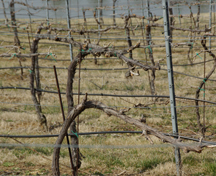 In referring to the relationship between the vineyard manager and the winemaker, Stephen emphasized the vineyard manager is "not a grape grower but a wine grower." Without good quality grapes, the winemaker cannot make quality wine. The vineyard manager, tasting room manager, winemaker and owner work together, creating wine blends.
While there is always work that needs to be done harvest is very busy. During harvest time, workers can work 100 hours a week. Workers try to pick ten tons of grapes each day by hand. Stephen is happy to have a sorting table. The sorting table allows extra stems to be picked out of the grapes before they go further into the winemaking process.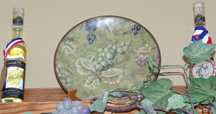 Keswick Vineyards wants to be the best winery in Virginia with world-class wine. Eventually Keswick will be using a gravity flow system. Gravity flow protects grapes from rough handling. Also, Keswick is interested in pursuing wine caves in the future.
Keswick Vineyards is truly a family-run vineyard. Family and friends help with the harvesting. Any season of the year this is a great winery to visit.
Keswick Vineyards
Keswick, VA

GPS: N 38° 04.494' W 078° 17.353'
---
Visit these Virginia wineries and wine tour groups that partner with Wine Trail Traveler.