Pippin Hill Farm and Vineyards
by
Kathy Sullivan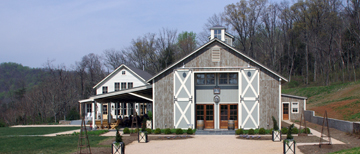 Summary: Pippin Hill Farm & Vineyards is a welcome addition to the winery scene in Virginia. Visitors will discover that the facility focus is to "Celebrate Family & Friends, Food & Wine." Another focus of Pippin Hill Farm & Vineyards is to be environmentally friendly. The tasting room and event facility is only two-tenths of a mile off Rt 29 South of Charlottesville.
The site selection for Pippin Hill Farm & Vineyards was chosen because it is part of a Preservation Development in southern Albemarle County. The property is part of Bundoran Farm. The beautiful vistas available from the tasting room and veranda will continue undisturbed.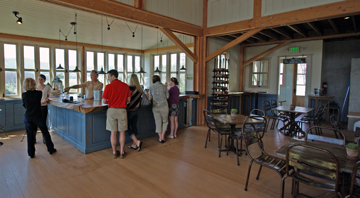 Pippin Hill Farm & Vineyards Tasting Room
Pippin Hill Farm & Vineyards opened the tasting room in spring of 2011. The winery name is from the Pippin apple variety that had previously grown on the property. Visitors are quickly welcomed upon their arrival. The unusual main tasting counter is four to five inches thick, made from a 400-year-old Mexican Cypress tree. A second tasting counter is opened during the busy times. Numerous small rustic-style tables and chairs are available inside, while additional seating is available on the veranda. A wood-burning pizza oven in the tasting room is used for baking breads and pizza during the cooler seasons. It offers a cozy place to spend time during winter days.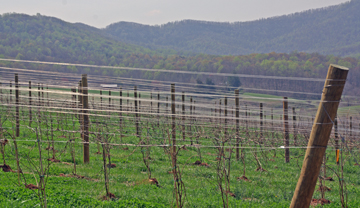 Vineyards
Five acres of vineyards were planted with Sauvignon Blanc, Petite Verdot and Viognier in April 2011. Grapes are sourced from several local Virginia vineyards. In 2011 wines were made at Michael Shaps', Virginia Wineworks in Virginia. Currently 3,000 cases of Pippin Hill Farm & Vineyards wines are produced. The owners expect an increase in wine production.

The Pippin Farm & Vineyards facility was built with a focus on events, tasting room and wines. In March 2012, 60 weddings are planned at the winery and few wedding dates are available for the remainder of 2012.
With an onsite professional kitchen, Pippin Hill has its own Executive Chef, Amalia Scatena. Amalia caters for private events as well as providing lunch specials. The kitchen is open whenever the tasting room is open.
Owners
The owners, Dean and Lynn Easton Andrews, were inspired to open the Pippin Hill Farms & Vineyards as a wine, food and event facility. Lynn is also President of Easton Events. Dean was the head of North American Operations and Development for Orient Express Hotels. Their backgrounds provided them with the experience for developing Pippin Hill Farms & Vineyards. With a full commercial kitchen, tasting room with dining facilities and large event room, the facility provides a good location for weddings and private events. A special area is reserved for the bridal party prior to the wedding.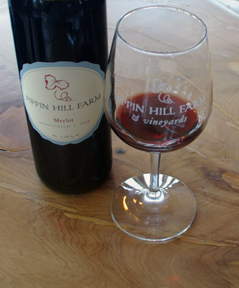 White Wines
The tasting began with Blanc de Blanc, a Champagne-style Chardonnay. The color was a golden yellow. The wine offered apple notes; the finish was crisp and cleansing. Viognier was produced with 100 percent Viognier. The color was a light yellow to straw with a floral aroma and tropical notes. The taste offered banana, pineapple and citrus notes. The finish was crisp and citrusy. Chardonnay 2010 was aged in 90 percent stainless steel and 10 percent oak. The wine was a golden color and was very fruit forward with notes of apple, pear and citrus. The taste had a hint of caramel. The finish offered apple and pear notes that yielded to caramel. Petite Manseng was a delightful dessert wine, excellent for sipping anytime.
Red Wines
Merlot 2009 was a Sienna color. The aroma and taste were earthy with cherry notes. The finish had cherry and oak notes with oak flavors. Merlot 2010 was a ruby color. The aroma offered cherry notes with a slight earthiness. The taste was very fruity with dark fruit notes, especially cherry. There was a slight perceived sweetness on the taste even though the wine was dry. The finish had mild tannins with a small oak influence and was fruitier than the 2009 Merlot. Cabernet Franc 2010 was a light ruby color. The aroma had oak and dark fruit notes. The taste offered dark fruit with plum nuances. The finish was fruity and crisp with tannins.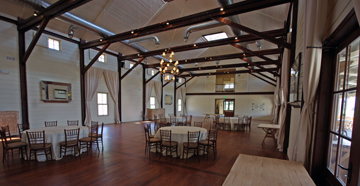 Special Events
The facility was built with events in mind. Corporate and private events take place at the facility. In addition Pippin Hill offers numerous hands-on cooking classes. Music events are offered Sunday afternoons.
Environmental Focus
The emphasis at Pippin Hill is on living in the environment using LEED and green techniques. The facility was built with geothermal technology for heating and cooling. They reclaim rainwater to use as well as cutting down on waste and composting.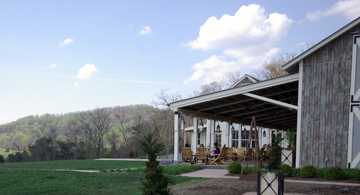 When visiting Charlottesville, Virginia take time to visit Pippin Hill Farms & Vineyards. Plan to stay awhile and enjoy a glass of wine and a bite to eat paired with beautiful views.
Pippin Hill Farm & Vineyards
5022 Plank Road
North Garden, Virginia 22959
GPS: N37º 57.680' W78º 39.454'
---
Visit these Virginia wineries and wine tour groups that partner with Wine Trail Traveler.