Blue Bee Cider
by
Kathy Sullivan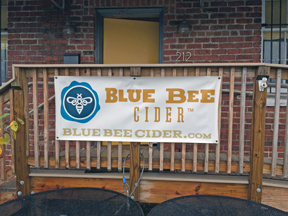 Summary: Blue Bee Cider is an urban cidery located in Richmond, Virginia. The cidery
produces still ciders and sparkling ciders made with regional cider apples.
Blue Bee Cider in Richmond, Virginia is easy to drive to as it is just a short distance off Interstate 95. The cidery and tasting room, near the James River, is located in an old brick building that was once used as a coffee warehouse. Blue Bee Cider also holds the distinction of being the first and only urban cidery in Virginia.
Immediately upon entering Blue Bee Cider tasting room, we met Courtney Mailey, sole owner of Blue Bee Cider. The tasting room is comfortable with a tasting counter to the side. We appreciated the neck tags displayed on each bottle that notes the pairing suggestions.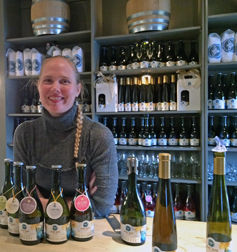 Courtney described how she became interested in producing ciders, commenting that she had always wanted to be a farmer. Courtney has an uncle who owns a winery in Washington State. She named the cidery after the blue bee that comes out in early spring to pollinate apple blossoms. The blue orchard bee, osmia lignaria, is described as hardworking and solitary. This blue bee is used for pollination of other agricultural plants.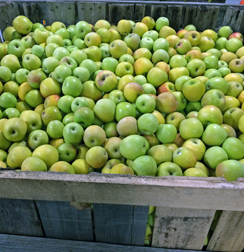 Production of cider at Blue Bee Cider takes place behind the tasting room. While visiting in November, two large crates of apples were waiting to be turned into a delicious cider. The cidery focuses on small batch cider production. According to Courtney "cider is a more delicate beverage and you have to be careful."
The ciders are focused on local fruit in Virginia. Currently Courtney owns fifty apple trees which she noted are doing well. The apple varieties used for producing ciders include: Albemarle Pippin, York, Stayman, Winesap and Golden Rush. She also leases orchard land in Virginia's Nelson County.
History
In 2012 Blue Bee Cider moved into its current location, formerly an old coffee house. They began selling their ciders in 2013. The 2014 harvest was their third harvest.
Blue Bee Ciders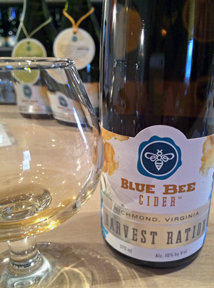 In the Blue Bee cidery tasting room, we tasted Harvest Ration a cider produced with Winesap apples and apple brandy. The cider offered hints of herbs. Harvest Ration has 18% alcohol. Use this cider as an after dinner digestif or paired with sweetened nuts, creme brulée or spiced cake. The cider sells for $33.25/375ml.
Later in the day we went to the 2014 Annual Virginia Cider Festival to taste several more Blue Bee ciders.
Charred Ordinary was produced with Winesap, Arkansas Black, York and Bittersharp apple varieties. The cider was a light yellow color with notes of apple, citrus and a touch of tannins. Serve this cider with smoked seafood, country ham or strong cheeses. The retail price is $10.25/500ml and $15.50/750ml.
Mill Race Bramble was produced with Summer Rambo apples and infused with raspberries and blackberries. The crisp cider was a light red color with orange and other citrus notes plus raspberry and blackberry notes. Suggested pairings included dried fruits, sweet cheeses and lightly salted nuts. The cider can also be used as an aperitif. The retail price is $11.55/500ml and $17.50/750ml.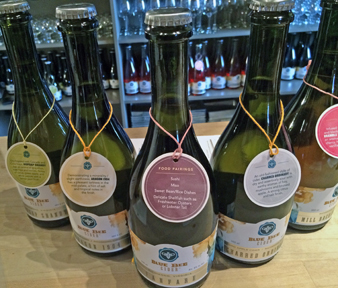 Hopsap Shandy apple varieties included Winesap, Arkansas Black and Grimes Golden. It was infused with Cascade and Citra hops. The cider was a light yellow and offered very floral notes with citrus and rose. Pairing suggestions included light fish, veal, olives and mild cheeses. The cider sells for $10.75/500ml and $16.25/750ml.
Fanfare was produced with white and black mulberries with Gold Rush and Stayman apple varieties. The cider offered an aroma and taste of red berry fruit. There was apple with mineral notes on the aftertaste. Fanfare retails for $10.75/500ml and $16.25/750ml.
Public events take place at Blue Bee Cider. Small private events can also be scheduled.
Currently, Blue Bee Cider ships ciders to the District of Columbia, Maryland, North Carolina and Virginia. When visiting Richmond be sure to stop by Blue Bee Cider to taste ciders.
Blue Bee Cider
212 W. 6th Street
Richmond, Virginia
GPS: N37º 31.570' W77º 26.511'
Article written December 2014
---
Visit these Virginia wineries and wine tour groups that partner with Wine Trail Traveler.