Jefferson Vineyards
by
K. L. Sullivan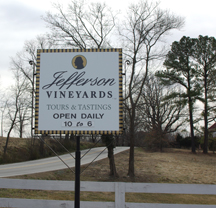 Our favorite quote we came away from Jefferson Vineyards was, "Every winery has a gem." Perhaps this quote represents one of our reasons for encouraging consumers to visit wineries. Every winery has a unique gem to discover whether it be an adventure, a fine wine, a great tour or wonderful history.
Jefferson Vineyard has two gems we want to acquaint you with. The first gem we came across was in the tasting room. We were greeted with a warm welcome from our hostess, who answered our questions, while she was busy with other wine tasters. In a relaxing atmosphere, we were given the opportunity to taste any of their wines and to take plenty of time to discuss and think about the wine. At the end of tasting the various wines, we were offered the opportunity to re-taste any wine. This was the first winery we have visited which offered us the opportunity to re-taste a wine. A re-taste of a wine gives the visitor the time to reaffirm their decision to purchase a particular wine. Other visitors were also offered the opportunity to re-taste the wines.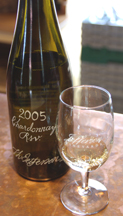 Chardonnay Reserve is a big seller with sweet notes, fruit flavors, not very dry and a short aftertaste. Meritage is another big seller and consists of Merlot, Cabernet Franc, Petite Verdot, Cabernet Sauvignon and Malbec. Merlot, Vintage 2005 has a great fruit flavor and aftertaste. It is a good red wine for white wine drinkers. Jefferson's Own Vin Blanc, a semi-dry white wine, has 1.5% residual sugar. If you are looking for a dessert wine, try the Late Harvest Vidal Blanc, Vintage 2005 with 13% residual sugar.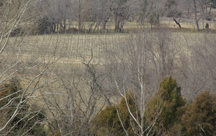 The second gem we discovered as we toured the winery was the history associated with the vineyard. The first commercial vineyards were planted here in 1774. Thomas Jefferson was enthralled with the vineyards he had seen in France. Jefferson met with Fillipo Mazzei in 1773 who was interested in producing wine and other products. Jefferson invested in Mazzei's company. Mazzei began planting vineyards on his 400 acres of property next to Monticello. The Revolutionary War brought an end to the vineyards. Why was Thomas Jefferson not successful with his vineyards? No one knows for sure, however, it is suspected that phylloxera may have been responsible for the demise of his vineyards. According to history Thomas Jefferson was never able to produce one bottle of wine.
In 1981 the owners of the property decided to begin the vineyards again. Gabriele Rausse, considered Virginia's father of viticulture, planted the vineyards.
Currently the farm consists of 650 acres with 20 acres devoted to grapes. Today Jefferson Vineyards grows Chardonnay, Merlot, Cabernet Sauvignon, Pinot Gris, Petit Verdot, Cabernet Franc, Tannat, Malbec and Viognier.
The grapes are harvested from late August to late October, by hand. The team can pick approximately ten tons a day. Jefferson Vineyards feels strongly that handpicked grapes retain more of their goodness than those picked by machine.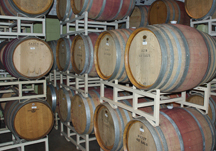 After our tasting, we met Chad Zakaib and he took us on a tour of the winery and pointed out several areas in the landscape. A wonderful discussion ensued including microclimates, which are affected by Carter's Mountain, air flow and water drainage.
Currently, Jefferson Vineyards harvests about two tons of grapes per acre. In the older areas 600 to 800 vines are planted per acre. In the newer areas of the vineyard more vines are planted per acre. Jefferson Vineyards buys grapes from other growers in Virginia. They do not purchase grapes outside of Virginia. They are intent upon making great wine and purchase only quality grapes.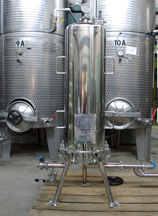 Chad proudly pointed out a filter that Jefferson Vineyards just purchased. It is significant in that the filters are reusable and can be cleaned quickly. This new technology saves time and money. Previously with the older wine filtering system the filters were disposed of after one use. Jefferson Winery only uses minimal fining. Chad believes that fining strips characteristics from wine. All wines are racked at Jefferson Vineyards.
American and French barrels are used. Barrel usage is taken seriously. Data is kept identifying which barrels are used for which wines. This gives the winery the data they need for ordering barrels and making the best wines possible.
Traveling to Jefferson Vineyard is easy as it is located on Route 53, a main road and just a short driving distance from Monticello. The winery tasting room is open daily from 10:00 – 6:00.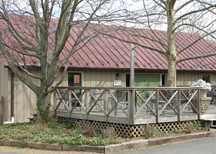 Jefferson Vineyards mission is to identify the best vineyard sites and best growers in Virginia. Using nothing but the best they strive to continually make great wines.
Jefferson Vineyards
Charlottesville, VA

GPS: N 37° 59.412' W 078° 26.650'
---
Visit these Virginia wineries and wine tour groups that partner with Wine Trail Traveler.