Peaks of Otter Winery and Orchards
by
Kathy Sullivan
Summary: Located in Bedford Virginia, Peaks of Otter Winery is all about fun wines. Whether you are a serious wine lover or just learning about wine, this winery offers an enjoyable experience and fun wines. This is a winery visitors will talk about when they return home. With more than 30 wines to taste visitors will want to return again and again.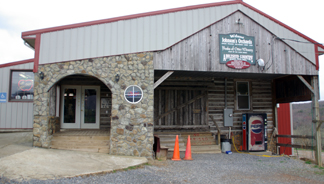 We knew Peaks of Otter was a fun winery to visit. As we approached the tasting room from the parking area, three people exited and immediately told us we had to try Chili Dawg and Kiss the Devil. They were very excited about those wines and the wine tasting experience they had. They returned and purchased several wines.
We enjoyed our visit to Peaks of Otter Winery & Orchards and meeting Danny Johnson, Shannon his son and Jordan, his grandson. They are friendly and have an extensive knowledge of the area's history especially regarding wine. At one time, stills in this area of Virginia were a way of life. Brandy was a favorite alcoholic beverage in the area.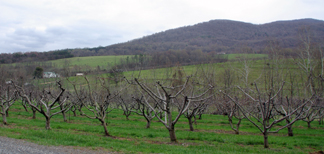 Danny learned his winemaking skills from his Grandfather who had a still and owned part of a fruit orchard. In the 1970's Danny was concentrating on growing apples. He realized that depending totally on orchards was not realistic. Danny said, "Wine is the tail that is wagging the dog." Today he has 25 to 30 acres of orchards and two acres of grapes. Apple juice is a base for many of these fun wines. Danny recounted a story about his Grandmother. She needed fruit, sugar and water to make wine. She was too poor to afford sugar, so she substituted apple juice for the sugar and water. Danny said, he makes wine for the Kool-Aid generation. Danny started making wine in 1995 and produced 200 gallons the first year.
The tasting room is rustic as it has been a fruit packing structure for many years. The tasting counter is made of wood planks on oak barrels. Browse through the wide assortment of retail items. Danny likes to use decorative wine bottles and has the largest assortment of wines in decorative bottles that we have seen. Hanging on the walls are many artifacts from the past. During the years as the wine production expanded, six additions have been added to the winery.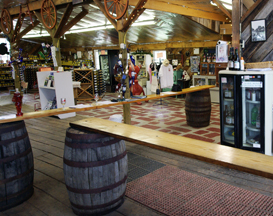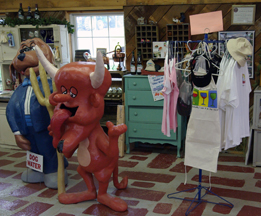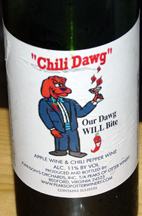 The Wines
Peaks of Otter Winery has many varieties of wines. Danny says that he can make wine from anything. Visitors to the winery will discover an array of wines including Cabernet Franc and Norton. Fruit wines include peach, fig, apple, crabapple, blackberry, pear and plum. More unusual wines include Chili Dawg, Cinfulicious, Apple Truffle, Cherry Cheese Cake and Chili Pepper.
The best selling wine is Chili Dawg. It is presented for tasting by placing a small bit of Kraft Easy Cheese Sharp Cheddar on the hand. Taste the cheese and try the wine. The wine is apple for about one second and then there is an explosion of pepper jack cheese–hot.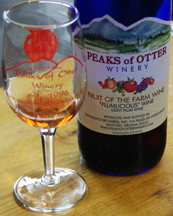 Sweet Heart wine was a blend of apple and pomegranate. The aroma and taste were of pomegranate and apple. The finish was sweet and crisp. Plumlicious offered notes of plums on the aroma and taste. The wine was light bodied with 14 percent alcohol. Mango Tango was very tropical. There was a smooth mango taste and aroma. The Dry Apple Virginia Apple Lovers aroma had hints of apple while the taste had the apple notes that one finds in Chardonnay. The finish was crisp reminiscent of Chardonnay. Light Pear had notes of pear and apple throughout the aroma, taste and finish. Blueberry Muffin offered intense blueberry nuances on the aroma, taste and finish. Cinfulicious had notes of apple and cinnamon. This is a good Christmas wine. The wine also is a good palate cleanser. Pumpkin offered hints of pumpkin pie spices. Apple Truffle had intense milk chocolate notes on the aroma, taste and finish. Strawberry Reserve had strawberry and apple nuances. "Kiss the Devil" Chili Pepper wine was extremely chili pepper hot. Anyone who tries this wine receives a sticker that says "I Kissed the Devil at Peaks of Otter Winery."
Future wine releases will include "Shangria"- a grape citrus wine, Passionate Peaks – an apple-passion fruit wine, Margarita Wine and Café Vino – like a Kula.
Looking for a fun time and fun wines? Consider a visit to the Peaks of Otter Winery.

Peaks of Otter Winery and Orchards
2122 Sheep Creek Road
Bedford, Virginia 24523
GPS: N37º 23.893' W79º 37.507'
---
Visit these Virginia wineries and wine tour groups that partner with Wine Trail Traveler.