White Rock Vineyards & Winery
by
Kathy Sullivan
Summary: White Rock Vineyards and Winery is located in Goodview, Virginia close to Roanoke. This is friendly, family owned boutique winery. Be sure to take a camera for a splendid photo of the vineyards from the veranda. The winery is very welcoming with beautiful views of the vineyard. Tours are available for those groups who are interested.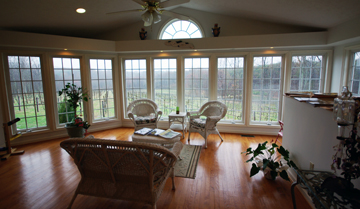 The tasting room and winery are attached to the home of Fred and Drema Sylvester. This is the best architectural plan we have seen for adding a winery tasting room building on to a home.The idea for the winery occurred years ago as the couple was beginning to think about becoming empty nesters. Fred's family had always made wine but he seriously wanted to be involved with growing grapes and producing wine commercially. Drema had some agricultural experiences.
The entrance to the tasting room is on the ground level and up a flight of stairs. The tasting room has a wonderful view of the vineyard. Light from a wall of windows floods the white colored room. A small children's table has a lap harp that is enjoyed by children and adults. Another area of the room has a conversation area with white wicker furniture. Framed landscape paintings decorate one wall and are available for sale. Additional items for sale in the tasting room include wine glasses, wine bags and other wine accessories. Adjacent to the tasting room is a large veranda. It also has a tasting counter and several tables and chairs. It makes a wonderful area to escape to and enjoy a glass of wine during nice weather.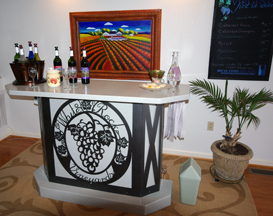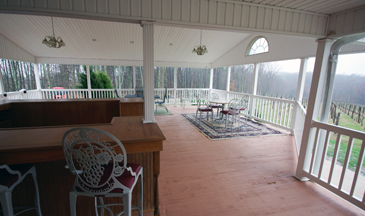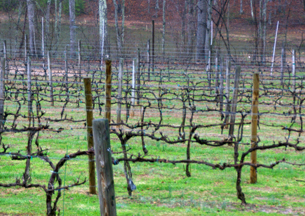 The current vineyard lies behind their home/winery/tasting room. The 6½-acres of vineyards consists of Chardonnay, Cabernet Franc, Cabernet Sauvignon, Merlot, Pinot Gris, Chardonel and Traminette. The property has a lot of quartz rock. Every time they planted they ran into rock and thus came the winery name of White Rock.
White Rock Vineyards and Winery produces 900 cases and the Sylvesters would like to grow to 1200 cases. The wines are available in the winery tasting room and at festivals.
Drema who guided our tasting and tour was delightfully friendly and enthusiastic. We tasted several wines along with a group from Lynchburg who were visiting area wineries.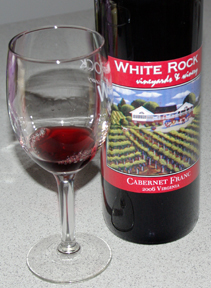 White Wines
Pinot Gris 2006 was fermented in both oak barrels and stainless steel. The taste was of citrus especially grapefruit. Chardonnay was in stainless steel. Some Chardonel was added to the Chardonnay. The result was an aroma and taste of pear. Moon Glow was a white Merlot. This wine had 1 to 1.5 percent residual sugar. The aroma and taste had hints of cherries and strawberries. The finish was slightly sweet.
Red Wines
Merlot 2006 was barrel aged in American oak for 18 months. The aroma and taste had nuances of red cherries and earthiness. The finish was fruity with mild tannins. Cabernet Sauvignon 2006 was barrel aged in American oak. The wine was ruby in color. The aroma offered hints of blackberries. The taste also had hints of blackberries while the wine finish was fruity with tannins. Cabernet Franc 2006 was aged for two years in American oak. The aroma was of dark fruit with notes of plum and pepper. There were also nuances of plum and pepper on the taste. Scarlet Sunrise was a blend of Cabernet Franc, Merlot, and Chardonnay. This is a fun wine and the one the winery uses to make their Sangria. The residual sugar is two percent.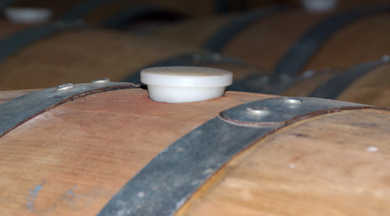 Tours
Groups, who are interested, can participate in a tour of the winery that is located on the ground level. The large room is organized with equipment pieces lining the walls. Drema explained the wine production process from the harvesting of grapes into lugs to the final bottling of the wine.
Enjoy a visit to White Rock Vineyards and Winery in Virginia.
White Rock Vineyards & Winery
2117 Bruno Dr.
Goodview, Virginia 24095
GPS: N37º 13.914' W79º 42.486'
---
Visit these Virginia wineries and wine tour groups that partner with Wine Trail Traveler.